Daniel Ricciardo: Upgraded Renault engine hasn't delivered for Red Bull
Daniel Ricciardo expresses disappointment with upgraded Renault unit after he's outqualified by Daniil Kvyat running old engine
By James Galloway and Mike Wise at Interlagos
Last Updated: 14/11/15 8:27pm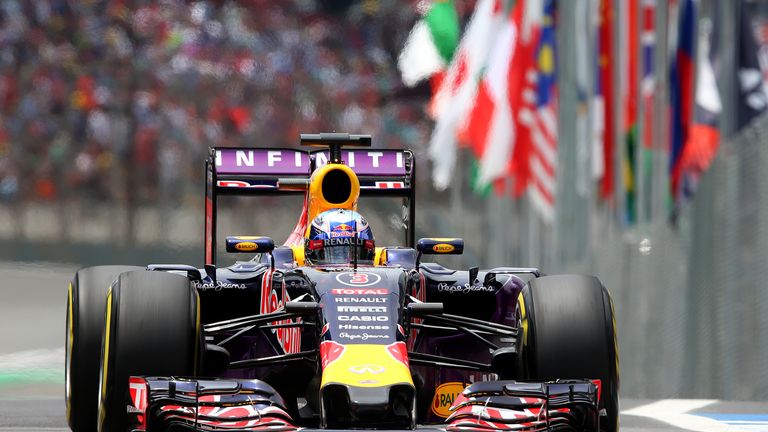 Red Bull's Daniel Ricciardo has admitted Renault's upgraded engine - which is poised to form the basis for the unit the team will run in 2016 - "hasn't given us anything we need" at the Brazilian GP.
Renault had belatedly spent 11 of the 12 development tokens they started the season with ahead of last month's US GP in Austin, although Red Bull chose not to run it until this weekend - and only then in Ricciardo's RB11. The team are also thought to only be running the upgraded engine itself, rather than other energy-recovery tweaks.
Team-mate Daniil Kvyat has continued to use the older-spec unit, and although Ricciardo was the quicker of the two on Friday, it was the Russian who qualified ahead on Saturday by one tenth of second.
Ricciardo has taken a 10-place grid penalty for taking the new unit, meaning he will now start Sunday's race from the back row, and revealed afterwards that Kvyat was actually quicker than him on Interlagos' straights. The FIA's data shows the Russian's was 0.4kph faster through the circuit's speed trap.
"During qualifying you look at your team-mate's overlay so you see all the speed traces and I wasn't faster than him down the straights," Ricciardo told Sky Sports F1.
"We had to try it, we had nothing to lose, but at the moment it honestly hasn't given us anything we're after."
Red Bull had only been expecting a marginal improvement in performance from the new engine - in the region of two tenths of a second - but asked if it was in any way better, Ricciardo told reporters: "If I'm honest, no.
"I'm going against an old Renault with Dany, so they need to come up with something better than that."
There is also a wider significance beyond this weekend as Red Bull are understood to be closing on a revised deal with Renault which will see them run the end-of-2015 engine as the base unit for next season.
Despite the expectation that the two parties, at loggerheads since the start of F1's new turbo era, would split at the end of the year, a continuation of the relationship is now expected to be agreed with engine guru Mario Illien developing specific power unit components for Red Bull at their Milton Keynes base.
Christian Horner confirmed to Sky Sports in Brazil that Red Bull have officially lodged their entry for the 2016 championship and are "homing in" on an engine solution. An announcement is expected at the season-ending Abu Dhabi GP in two weeks' time.
Despite the initial disappointment, Ricciardo insists he doesn't regret the exercise: "I feel it's been a good thing that we've done it. It's like 'this is what it is and we need something better'. We need to try a different path or something if we're continuing together next year. We've taken a hit today, but I think long-term it'll be better off because of what we learnt.
"There will be some benefits from the last couple of days running it. But it's now trying to put together things they've learnt and actually give us lap time now. I'd say the last two years we've learnt a lot from Renault with these power units but not a lot of that has equated to lap time."
Meanwhile, set to start alongside McLaren's Fernando Alonso on the back row on Sunday, Ricciardo is unsure whether he will be able to salvage a points finish in the 71-lap race.
"We're quicker than the cars around us, but are we quicker to do one stop less and jump into the points? I don't know," he conceded. "We will have the tyre wear to do it but if we have the speed to do it I'm not sure yet."
Watch the Brazilian GP live on Sky Sports F1. Race-show coverage begins at 2.30pm on Sunday with lights out at 4pm. Watch the Brazilian GP for £6.99 on NOW TV. No contract.