Red Bull discard upgraded Renault engine for Abu Dhabi GP
Daniel Ricciardo joins Kvyat in running older-spec engine for season finale
By James Galloway in Abu Dhabi
Last Updated: 26/11/15 1:35pm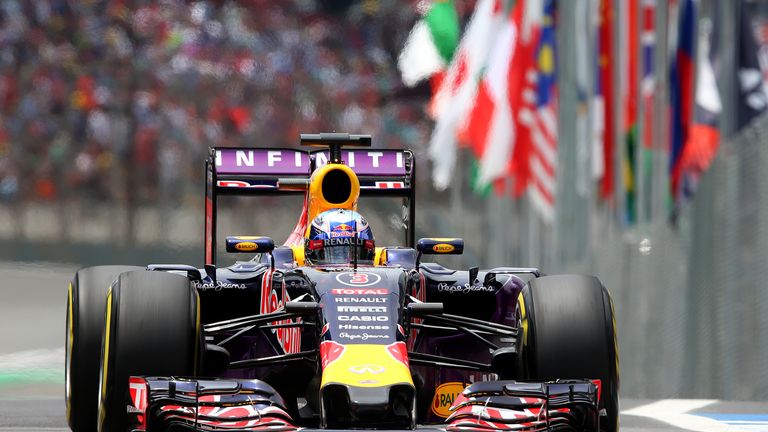 Red Bull will revert to Renault's older-specification engine at this weekend's Abu Dhabi GP after the new unit disappointed on its debut in Daniel Ricciardo's car in Brazil.
In what was interpreted as a show of faith towards the French manufacturer as they continue to renegotiate their engine supply arrangement for 2016, Red Bull ran Renault's upgraded engine at Interlagos - although only in Ricciardo's RB11, as Daniil Kvyat stuck with the previous version.
However, Ricciardo was outqualified by Kvyat even before the 10-place grid penalty for taking the fresh engine was factored in, with Renault themselves admitting after the weekend that the upgrade "did not deliver the expected improvements in performance".
As a result, Ricciardo will use one of his engines from earlier in the season for this weekend's season finale.
"At least it's something we know," he told reporters on Thursday. "Danii's weekend wasn't so bad in Brazil and at least it's even and there's no 'oh, he's got this, he's got that'. Put both of us in the car and neither of us can complain or have any excuses."
The disappointing performance came at an inopportune time for the fractious team and engine partnership, with the parties understood to be closing in on a revised deal whereby Red Bull run unbranded Renault engines next season.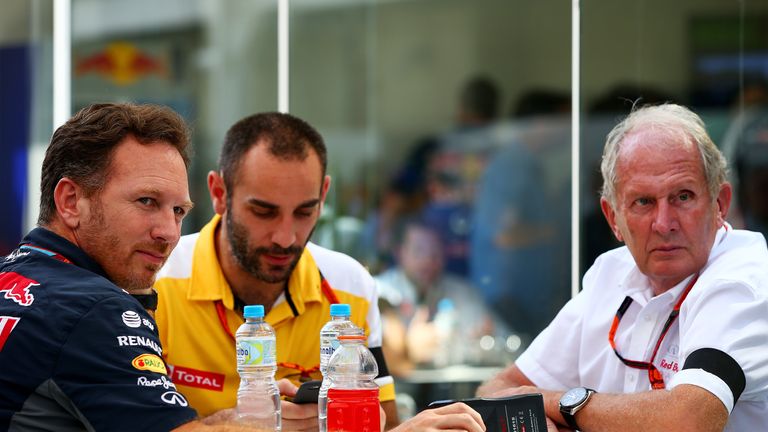 Ilmor Engineering's Mario Illien, who has been working at Red Bull's Milton Keynes base over the last 12 months, has been thought likely to add embellishments to Renault's base V6 in 2016 - however it remains unclear whether such an arrangement would be permitted under F1's engine regulations.
Asked what improvements he felt could be made to the engine that flattered to deceive in Brazil, Ricciardo replied: "There can be lot, but in terms of where or what I'm not sure. We're choosing not to run it this weekend so it is something that would need time, so whether they try to refine that or start something completely different I've no idea."
And should Red Bull's Renault relationship continue into next season, Ricciardo said the challenge ahead for the French firm was clear.
"It's definitely obvious they've got some work ahead of them," he said. "Pretty much everyone's turned us down, I don't think they [Renault] are out of the picture. But we'll see what happens. We put in the D-spec in Brazil and it didn't really show a whole lot, so there would need to be a change of direction."
Although no official announcement has yet been made, the threat of the Red Bull company quitting F1 has receded. Team boss Christian Horner confirmed to Sky Sports News HQ in Brazil that they had lodged their entry for the 2016 World Championship, while they have since announced the renewal of two sponsorship agreements.
Nonetheless, given the season has now reached its final weekend, Ricciardo admitted it would be better if they knew exactly where they stood for next season in terms of engine supply.
"They are just saying they're working on it and we will have something, so don't stress," added Ricciardo. "It would be nice to know. Obviously there's a bit of weight off knowing we will be on the grid but it would be nice to know how competitive we think we'll be.
"Obviously we've been in a bit of a compromised position the last two years, so it's nothing new since I joined the team."
Watch the Abu Dhabi GP live on Sky Sports F1. Race-show coverage begins at 11:30am on Sunday with lights out at 1pm. Watch all three days of the Abu Dhabi GP for £10.99 on NOW TV. No contract.