Max Verstappen-Daniel Ricciardo partnership is Red Bull's future says Christian Horner
Horner excited by new pairing after Verstappen's promotion
By Matt Morlidge in Barcelona
Last Updated: 13/05/16 12:10pm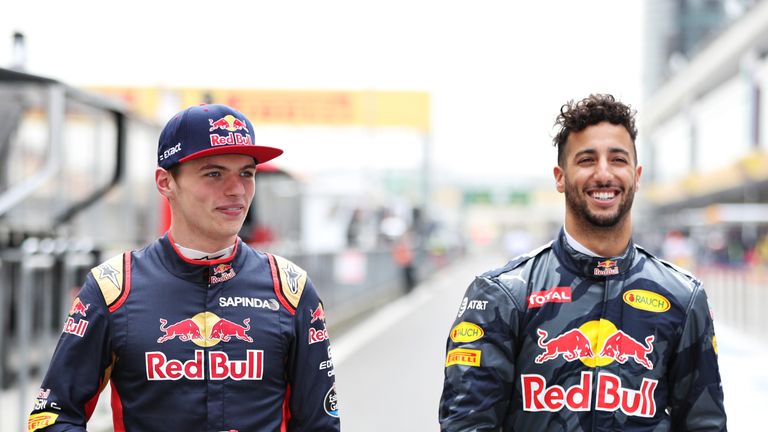 Christian Horner is adamant that Red Bull's "fantastically exciting" new pairing of Max Verstappen and Daniel Ricciardo can be the best driver line-up in Formula 1.
Verstappen was promoted from junior team Toro Rosso to replace Daniil Kvyat and will make his debut for Red Bull at the Spanish GP alongside Ricciardo, who is eight years his senior.
Horner claims the Australian is currently the fastest driver on the grid and has indicated that his partnership with Verstappen will be Red Bull's line-up for the long term.
"You always want to put your best foot forward and have the most competitive driver line-up as you can possibly have," the Red Bull team principal said.
"I think a Ricciardo-Verstappen line-up potentially is one of the, if not the, strongest pairing of future years.
"You can see this absolute desire burning within him [Max] at the moment, and competitiveness, and of course a huge amount of talent.
"He's going up against one of the very best drivers in Formula 1 as a benchmark and that is Daniel Ricciardo. The way Daniel's driving at the moment I don't believe there's a better driver in Formula 1. The thought of the pairing is fantastically exciting for us."
Kvyat was demoted back to Toro Rosso following a calamitous home grand prix, with the Russian admitting he was "shocked" when he received the call from Helmut Marko having secured a podium in China in the previous race.
But Horner said that while it may seem harsh, the decision was given a "huge amount of consideration" and was made because Kvyat was struggling for form. A change to Verstappen's contract to tie him down to Red Bull Racing was also a factor.
"Max Verstappen is, make no mistake about it, one of the hottest properties in Formula 1 at this point in time," Horner added. "It's only natural that other teams would show interest in a driver that's demonstrating that kind of ability and talent.
"It also kills off the driver market regarding Red Bull drivers, certainly for the foreseeable future."
Watch the Spanish GP live on Sky Sports F1. The race starts at 1pm on Sunday, with build-up underway at 11.30am. Or watch the race without a contract for £6.99 on NOW TV.