Aston Martin open to becoming F1 engine supplier in 2021
"If we can reduce the cost of the engine, then Aston might be interested," CEO Andy Palmer tells Sky F1 amid Red Bull rumours
By Jonathan Green
Last Updated: 02/10/17 2:39pm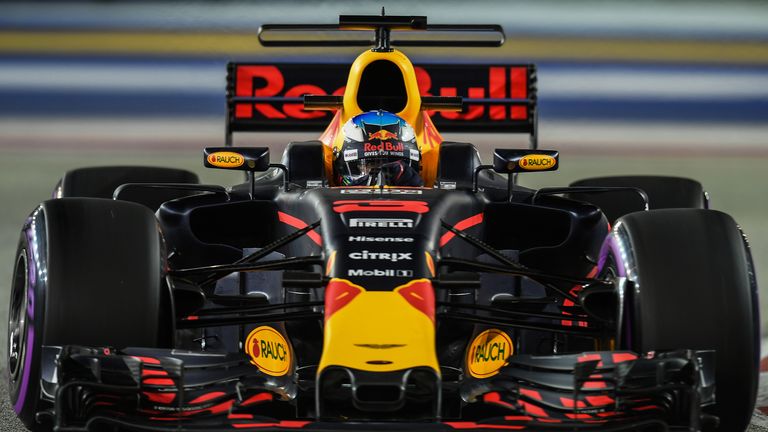 Aston Martin have confirmed to Sky F1 their interest in becoming an F1 engine supplier if the new regulations from 2021 prove attractive.
The luxury sportscar maker already has a relationship with Red Bull and reports have suggested they could become the team's title sponsor in 2018. Red Bull's race cars have carried the Aston Martin logo since 2016.
Aston Martin have also been linked with powering Red Bull in the future but chief executive Andy Palmer said the prospect of them becoming an independent engine supplier was dependent on the cost of power units decreasing with the new regulations.
"I'm negotiating what we look like in the sport for next year but it's somewhat predicated on what the 2021 engine regulations look like," Palmer told Sky F1's Martin Brundle.
Red Bull engine options limited
"If we can get more theatre back into the sport, and if we can reduce the cost of the engine, then Aston might be interested in producing an independent engine.
"And with that independent engine, with that destination in mind, it would make sense for us to increase our participation, even as soon as next year.
"Hopefully we will know [about the new regulations] by the end of the year."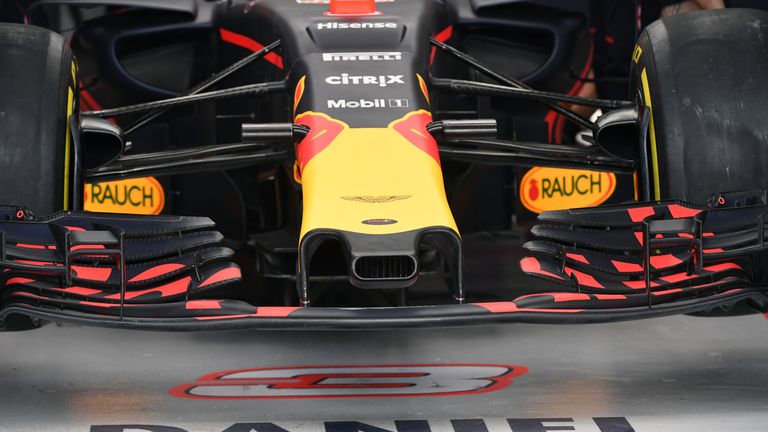 Red Bull's chief technical officer Adrian Newey, who designed the cars which secured four consecutive Drivers' and Constructors' championship doubles between 2010 and 2013, has been working with Aston Martin to develop their Valkyrie hypercar. The car's engine is made by Cosworth, who are also monitoring F1's 2021 rules discussions.
Aston Martin have not competed in F1 since 1960 but their interest in a return comes at a time when it is uncertain who will power Red Bull from 2019.
The team currently run Tag-Heuer-badged Renault engines but Sky Sports F1 understands the French manufacturer have served notice that they will cease to supply the former world champions from the end of next season.
Ricciardo's Red Bull-Honda fear
Christian Horner admitted only one of F1's current engine makers could supply Red Bull in 2019 and 2020 but given Ferrari and Mercedes have previously rejected Red Bull's requests for engines, Honda would appear their most likely provider.
Honda will partner Red Bull's junior team Toro Rosso from next season but currently offer the least competitive power unit on the grid.
Honda aim for top three in 2018
Three years of underperformance and unreliability saw McLaren confirm their divorce from Honda last week.
And Daniel Ricciardo says Red Bull will need to see big improvement from Honda to alleviate fears of them falling down the grid.
"From the team's point of view, it's no secret that Honda have a lot of ground to make up," he told Brundle in Singapore.
"They might have something in the works, a secret, but for sure next year they will need to show some pretty big signs of that."
What could Aston Martin do?
Analysis from this week's F1 Report guests
Ex-Cosworth boss Mark Gallagher: "The Cosworth relationship with Aston Martin is a very good one and very close one. When you look at who attended the engine meeting just before the summer, Cosworth were there.
"Aston Martin and Red Bull enjoy a terrific relationship and Christian Horner referred to that at the weekend. Are all the pieces in place? I think they are and the money can be found to do that programme.
"The really interesting thing is that for McLaren come 2021 they may also do their own engine. Could it be the case that organisations like Aston Martin and McLaren come together and develop an engine that both teams could use in 2021? That's not beyond the realms of possibility."
F1 journalist Kevin Eason: "Red Bull obviously have some sort of plan. Everyone is saying Aston Martin will supply engines, but Aston Martin in global terms is very tiny.
"The only way they can make engines is in partnership with Cosworth or somebody else. And if Red Bull took Honda in 2019 there's a clear branding conflict with Aston Martin.
"So I'm assuming Christian Horner has got something up his sleeve that we don't know about. We'll find out in the next year or so."