Daniel Ricciardo accepts Max Verstappen's tactics during Austrian GP qualifying
Ricciardo originally spoke out against lack of tow during qualifying
By Pete Gill and Matt Morlidge at the Red Bull Ring
Last Updated: 10/12/18 12:55pm
Daniel Ricciardo has rowed back from his criticism of Red Bull team-mate Max Verstappen after Austrian GP qualifying, saying he understands the Dutchman's actions.
Ricciardo told Sky F1 immediately after the session he felt Verstappen should have given him a slipstream tow during the top-10 shootout.
"I'm not too impressed, I'm not happy," said Ricciardo. "We could have been more fair."
But an unapologetic Verstappen insisted he had been following team protocol and it was Ricciardo's turn to lead out the two Red Bull cars - a viewpoint shared by team boss Christian Horner.
Bottas beats Hamilton and Vettel to pole
Vettel punished by stewards
On a poor day for the team at their home race, Verstappen qualified fifth at the Red Bull Ring but Ricciardo was demoted to seventh by the Haas of Romain Grosjean - although the trio will be promoted following Sebastian Vettel's penalty.
Both Red Bull drivers argued with their race engineers during qualifying with Verstappen objecting to an order from the pitwall to overtake his team-mate when Ricciardo backed off.
"No, it's discipline," responded Verstappen. "Last week I was in front, now he is in front."
And in the closing stages of Q3, Ricciardo told his race engineer over the radio "there's no point me running" in response to a request to pick up his pace to ensure he had time to complete a final lap.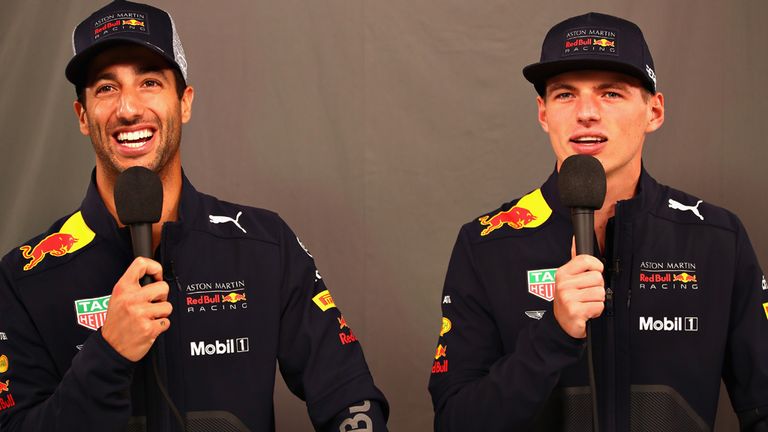 But in a media briefing late on Saturday night at the Red Bull Ring, Ricciardo clarified: "During the heat of it all I thought I was ['stitched up']. I've had a few discussions since with Christian and my engineer. I had my concerns, but I probably expected that to have been obvious."
The Australian, out of contract with Red Bull at the season's end, continued: "I didn't bring it up before qualifying thinking that it was a bit more obvious than it probably was. We probably should have just talked about it a bit more beforehand. I had my concerns.
"I guess as a team it wasn't discussed. In my mind, in the car, I thought it's obvious, give me a run when I'm getting a tow instead of giving everyone my tow. For the last run I thought I'd get a chance to get a tow but by that point I guess Max didn't want to give me one. From his point of view, we never talked about it so [he thought] 'I'm staying where I am', where I thought 'this isn't fair, someone do something.'"
Ricciardo added he accepted that Verstappen had not been in the wrong.
"If we made it black and white before qualifying, then I could be more upset with him," he said. "We both knew what was going on but I guess the competitor in us is not wanting to give an inch. I'm not mad at him for that, that's just how it goes. I can't be mad, it's just frustrating.
"It's qualifying, everyone's out there for themselves and actually the team-mate is who you want to beat. It's fun, but the fun turned to a bit of frustration because I was getting the short straw. I thought one of the three runs I'd get preference, but that was just me assuming.
"It's not like he caught me by surprise. I knew what he was trying to do, he knew what I was trying to do. We're both trying to beat each other, but I thought the team might try and step in with the mind games we were playing."
Asked if Verstappen ignored instructions when he was told to overtake him, Ricciardo added: "I guess. But I'm not surprised, I can't be mad because he's not the only guy on the grid who would do that."
Verstappen told Sky F1 after qualifying: "We always agree before the weekend who is going in front. This was his race where he is going in front, it is very simple. At Paul Ricard I was in front so that is how it goes."
And in his own media conference on Saturday evening, the Dutchman added: "You try to put us against each other but it makes no sense. Daniel explained it quite well. Last weekend I was ahead, the weekend before he was ahead so that's how we do it.
"I stuck to the plan. They only told me to overtake because he was driving so slow so it was just for the tyres, I think it's quite clear."
Austrian GP Qualifying results
Red Bull suffer from a power deficit to their Mercedes and Ferrari rivals but a 'tow' would alleviate some of that disadvantage.
Team boss Christian Horner clarified to Sky F1: "We have a very simple policy here, which we have operated for the last seven years, which is that we alternate from weekend to weekend who drives out of the garage first. That's the only way to be fair from circuit to circuit.
"This weekend it was Daniel's turn to drive out first and he felt that Max might have been benefiting from that."
WATCH: "We have a very simple policy here for the last 7 years that we alternate who drives out of the garage first. This weekend's was Daniel's time to drive out of the garage first ahead of Max. The drivers know explicitly each weekend it alternates."#SkyF1 #F1 #AustrianGP pic.twitter.com/QSmOdQ9K8v

— Sky Sports F1 🏎 (@SkySportsF1) June 30, 2018
Asked if he would discuss the fall-out with his two drivers, Horner replied pointedly: "There is nothing to explain."