Christian Horner says there's no guarantees Red Bull won't get it wrong in 2014
Red Bull got it right the last time the rules changed. But what about 2014? Sky Sports Online spoke to their boss about the challenge ahead
By Mike Wise
Last Updated: 18/10/13 10:13am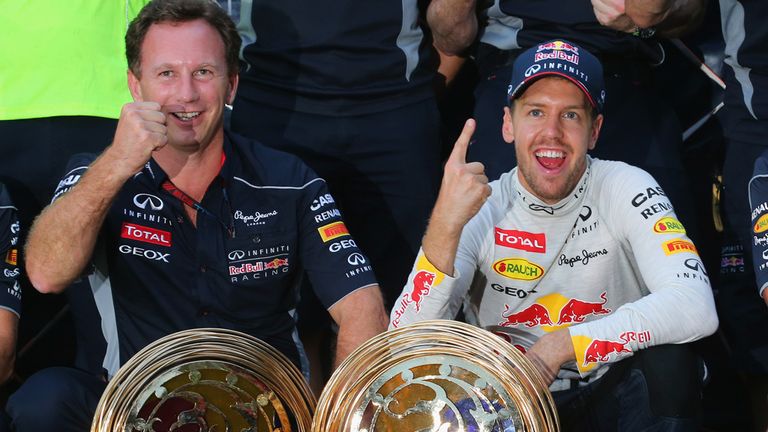 Red Bull have further to fall than anyone and while Team Principal Christian Horner acknowledges as much, he nevertheless seems confident that the World Champions will still be there or thereabouts.
"Somebody's got to get it right and somebody's got to get it wrong," Horner told Sky Sports Online during an exclusive interview as the team prepare to secure their fourth successive title double in next week's Indian GP. "It's the one element that nobody will know until we get to the first race next year."
The last significant changes, in 2009, will not be remembered by either Ferrari or McLaren with any great satisfaction. The same, emphatically, cannot be said of Red Bull who, more than anyone, used the rulebook's transformation as a springboard to success. That they are poised to land a fourth world title in five years is testament enough to the lineage of cars the rules inspired - inspiration also being a neat summation of Adrian Newey's influence on the design process.
That Red Bull made the jump from also-rans to World Champions and ran with it - ran away with it at times - during a period of rule stability does prompt the question of whether they'll have it all their own way to quite the same degree from next year. The elephant in the room is the fact that, unlike before, the biggest changes are in areas over which Newey and his boffins have the least control. Red Bull are continuing their partnership with Renault but as engines shrink, acquire turbochargers and more advanced energy recovery systems in the name of efficiency, there remains the possibility that either Mercedes or Ferrari, or both, might steal a march.
"There are no guarantees in anything. But I think we've got good people, we've got a very good engine partner, and we've got some strong opponents," Horner attests. "So it's impossible to make predictions. All we can do is the best job we can and then we'll see how that measures up against the opposition when we get to the first race."
If Horner sounds relaxed at the prospect then it's reasonable to assume that four years of untrammelled success plays a part. And it's not as though that success hasn't inspired certain perks - which could, by the sounds of it, guarantee them a head start over Renault's other customer teams.
To a degree, Red Bull's fate lies in the hands of the French manufacturer's engineers at their Viry-Chatillon headquarters. But they nevertheless have influence in the design of the power unit: a preferred partnership gives them a say on how it is packaged - an important consideration given how different the new layout, with its kinetic and heat energy recovery systems, not to mention ancilliaries such as a sizeable turbo intercooler, will be.
"Red Bull is the works partner of Renault for next year, so effectively it is the factory team and, yes, we've been very closely involved in the development of the power unit in terms of installation," Horner confirms. "They might get it wrong; hopefully they'll get it right. In the past, they've a good track record when there have been regulation changes - big regulation changes - so we're reliant on the skill of the engineering staff and design staff in Viry."
Horner predicts that 2014 will bring the usual development race, "but not just with the chassis. It'll also be with the powertrain".
Then there's the subject of reliability - or, rather, a lack of it - which could well see cars going bang left, right and centre. The consensus seems to be that the first half of next season will be critical in this regard, particularly when one considers that teams will once again have just 12 days of pre-season testing to get things right.
However, just as simulator use has become vital in chassis development in the years since testing was limited, Horner says a similar emphasis is being placed on putting the new power units through their paces in-house. "Based on the lack of mileage the engine suppliers will have, I think that reliability - especially as the engine has to do more mileage - will become a bigger element, yes," he says. "The level of testing is pretty limited.
"I think that dyno time and preparation is going to be critical for the engine suppliers. I think that most of them will be running their engines on the dynos now. If they're not then they're already late."
The power units - comprised of a fuel-metered 1.6-litre V6 turbocharged engine plus ERS - are being introduced in the name of efficiency, with teams forced to juggle the various sources in their attempts to get their cars to the chequered flag. The knock-on effects on race strategies are obvious: when to push and when not to push?
If the engine manufacturers are leaving nothing to chance with what they bring to the table, then Horner reckons the teams certainly shouldn't when it comes to number crunching. "Obviously it's going to be critical to get the fuel economy, the way that you operate the power unit during the race - you're probably not going to be able to run at max power all of the time - and electronics as well become a much more significant element of the power unit," he says.
"There's an awfully large amount of simulation that can be conducted, which I'm sure all the major teams are currently doing. The simulations will only become more important next year, particularly where fuel economy is a crucial factor. You're going to have to plot your way to run the fastest race possible, based on the fuel you're going to have available to you."
And what of the chassis changes? The name of the game might be efficiency but creating aerodynamic downforce is anything but efficient. Suggestions to create such grip whilst minimising the associated drag, such as a move to the Venturi tunnels last seen during the ground-effect era, have not been adopted, with the FIA announcing last December that its aim is for 2012 downforce levels.
Not as radical as the new power unit will be, in other words, but Horner counters that, "there's some very significant changes on the chassis as well. They've focused quite aggressively on reducing downforce yet further with the front wing change (its width will be reduced) and the rear beam wing (which vanishes)".
The Red Bull chief has a point: next year's cars might not end up looking particularly different but in the highly prescriptive world of F1 rule-making, there should more than enough leeway for new ideas.
Meat and drink for someone like Newey, then, and also reminiscent of the 2009 changes. So how is the RB10 coming along? Horner makes progress sound touch-and-go but once again his body language suggests otherwise.
"Obviously we've had to start the design earlier than we'd usually do because it's such a big regulation change. But I think we're just about on target."