Sebastian Vettel praises retiring Mark Webber's contribution to his & Red Bull glory
Vettel says Aussie's exit "a loss for the team, a loss for myself"
By Mike Wise at Interlagos and James Galloway
Last Updated: 21/11/13 5:51pm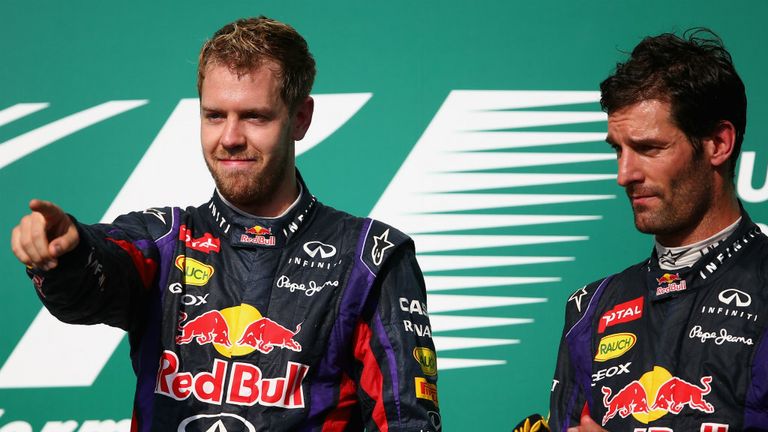 The Red Bull stable-mates' hugely successful, but at times tumultuous, five-season partnership comes to an end after this weekend's Brazilian GP with the 37-year-old Webber calling time on his Formula 1 career to switch to endurance racing.
Although the pairing has delivered Red Bull 46 race victories and four consecutive Constructors' Championships, it has been punctured by several on-track flash points with the most famous occurring in Turkey 2010, when the two drivers crashed into each other, and Malaysia earlier this year when Vettel ignored team orders to overtake Webber for the race victory.
Neither driver nor the team have attempted to sugarcoat the strained nature of the pair's relations - with Team Principal Christian Horner even confessing in the wake of the 'Multi-21' controversy at Sepang that there "has been a breakdown of trust since Istanbul [2010]" - and Vettel didn't attempt to hide that again when speaking to the press on Thursday ahead of Webber's swansong in Brazil.
However, the four-times World Champion made clear that the tension between them had never overshadowed their work together off the track to help improve the all-conquering team with the German even acknowledging he had benefited from Webber's knowledge and experience on numerous occasions.
"Generally people have a worse impression than the relationship we had. People tend to forget how successful we have been. I think it has been one of the strongest pairings in Formula 1," Vettel told reporters in the Interlagos paddock.
"We obviously didn't have the best relationship on a personal level but in terms of working professionally together for the team it has been very strong. Both of us have tried very hard to improve the car and surely the fact that he will not be around next year will be a loss for the team, a loss for myself, because it has always been a huge challenge.
"I have learned a lot from him and I can stand up straight and say that there were many, many times, many places where I have benefitted from him. You could obviously say the same thing the other way round but, as I've said, we've been extremely successful together.
"In that regard it will be a hit for the team but equally it's a new season, new step next year anyway and with Daniel [Ricciardo] coming in a new time starts as well."
The prospect of Webber's final race in Brazil on Sunday has prompted talk in some quarters that either Red Bull, or even Vettel himself, could ensure the Australian ends his F1 career on the ultimate high by helping him to a first victory of the season.
In the immediate aftermath of the team orders controversy of Sepang, an initially contrite Vettel implied he may hand his team-mate a future victory to make up for things - "I can't change it now, maybe in the future there's a situation where I can" - but the German's subsequent hardening of position at the next race in China appeared to rule such a scenario out.
In any case Vettel is now chasing a record-equalling ninth consecutive GP win, which would also draw him level with Michael Schumacher's mark of 13 victories in one campaign.
Asked if he would have considered 'gifting' a win to Webber were he not himself amid a record winning run, Vettel suggested the famously hard-grafting Australian wouldn't accept a victory he hadn't earned.
"First of all it's not worth thinking about Sunday because today is Thursday, so there's a lot between," Vettel replied.
"Secondly it's not worth thinking about certain circumstances because a lot of things have to happen before you can think about those and generally I think Mark is a sportsman and he doesn't want a win to be handed over to him. I think it would be the same the other way round."
Although the prospect of Vettel ceding position to Webber on Sunday appears unlikely, Red Bull are once again favourites to be running first and second on the road in the 71-lap race with the RB9, in the German's hands at least, having been unbeaten since July.
The World Champion's hopes of achieving a ninth straight win could be complicated, however, by the first proper wet race of the season with the threat of rain looming large over Sao Paulo from Friday onwards.
Although he has never actually won in the wet since his first two GP wins for Toro Rosso and Red Bull respectively in 2008-2009, Vettel is typically unfazed about the idea of a more unpredictable race.
"It doesn't matter, we have enough rain tyres!" the German joked. "Obviously we didn't have to use them the last couple of race so whatever happens we are all ready. If it rains it obviously makes it a little bit more chaotic but equally it gives you more chances to do something that stands out and do better than the rest."