Christian Horner is 'extremely disappointed' by Daniel Ricciardo's disqualification
Unhappy Red Bull team boss pins blame on FIA fuel sensors
By Mike Wise in Melbourne
Last Updated: 26/03/14 1:43pm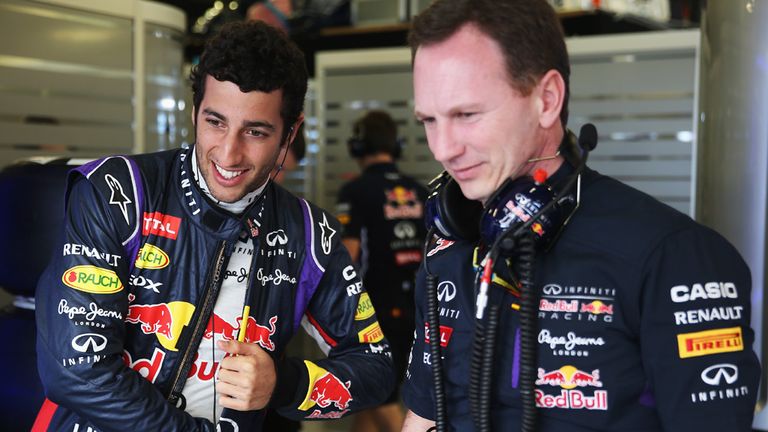 More than five hours after Ricciardo basked in the adulation of his home crowd on the podium after finishing second at Albert Park - the 24-year-old becoming the first Australian to do so - he was excluded for a fuel flow infringement on his car.
As the World Champions packed up around midnight local time, Horner stepped out of Red Bull's garage to question the fuel flow sensors - which he branded as "immature technology" - introduced by the governing body this season.
"Extremely disappointed, quite surprised and we will of course appeal," was Horner's immediate reaction. "And hopefully through the appeal process, it will be quite clear the car has conformed at all times with the regulations.
"These fuel flow sensors that have been fitted by the FIA to measure fuel - which have proved problematic throughout the pitlane since their introduction at the start of testing - there's been discrepancies in them and they've been unreliable."
Horner explained that the sensor on Ricciardo's RB10 had been changed after it started giving different readings during Friday practice but was then fitted again ahead of the race.
The team were asked to apply an offset to the fuel flow to ensure it was legal. Believing it placed them at a disadvantage, however, Red Bull chose instead to use their own flow measurement on Ricciardo's car during the race.
According to the FIA, it 'exceeded consistently the maximum allowed fuel flow of 100kg/h' - the rate introduced following F1's shift to more efficient hybrid technology this season.
"We had an issue with the sensor that changed its reading through Friday practice. That sensor was then replaced for another sensor on Saturday which then failed during qualifying," Horner said.
"We were then asked to put the sensor from Friday back into the car and apply an offset. That offset, we didn't feel was correct and as we got into the race, we could see there was a significant discrepancy between what the sensor was reading and where our fuel flow - which is the actual injection of fuel into the engine - was stated as."
It was perhaps inevitable that someone would fall foul of the new sensors, given that they have proved problematic since first being tried out during last year's Young Driver Test at Silverstone.
Horner said that Red Bull weren't the only team to struggle with them this weekend, with others apparently suffering failures during the race.
"I think some cars may well have run without them in the race itself, or that they've failed in the race itself," he said.
"I think it's common knowledge that there's been problems with these sensors all year. I think during the race, there's other teams that have had sensors fail.
"It's immature technology and it's impossible to rely 100 per cent on that sensor, which has proved to be problematic in almost every session that we've run in."
Horner expressed surprise that Red Bull had been the only team adjudged to have broken the rules. "Yes, because there's been so many issues with these sensors. As I say, I don't think any of them have been working 100 per cent reliably throughout the weekend."
He added: "We wouldn't be appealing if we didn't feel confident we could have a dependable case. It's just extremely disappointing that this has happened.
"It's certainly no fault of Daniel's; I don't believe it's the fault of the team's. I believe we've complied with the rules and the investigation documents will be submitted within the appeal."