Christian Horner says Daniel Ricciardo's confidence is 'sky high'
Red Bull boss keeping closer eye on Mercedes after latest success
By Mike Wise
Last Updated: 28/08/14 2:34pm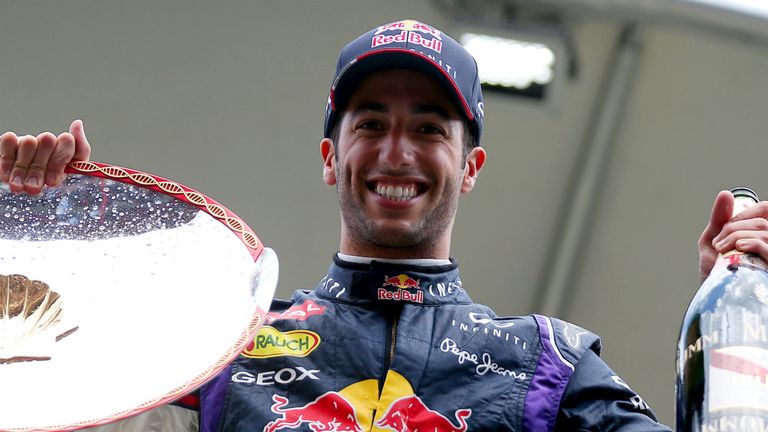 Christian Horner reckons Daniel Ricciardo will be a title contender somewhere down the line, although Red Bull's team boss still isn't getting too carried away about the Australian's chances this season.
Ricciardo's Belgian GP win was his third in six races and, as a consequence, has led to whispers that the 25-year-old is now an outside bet to win this year's World Championship.
All season, the title battle has been considered very much a two-way affair between Nico Rosberg and Lewis Hamilton.
However, their controversial collision on lap two at Spa – which led to Hamilton's eventual retirement while Rosberg recovered to finish second – has allowed Ricciardo to make up more ground.
He now stands 35 points behind Hamilton with Rosberg 64 points ahead – a big gap as Horner acknowledged.
Yet with Red Bull's own performance clearly improving and Ricciardo's confidence in full bloom, the defending champions hope they can continue to pounce if Mercedes go into meltdown.
"I think we've benefited from a get together from the Mercedes, but it's good to be keeping them honest. This was a track we didn't expect to be competitive at yet we've managed to win here," Horner said after Sunday's race.
"It's our third grand prix victory of the year. We've won in Montreal and Spa, which are the two most unlikely tracks we would have picked pre-season and all we can do is focus on ourselves and go race-by-race.
"It's remarkable that Daniel's only won one race less than Nico so far this season."
The spectre of team orders now looms at Mercedes although Horner - who has learnt a thing or two about such squabbles in recent years - naturally wants Rosberg and Hamilton to keep hard at it.
"I think it's good for Formula 1 that those two guys are racing each other, because they're both racing for the World Championship and they've got a big lead over everybody else," he said.
"I think it's right that they do push each other hard."
Horner said Red Bull had been particularly boosted by Ricciardo's success on a track where they had expected to struggle.
They ran low downforce on both their cars – World Champion Sebastian Vettel eventually finished fifth after starting P3 – in order to make up for their Renault power disadvantage, with Horner hoping Red Bull can close the performance gap after the Italian GP.
"If you're competitive here then hopefully you can at least be half-competitive in Monza. But it really lends itself to a Mercedes type of circuit," he said.
"Hopefully we've got some track that should be quite good for us coming up."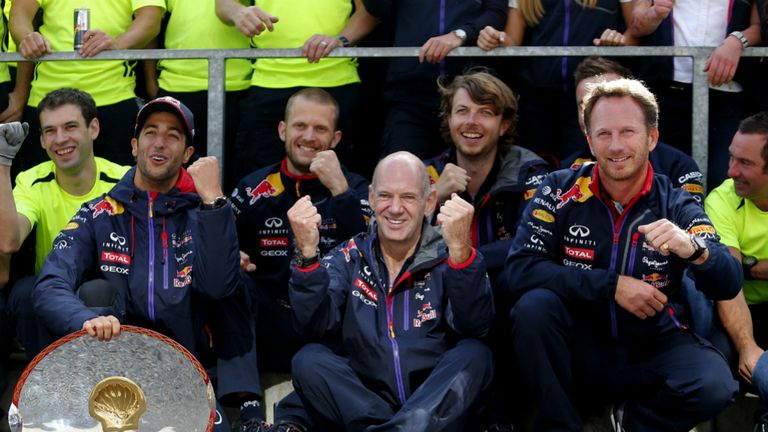 Horner also praised Ricciardo, who has now beaten Vettel nine times in 12 races.
"In all honesty, we never thought he'd be as strong as he has been. We knew he was fast, we knew he was a very good racing driver but I don't think any of us – probably not even Daniel – realised just how good he was going to be," he added.
"His confidence is sky high. He's come in, he has no pressure and he's driving beautifully at the moment. He's very economical with the car, the tyres, and his pace is extremely good.
"He's obviously marking himself out as a clear championship contender."