Adrian Newey warns it'll be 'difficult' for Renault and Ferrari to catch Mercedes
2015 Red Bull car likely to be the last designed by Newey; F1's most successful designer reveals interest in road cars but defends current balance of power between engines and chassis in F1
By Pete Gill
Last Updated: 09/01/15 6:26pm
Adrian Newey has warned it will be "very difficult" for Renault and Ferrari, as well as engine newcomers Honda, to close the yawning gap to Mercedes in 2015.
The Silver Arrows scored a record-breaking 11 one-two finishes at the start of F1's new turbo era in 2014 and with the sport's technical regulations fundamentally unchanged between seasons they are expected to lead the field again in 2015.
"Can Renault and Ferrari get to Mercedes' level? It's going to be a very difficult challenge – and of course we don't know where Honda are going to come in," Newey told Sky Sports News HQ.
The Red Bull designer, the mastermind behind the team's run of four successive title doubles and the nearest thing to a guarantee of success in the sport, is reducing his involvement in F1 this year to pursue his interests outside of motor-racing, most notably with Ben Ainslie's America's Cup team.
Newey's backwards step, after over three decades at the forefront of F1, has been interpreted as an expression of disillusionment with the sport's new power-centric bias. However, the 56-year-old insists he approves of the current balance of influence between aerodynamic design and engine power in F1.
"With a slightly weaker engine but a superior chassis you can still win and vice versa," Newey told Rachel Brookes at an exhibition at the London Classic Car Show celebrating his career in motorsport.
"We have a reasonably even balance between engine and chassis – which, in my view, is how it should be."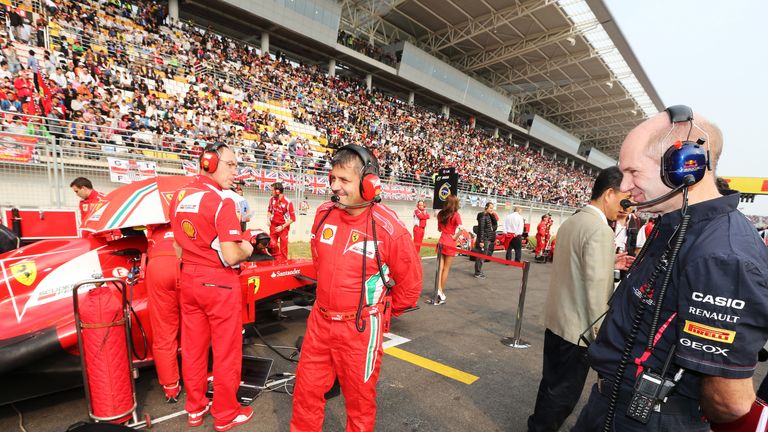 Last year's RB10 car was widely reckoned to be aerodynamically superior to the all-conquering Mercedes W05 but was critically handicapped by an underpowered Renault engine. Although Red Bull won three races, the team were generally no match for Mercedes and were frequently also out-paced by a Williams outfit also armed with Mercedes power.
"Clearly, last year was engine-dominated and we saw that with Williams springing forward," said Newey. "Obviously Williams did a very job but I think what really made the difference for them was the engine."
Newey has indicated that the RB11 will be his last hands-on design in F1 as he seeks new challenges outside of motorsport. It's a wanderlust which former world champion Sebastian Vettel evidently also shares following the German's surprise decision, less than a year after securing his fourth title with Red Bull, to trigger an opt-out clause in his contract and join Ferrari.
"He wants to stretch his wings and discover other things," Newey said of Vettel's defection. "It's a natural curiosity in life to find out how you can perform in different environments. I can understand why he has moved. He's a very bright guy and unfortunately I am sure he will bring things to Ferrari that we rather he didn't, but we understand."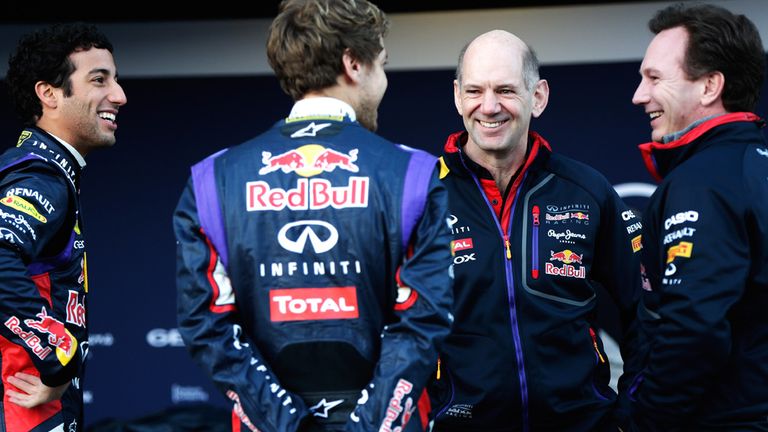 Newey's empathy with Vettel's departure has manifested itself in a reduction of his own responsibilities at Red Bull and a strengthening connection with the proposed America's Cup sailing team to be spearheaded by Ainslie, the most successful sailor in Olympic history.
"It's a parallel industry – the basic problems are all the same," explained Newey. "But I've spent my whole career in motor-racing and it would very arrogant to think that l could be in charge of the design. We are consultants and I'm just starting to think of a few ideas and bits and pieces."
But not even the advanced technology of the world's most prestigious yachting competition and a 'mentoring' role at Red Bull may be sufficient to sate Newey's curiosity for long.
"Road cars could be an avenue in the future," mused Newey. "I'm always sketching all kinds of things." 
The Sky Sports F1 Online team will be providing live commentary of all three winter tests, starting in Jerez on Sunday February 1, with live updates from trackside also on Sky Sports News HQ.