Red Bull owner Dietrich Mateschitz reiterates threat to quit F1
Dietrich Mateschitz says strong engine vital to Red Bull's future competitiveness; Sky sources understand Austrian's threat is serious
By James Galloway
Last Updated: 09/10/15 11:17am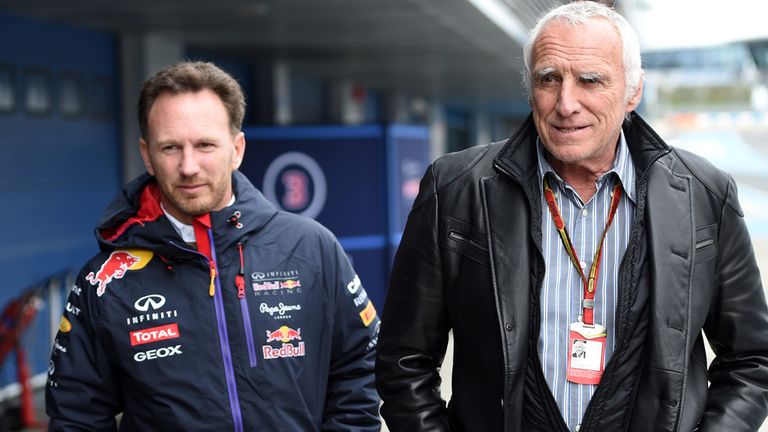 Red Bull owner Dietrich Mateschitz has confirmed his company would pull the plug on their F1 involvement if his teams can't access a "competitive" engine.
In the latest warning from the former world champions in the wake of their uncompetitive start to the 2015 season, Mateschitz has reaffirmed comments first made by his advisor Helmut Marko after the Australian GP that the energy drinks firm would consider withdrawing if they became "totally dissatisfied" with F1.
Mateschitz's subsequent intervention into the matter, and his citing of the need for a "competitive" power unit, undoubtedly serves to ramp up the pressure on engine suppliers Renault, who have already come under heavy fire from Red Bull for their underperforming engine this season.
"We'll only stay in Formula 1 if we have a competitive team, and we need a competitive power unit for that," Mateschitz, the co-owner of the Red Bull company, told the Austria Press Agency.
"If we don't have one, we can race with the best car and the best drivers and still have no chance of competing for victory."
Sky sources understand that Mateschitz's threat is 'serious', with Sky Sports F1 commentator Martin Brundle suggesting that the Austrian billionaire wouldn't make such public comments lightly.
"Clearly, they need to improve the engine. They are behind Ferrari and Mercedes," Brundle said. "Dietrich Mateschitz is quite publicity-shy, he doesn't say too much and when he does, he doesn't just say things for effect or just because he wants to.
"There will be a purpose and he is clearly trying to put pressure on Renault to improve the engine and he also wants to open up the system – there will be some sort of strategy on that because that's not a throwaway line."
Red Bull's performance at the season-opening race in Australia, when the team finished a lap down on Mercedes, provoked a war of words between the team and their French engine suppliers.
At the following race in Malaysia, Renault themselves revealed that they were considering all of their options in F1, from buying their own team - most likely Toro Rosso - to withdrawing completely, with the latter scenario prompting Christian Horner to admit that the French firm could effectively force Red Bull out of the sport too.
Although Marko has suggested that Renault could increase their visibility in the sport by increasing their branding on the Toro Rosso cars, Mateschitz reckons they should quit completely if they can't get a competitive handle on F1's turbo regulations.
"Of course Renault can also weigh its options, including a pullout," he said. "As a manufacturer, it's your task to deliver a competitive power unit. If you can do that, it's great. If, for whatever reason, you can't do that, you should pull out. Then the consequences for us would be clear, too."
Should Renault not deliver a power unit capable of challenging Mercedes and Ferrari in the short-term then one option floated last year was that Red Bull might consider taking the unprecedented step and start manufacturering their own engine.
However, Mateschitz has said that such a solution wouldn't be commercially viable.
"We are not a car manufacturer who could justify the investment," he said. "So we rely on Renault to close the gap to Ferrari and, above all, Mercedes."