F1's engine politics examined: Why would Ferrari supply Red Bull?
Examining the politics behind Ferrari's willingness to supply Red Bull instead of Renault in 2016 after Mercedes went cold
By Pete Gill
Last Updated: 19/09/15 11:27am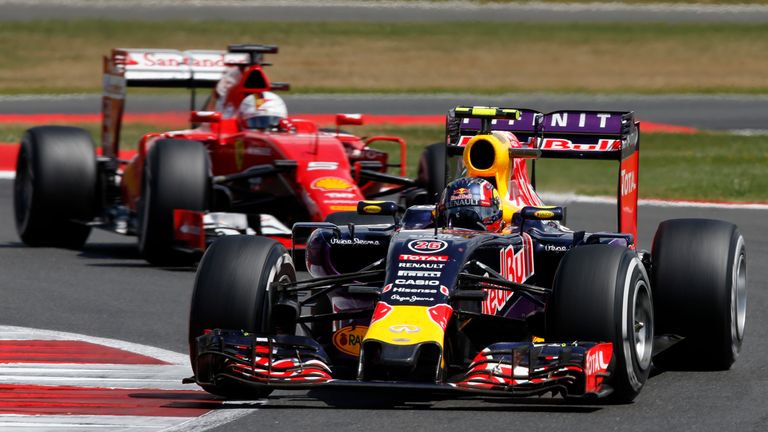 Will Ferrari supply Red Bull with engines in 2016?
There is an increasing expectation in the paddock that Red Bull - along with junior team Toro Rosso - will be powered by Ferrari in 2016. Red Bull boss Christian Horner is known to have held talks with Ferrari counterpart Maurizio Arrivabene in Monza two weeks ago with F1 ringmaster Bernie Ecclestone also in attendance. Just as importantly, Ferrari supremo Sergio Marchionne was also present in the Monza paddock, putting all the major players on stage for some momentous deal-making.
What about Renault?
Although the divorce has not yet been finalised, Red Bull's split from Renault is imminent - with the team warning they are willing to sever ties to their long-time engine partners even if that means they will have to quit F1 at the end of 2015.
"If we don't have a competitive engine we will leave F1," Helmut Marko confirmed to Sky Sports News HQ on Friday night in Singapore. And for their part, Renault, fed up with being castigated when their partnership loses and ignored when it wins, have announced they will not stay on in F1 as engine providers. "Our future is the subject of detailed analysis and renegotiating," said Renault boss Carlos Ghosn this week. "We will either exit or run our own team."
However, there's still no sign of Renault's long-anticipated takeover of the cash-crippled Lotus outfit being completed.
What is Lotus' situation?
The team's latest appearance in court to face a winding-up petition brought by HMRC over unpaid taxes has been adjourned for another week, underlining the immediacy of their financial strife. Their position is now as stark as it is clear: either they conclude a deal with Renault by the close of the Japanese GP weekend or they will, almost certainly, enter administration.
Will Renault's takeover of Lotus take place?
Let's hope so because the stakes being played for couldn't be higher and 'Team Enstone' are one of the very best in motorsport.
But having upped the ante this week with their declaration that they will only stay on in F1 as team owners or walk away altogether, Renault are reputedly demanding 'a heritage payment' from F1's authorities - with the implicit warning, it would seem, that unless it is paid both Red Bull and Lotus could be forced to leave the sport with them.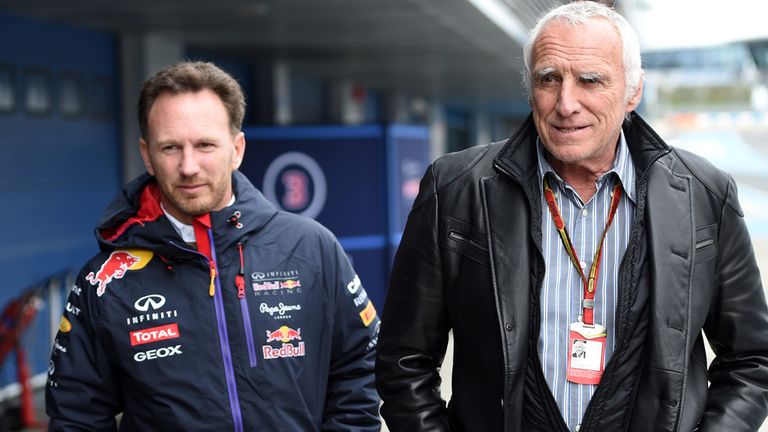 Could Red Bull really leave F1 at the end of the season?
The 2015 season wasn't even a week old before Red Bull made their first threat to leave the sport if they didn't land a competitive supply of engines. Since then, all that appears to have changed is a complete loss of belief that Renault could meet that demand.
Ominously, the threats were sanctioned by Dietrich Mateschitz - the publicity-shy Red Bull owner whose public pronouncements thus carry extra weight and who, in the words of Sky F1 pundit Martin Brundle, has "form" for hitting reverse when "he's not happy".
But the problem and predicament for Red Bull is that Renault are one of only four engine suppliers in the sport and of that quartet only Mercedes and Ferrari are viable alternatives given the wretched struggles Honda have endured since returning to the sport. Horner confirmed to Sky Sports last month that Red Bull had abandoned the idea of making their own engines - in part, presumably, due to the torrid experiences of Honda as they attempt to play catch-up in F1's complex but penal new turbo era. "It's a crazy situation," sighed Brundle in Singapore. "There's peril there, but I think they'll sort it."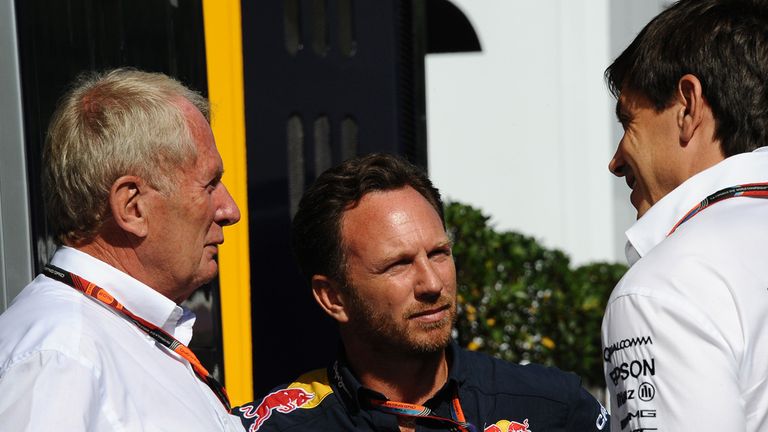 Weren't Mercedes willing to supply Red Bull?
Around the weekend of the Belgian GP it certainly appeared that Mercedes' previous reluctance to supply their rivals had softened. But Mercedes' change of mind was made public ten days ago when Marko told the German media: "As far as we're concerned the matter of Mercedes is closed. The focus for us is now elsewhere."
While Mercedes' desire to protect their current superiority is understandable, it's also reasonable to suggest that Red Bull's predilection for castigating their engine providers in public may have also been a factor in Mercedes' conclusion that such a deal could only be a lose-lose. "On the one hand you can understand Toto [Wolff, the Mercedes  boss] in that they see Red Bull as a threat," Horner told Autosport. "They're probably not that keen to see one of their biggest assets supplied to a competitor. Toto made his position pretty clear. To be honest, we expected it. Toto, from the word go, was never a fan of supplying Red Bull. It was his board that was perhaps more interested than he was. But it's not an option, so now we focus our attentions elsewhere."
And that, in all probability, means Ferrari…
So why are Ferrari willing to rescue their rivals?
Because Ferrari reckon they can beat Red Bull even from the level playing field of equal engine power. "Red Bull have big names, with Adrian Newey as chief designer, and it is easy to think if you give them the engine they will build a scary chassis, which means they will be really competitive. My team, my engineers and aerodynamicists know their jobs. For that reason I don't have a problem and competition is nice when you have a stronger competitor," a bullish Arrivabene told reporters in Monza. "This doesn't mean tomorrow morning we will give our engines to Red Bull but I don't see any problem to give our engine to any other team or be scared of the competition before they start. This is not the right spirit of competition, of what Ferrari represents. We fight with everybody."
Impressive words. However, it's also reasonable to assume that plenty of pressure is being exerted on Ferrari to keep Red Bull in the sport. Remember who else was present when Arrivabene was spotted with Horner in Italy?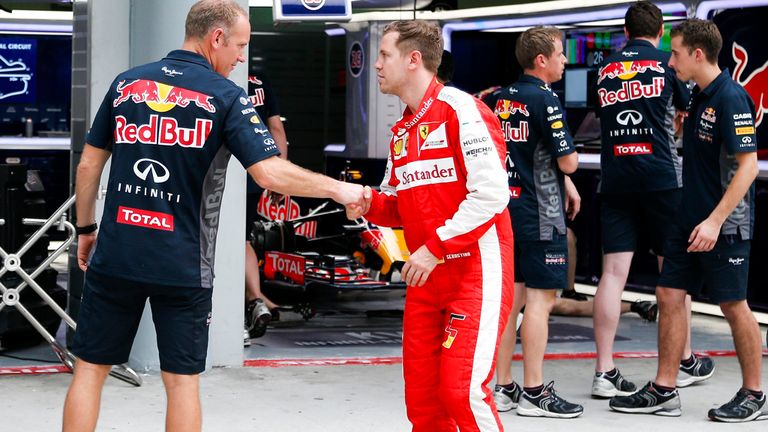 Would Red Bull be happy with a Ferrari supply?
Even if the Ferrari's engines currently trail Mercedes', they certainly fall within any reasonable definition of 'competitive' units. Moreover, Ferrari are adamant they have the potential to match the Silver Arrows' power output next year. "In 2016 all bets are off," Marchionne told Sky Sports. "We're entering the season with a completely re-designed engine and car; and I feel relatively comfortable that Ferrari will be back and a true competitor, as opposed to being a catch-up artist."
Would Ferrari and Red Bull's engines be the same?
Despite suggestions that Red Bull would be presented with a year-old supply of engines, we can be sure that Horner and co. will not accept anything less than engine parity from their prospective new partners. Indeed, it's difficult to foresee Ferrari agreeing to such a deal given the wave of negative publicity it would generate.
Nevertheless, Ferrari and Red Bull have not always seen eye-to-eye in the past - not least when their partnership ended after a single year in 2006. "They were quite derogatory about Ferrari earlier on this season on camera," noted Brundle. "It wasn't a relationship that worked particularly well last time around, and it just seems that whatever engine Red Bull have got, they want something else."
Wouldn't Red Bull need Ferrari engines now if they were to use them in 2016?
Due to their complexities, the design and build process of F1 cars are generally signed off many months in advance - some of the major teams have been known to switch focus as early as April to the following season. But, by convenient happenstance, F1 is due to take a three-month shutdown this winter and with the start of the 2016 campaign pushed back to April, Red Bull believe they could still incorporate a brand-new engine supply even if those units are delivered as late as December.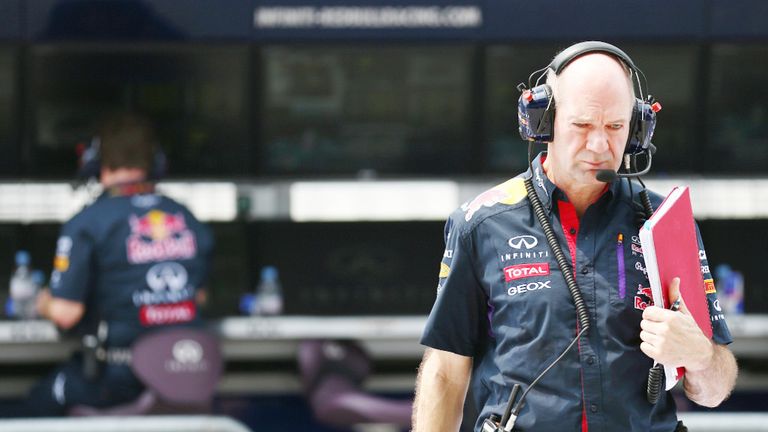 Could Red Bull-Ferrari win the title in 2016?
There are many who believe that it is impossible for a customer team to win in F1's engine-centric new era and there are a number of subtle methods a 'works team' can employ or devise to retain an advantage. Sky Sports F1 pundit Mark Hughes has revealed that McLaren lost up to 40 horsepower during their final year as Mercedes customers because they were contracted to use Mobil fuel while Williams have yet to receive the new upgrade their suppliers Mercedes introduced for their eponymous cars in Italy two weeks ago.
"No grand prix team is going to win a World Championship in the future unless it is the dominant recipient of an engine manufacturer's efforts," declared Ron Dennis 12 months ago as McLaren prepared to leave Mercedes for Honda, with the Woking boss attributing the inability of a customer team to prevail "to not having access to the source code that allows you to both harness and harvest the energy-recovery systems which is crucial for getting a well-balanced car".
Twelve months on, however, and the wisdom of McLaren's decision to switch to Honda, underpinned by Dennis' adamant conviction that "if your objective is to win a World Championship, you have to have a strong OEM [original equipment manufacturer] behind you", looks increasingly dubious.
Red Bull evidently believe they can still prevail even as a customer team and if there is any outfit on the grid capable of winning as 'junior partners' it is surely the team which has Adrian Newey, the recognised 'design genius' of F1, on the payroll. Just look at their form on Friday around a Singapore track where engine power has so little sway.
Don't bet against them.
Don't miss Sky Sports F1's exclusively live coverage of the 2015 Singapore GP. Race-day coverage begins on Sunday at 11.30am with lights out at 1pm. Watch the Singapore GP for £6.99 with NOW TV