Christian Horner on Red Bull's future, a divorce from Renault, and depending on Ferrari for 2016
"It is a Ferrari engine or nothing - there is no other option"
Last Updated: 09/10/15 11:15am
Christian Horner opens up to Sky Sports on Red Bull's future, their divorce from Renault, and a possible future with Ferrari and Audi...
The former world champions are poised to split from current engine providers Renault, but without an alternative deal in place they have warned they could leave the sport at the end of the season. Amid suggestions they are close to reaching an agreement with Ferrari and fresh rumours they could be bought by Volkswagen/Audi, team boss Horner revealed the state of play to Sky Sports...
On divorcing from Renault
"It is not quite official yet, it is in that counselling stage before hopefully coming out with an amicable divorce fairly shortly. But nothing is confirmed as we sit here now."
On being turned down by Mercedes
"We officially requested for engines back at the British GP but they've made it quite clear that they will not supply Red Bull. It was our first option, but that was always going to be a bit of a long shot."
On turning to Ferrari...
"Ferrari have a great history of supplying strong customer engines and their engine certainly looks pretty strong at the moment. So subject to concluding an agreement with Renault that would be our priority."
On what happens if Ferrari say no...
"Then we have a major, major problem as effectively we are a team without an engine. The onus is really on the powers that be to come up with a solution or risk losing not only Red Bull, but also Toro Rosso as well. There is a chance, how big that chance is doesn't depend on us, it depends on others. It is a Ferrari engine or nothing. Mercedes won't supply us and there is no other option."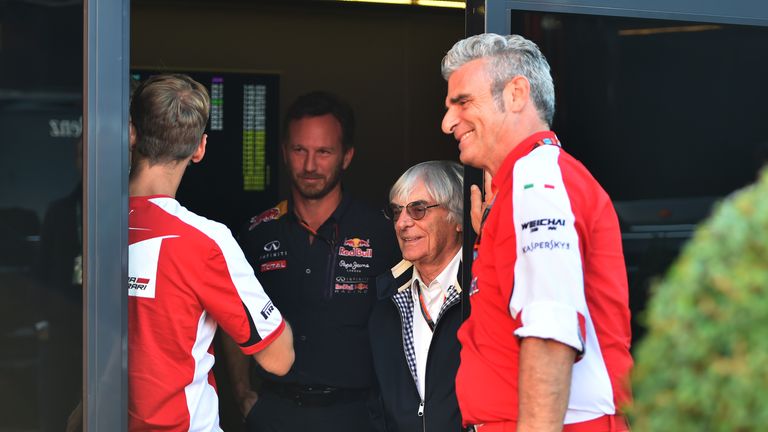 On being competitive in F1...
"We've got two dominant power units in Formula 1 at the minute and unless you have one of those units, you are not going to be competing. So for us it is important to make sure we get a competitive power supply as quickly as possible.
On rumours that Volkswagen-Audi could buy the team
"Volkswagen Audi Group is close to Red Bull across many forms of motorsport and if they were to come into Formula 1 it would be great for Formula 1. But even if they start now I think the earliest they could produce a competitive engine is likely to be two or three years away."