Williams' Pastor Maldonado says no decision made yet over where he will drive in 2014
Venezuelan also denies country's sports currency probe affects him
By James Galloway at Buddh International Circuit
Last Updated: 24/10/13 5:40pm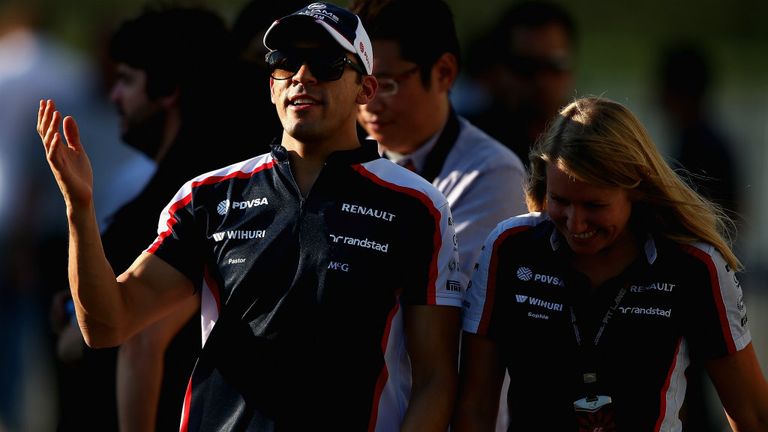 The Venezuelan is one of a number of drivers who are currently at the centre of the increasingly intriguing driver market among Formula 1's midfield, with Maldonado linked with a potential switch to Lotus or even Force India should he not stay at his current team into a fourth season.
Speculation regarding Maldonado, whose career is supported by the Venezuelan state oil company PDVSA, who currently sponsor Williams, has been particularly rife in recent days amid reports that he could take up the vacant seat at Lotus with Ferrari exile Felipe Massa switching to Grove.
And speaking ahead of the Indian GP on Thursday, Maldonado cast further doubt over his Williams future by suggesting that although does have a contract to stay at the team for 2014, his plans remain unresolved.
"Next year, we'll see. There is a lot of rumours from everywhere. [One report says] my relationship with the team is broke - I'm here, racing, with everyone," Maldonado told reporters.
"For sure the season has been quite hard for myself, for the team. We've been working together - I've never worked like that in my life, it's been very hard.
"In my three years in the team I've never seen the team working like they work. They try to do all the best, but sometimes Formula 1 is like that. Sometimes it's good, sometimes it's not. In this time it's not a good moment for the team.
"Next year I have a contract in the team. You never know. At the moment I have not taken any decision, which is [set to be in] the next couple of races."
But in regards to his general F1 future, Maldonado added: "For sure I will continue. If it's here in Williams, or somewhere else, I will continue.
"I'm one of the most interested to be confirmed, to announce my situation for next year. As soon as we can, it will be there."
The Williams driver also moved to deny that his place on the grid could be put in jeopardy by the onset of a sports currency scandal in his homeland of Venezuela, which has seen hard payments to motorsport drivers racing abroad frozen pending an official investigation.
Although stressing that the episode didn't affect him, Maldonado expressed disappointment over the situation and hoped it wouldn't derail the progress of the country's next generation of racing talent.
"It is not concerning me because I never received money from the state," he said.
"That money is not free, the drivers need to pay for that money, it's current exchange. There is a programme in Venezuela for sport, education, care and so many other things. You can change money [at a] lower price and what I heard is that some drivers were changing money on preference price and then they were selling them on the second market.
"This was really sad to hear about that because this sport was nearly dying some years ago and I worked very hard to recover the sport and to put the sport in a very high position in Latin America.
"I really hope that this problem doesn't affect the youngest generation who really need the money to race and to be outside of Venezuela.
"For sure it's a good thing. We heard some rumours from many years ago but from now I think government is taking this seriously and it's a good movement. We really need them to understand that it's not all the drivers involved on this, especially for the children who are racing go-karts. We will work together to do some special programme to support the drivers who need it."