Pastor Maldonado moves to centre of driver market spotlight as Lotus link intensifies
Venezuelan confirms he has "a couple of options" for 2014 season
By Pete Gill and James Galloway at the Yas Marina Circuit
Last Updated: 01/11/13 8:59am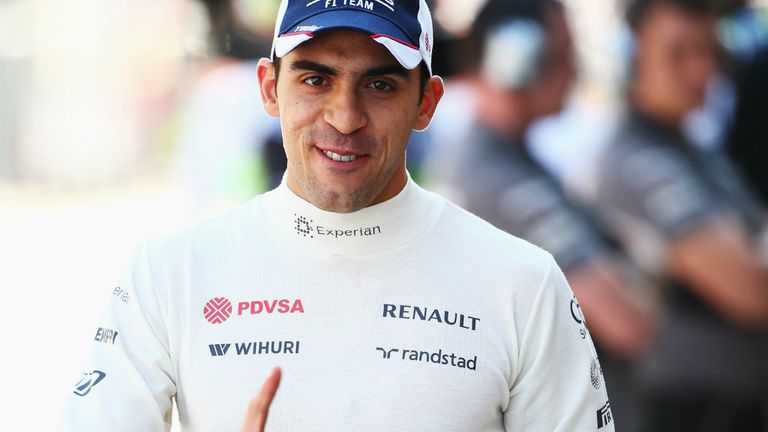 While the driver line-ups of Red Bull, Mercedes and Ferrari have been confirmed for next year, only three other seats have been officially confirmed: Daniil Kvyat and Jean-Eric Vergne at Toro Rosso, plus Jules Bianchi at Marussia. Even with McLaren unofficially announcing Jenson Button will be retained, less than half of the seats for next year are yet to be filled, a stasis of uncertainty which has resulted in a febrile atmosphere within the paddock.
A week after Eric Boullier's disclosure that either Maldonado or the highly-rated Nico Hulkenberg would replace the Ferrari-bound Kimi Raikkonen at Lotus, the latest rumour spreading through the Yas Marina Circuit paddock on Thursday was that the Venezuelan had signed a pre-contract agreement with the Enstone outfit.
Yet no sooner had that rumour reached one end of the pitlane when it emerged that Maldonado, the winner of last year's Spanish GP, and his money-laden backers have opened talks with Sauber, the Swiss outfit whose financial problems have been well documented this year.
Maldonado himself was keeping his cards close to his chest, although did confirm that he had "a couple of options". Interestingly, he also claimed the eventual decision over his future was in his hands.
"Time is going away and I really want to have a clear answer," he added. "I am working with my people and we will choose the best decision and the best team for me.
"I have no deadline or special day, but I hope to have it before the end of the season. Brazil, maybe, or maybe before."
The Venezuelan, whose entire three-year F1 career to date has been spent at Williams, admitted that deciding on where best to progress his career in 2014 was proving a challenge.
"It's not easy as a driver to choose a team, especially when everything will be new for next year.
"I've been here for three years and so it will maybe an advantage to stay in the team because I know everyone here. Another team will be starting like from zero. I would not be the first one from doing that in history, so we'll see.
"Apart from that you have many other factors: you need to see who will work for you and with you, the projects, engines, many things. The people, it is very important to have a good feeling with the people around. Budgets. All the budget plans - it's very important.
"I'm taking my time because it will be very important for me and I need to feel comfortable."
Although a grand prix winner in his own right, the additional attraction of a team hiring Maldonado is the likely substantial budget he brings with him from Venezuela's state oil company PDVSA, although speaking on Thursday the driver only expressed "hope" that the firm would follow him to another outfit should he change teams.
While it remains possible, if increasingly unlikely, that Maldonado could stay on at Williams, what's clear is that resolution of the South American's future could be the trigger for half-a-dozen driver deals over the coming weeks.
If Maldonado does move to Lotus then Hulkenberg would effectively have to choose between staying on with Sauber or returning to Force India for 2014, a U-turn which could have grievous implications for Paul di Resta's future in the sport, while it's believed that Felipe Massa has already been lined up to replace Maldonado at Williams alongside Valtteri Bottas - assuming, of course, the youngster is re-hired.
Although the identity of the 2013 winners in both the Constructors' and Drivers' Championships have already been determined, there are still plenty of drivers literally driving for their futures with three races of the campaign remaining.
The Abu Dhabi Grand Prix is live only on Sky Sports F1 this weekend - with race coverage from 11.30am on Sunday