Felipe Massa and Valtteri Bottas staying at Williams for 2016 season
Option on both drivers taken up for next season, meaning same line-up for third consecutive campaign
By James Galloway at Monza
Last Updated: 09/09/15 1:17pm
Felipe Massa and Valtteri Bottas will stay as team-mates for a third straight season after Williams confirmed an unchanged line-up for 2016 on Thursday.
In an expected move following Ferrari's decision to retain Kimi Raikkonen, Massa and Bottas confirmed they would remain in tandem in a video announcement on the team's Twitter page ahead of this weekend's Italian GP.
The pairing have enjoyed a successful first two seasons as team-mates, claiming 11 podium finishes, as Williams returned towards the front of the field following a near-decade in the doldrums. The Grove outfit held contractual options on the drivers for 2016 and the decision to retain the same pairing seemed likely after Ferrari decided not to pursue a move for Bottas.
"For me it's the best place to be at this point. There's obviously not many other seats available anyway and for me I'm very happy to stay with the team. Continuity is good for a team," said Bottas, who first joined Williams as a test driver in 2010.
"At least there's no more speculation and me and the team can focus on the job, delivering results and making the car quicker.
"Even though you don't think about it that much, when it's all confirmed now we can focus on, first, this year and start working on the development of next year's car as well."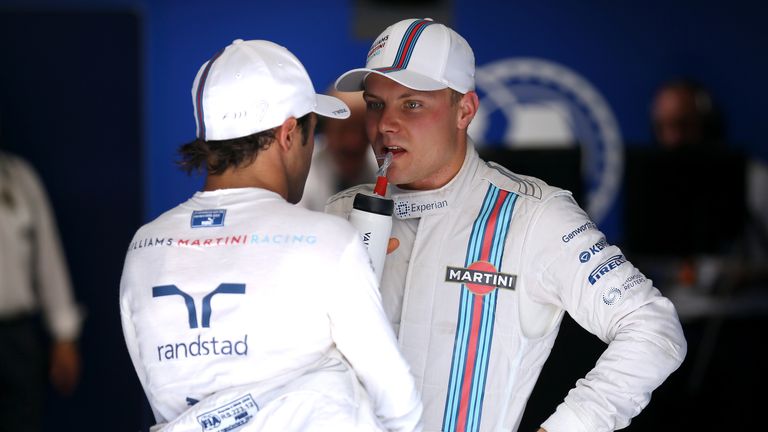 Williams' anticipated move underlines that there is likely to be little, if any, movement at the top-end of the driver market for 2016.
Mercedes and Ferrari will also head into next season with unchanged line-ups, with Red Bull likely to do the same. Force India this week confirmed Nico Hulkenberg had signed a two-year year contract extension, but there is uncertainty surrounding his 2016 team-mate, with Sergio Perez linked with a Lotus team which could be bought by Renault.
However, the focus is likely to remain firmly on McLaren with Jenson Button's place at the team alongside Fernando Alonso not guaranteed for next season. The Woking outfit are believed to hold an option on the 35-year-old's services, but have young drivers Kevin Magnussen and Stoffel Vandoorne waiting in the wings.