Force India will use their 2014 car at the first Barcelona test next week
2015 VJM08 will debut a week later at the final pre-season test
By William Esler
Last Updated: 13/02/15 8:24pm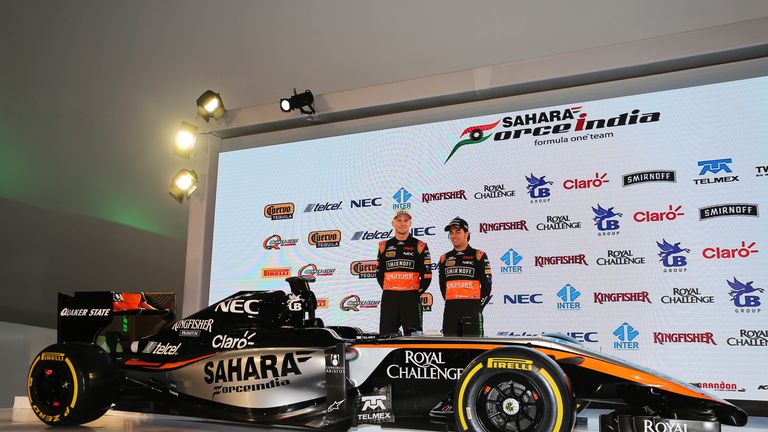 Force India have revealed they will run their 2014 at the first Barcelona test next week while further development work is carried out on the VJM08.
The Silverstone-based squad missed the first pre-season test in Jerez and admitted earlier this month that their 2015 car may not be ready in time for the opening four days of running in Barcelona. "It's looking likely that the new car, the VJM08, will not be ready in time to make its debut at the first Barcelona test session," a team spokesperson said on February 4.
Contingency plans were put in place to use the VJM07 next week before the VJM08 debuts at the third and final pre-season test at the same venue.
"We've been pushing to get the new car ready, but the decision was taken that we would run the 2014 at the first Barcelona test so we have a presence there while we push ahead with development of the 2015 car," a team spokesperson told Sky Sports Online.
"The new car is still expected to appear at the final test. The factory is very busy at the moment – everyone is pushing on with the manufacture of the parts and the car build process."
With a year of data collected during 2014, Force India feel that running the old car will provide them will key information about the behaviour of the 2015 Pirelli rubber.
"It will be very valuable for the tyre programme in terms of data collection there and I imagine there will be some test items as well," the spokesperson added.
Force India have switched their windtunnel work to Toyota's Cologne facility this season which has been partly to blame for the VJM08's delay.
"As you know we've recently started working with Toyota's windtunnel at their facility in Cologne," deputy team principal Bob Fernley said.
"However, the Toyota people had agreements with Caterham, and quite rightly until they could resolve their Caterham issues we could not move in with our contract.
"We didn't get the go-ahead until early December, so we were behind schedule before we had even started.
"On top of that we've had a few issues with suppliers because they've obviously been hurt very badly by the Marussia and Caterham demises.
"They wanted payments up front which hurt us cash-flow wise, and for one minute I don't blame the suppliers at all.
"I would do exactly the same if my financial position had been hurt very badly.
"But it hasn't helped us and has meant we've had a few slow downs in different areas."
The Sky Sports F1 Online team will be providing live commentary from all four days of both Barcelona tests. Sky Sports News HQ will also have live updates from trackside.