Force India braced for step backwards in pecking order at start of 2015 season
Bob Fernley hopeful team then buck recent trend and get stronger during season after winter "cash-flow issues"; Denies Force India have been hypocritical over Manor return
By Pete Gill in Barcelona
Last Updated: 16/03/15 2:21pm
Force India have admitted they are set to fall behind at the start of the new season following the delayed introduction of their 2015 car due to 'cash-flow' issues.
Although the VJM08 has made a successful debut at Barcelona in the final pre-season test, with the new Force India completing over 200 laps since its debut midway through Day Two, the Silverstone outfit are braced for a slow start when the action begins in earnest in Australia.
However, after transferring to an upgraded wind tunnel over the winter, a process which also delayed the VJM08's birth, the team are optimistic that a short-term regression will be followed by long-term gains.
"Unfortunately we will make a step back," Bob Fernley, Force India's deputy team principal, acknowledged to Sky Sports F1's 'Ask Crofty' show. "We will be behind at the start but hopefully we will reverse our recent trend and have a good second half of the season instead."
Fernley also admitted that the team, which skipped the Jerez meeting and only ran its 2014 car at the first Barcelona test, were struggling in F1's current straitened times.
"We have had cash-flow issues, there is no question about that, our suppliers were very badly hit by the demise of Caterham and Manor – and are still suffering. We have a very high expenditure at a time of low incomes," he explained.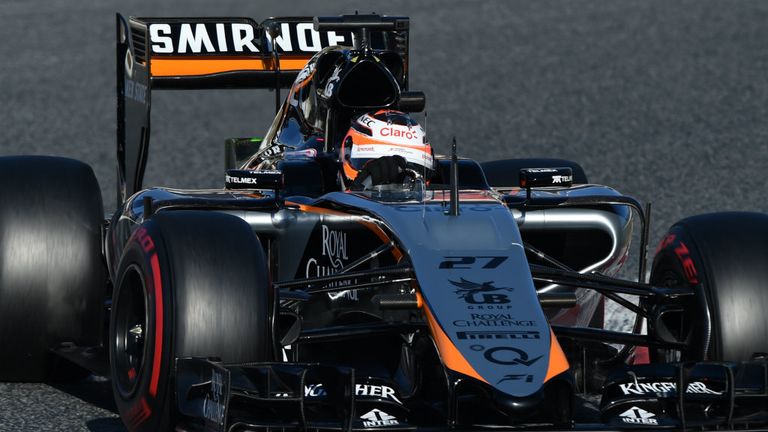 "It's very tough. Yes, we will survive but want to survive competitively. It's tough for all the independent teams – ourselves, Sauber and even Williams."
After priding themselves at the end of the 2014 for standing up for F1's lesser lights, Force India have been widely criticised for opposing the return of the Marussia outfit before the FIA announced that the rebranded team, which is to be known as Manor Marussia F1, had been granted an entry onto the 2015 grid. But Fernley bristled at the notion that Force India had been hypocritical in their opposition.
"Between '14 and '15, the changes are safety-based and if you want to compromise safety you need to have a good reason to do it," said Fernley.
"Heaven forbid if the unthinkable happened, how would we cope if we ran an unsafe car? We are very supportive of Manor. Manor are now going down the proper route and we welcome them. The last thing we want is for teams to fall out of F1."