F1 in 2018: Marcus Ericsson explains Sauber resurgence
Swede welcomes strong start to 2018 as team adapt to new partnership and new car
By Pete Gill
Last Updated: 13/12/18 11:39am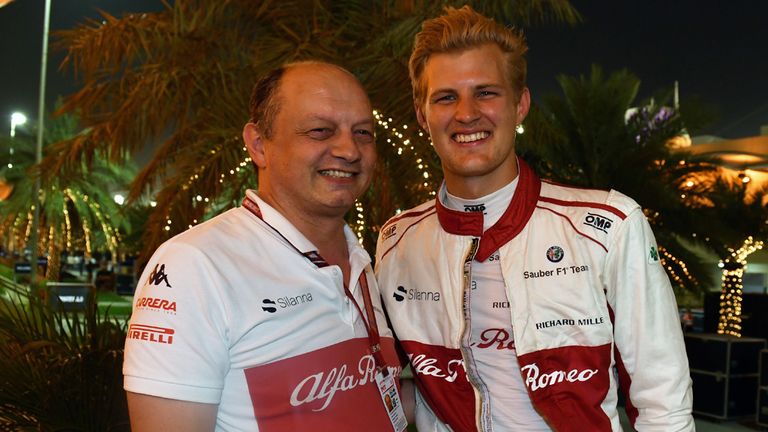 Sauber have their belief back after forging a new alliance with Alfa Romeo, according to driver Marcus Ericsson.
Alfa have returned to F1 in 2018 after a 30-year absence in a 'strategic, commercial and technological' partnership with Sauber, the sport's perennial backmarkers in recent years.
A Sauber car only finished in the points twice during the whole of 2016 and 2017, but Ericsson, scoring his first points in F1 since the Italian GP of September 2015, finished an impressive ninth in Bahrain last week, F1's second race of 2018.
"We're coming from two very difficult years, where we've been always at the back as a team, and then this year we're coming into the year with Alfa Romeo and it's like a new chapter for Sauber," said Ericsson.
"It's been a big change and you can feel it inside the team. The motivation is very high, people are believing again. It's a big motivation to move up the grid, whereas it's been more about the team surviving the last few years, so it's not so much been pushing for performance, it's been more pushing for trying to survive every week, every race.
"Now we go into the season to push, to make results and to move up the grid. It's just a completely different mindset."
Confounding most pre-season predictions, Ericsson has started 2018 ahead of new team-mate Charles Leclerc, out-qualifying the Formula 2 champion in both Australia and Bahrain.
"I've just stepped up my game a bit more. And the big thing is that l have a car in which l can show what l can do, which l haven't had for the past two years. That's the big difference," said Ericsson.
"The stronger the team-mate you have the better it is because it gives you the chance shows what you can. A lot of people seem to have different ideas as to how good l am but this is the perfect way for me to show my skills. It's going to be tough, his CV is amazing, but l am convinced l can do a good job."
The other surprise around Sauber so far in 2018 has been the performance of a car which misbehaved to such an extent during winter testing that it seemed to spend as much time in the barriers as it did on track.
"We had issues during testing with the set-up of the car," reflected Ericsson. "The biggest reason for that is that we changed so much, both mechanically, with the suspension at the front and rear, and aerodynamically.
"Aerodynamically we have a very different concept. It's taken us a bit of time to understand it and how to use it in the right way. The car was difficult to drive and after Barcelona we weren't very confident and there was quite a lot of worry going to Melbourne. But in Melbourne we found some good steps in performance and brought that with us going forward.
"It's been a steep learning curve with the new car which is so different to our previous cars."