Jenson Button: McLaren drive for Stoffel Vandoorne is big step up
Brit admits there will be "pressure" on his 2017 replacement
By Matt Morlidge
Last Updated: 26/09/16 9:23am
Jenson Button has warned his McLaren replacement Stoffel Vandoorne that driving in Formula 1 alongside Fernando Alonso is a huge step up .
Vandoorne has been a serial winner through the junior categories, sealing a sensational GP2 title last year, and has been rewarded with a much-anticipated promotion for 2017.
That sees Button take a one-year sabbatical from the sport and the Brit, who had spells with Williams, Benetton, Renault, Honda, and won the title with Brawn before joining McLaren in 2010, says the 24-year-old has a tough job on his hands.
Mark Hughes: Why Stoffel is so highly rated
"To be fair to Stoffel he's achieved a lot in his career," Button told Sky Sports News HQ's Craig Slater. "But most drivers who get to drive for McLaren have done a very good job in their career before they get there.
"He's had the best schooling because he's been with the team since 2013 and this year he's basically shadowed Fernando and myself. He's been at every race and he's been done everything apart from driving the car.
"He's learned so much but it's still a difficult role to be a driver for McLaren - they're one of the biggest teams in the world with so much history - and he's alongside Fernando Alonso so it's tough."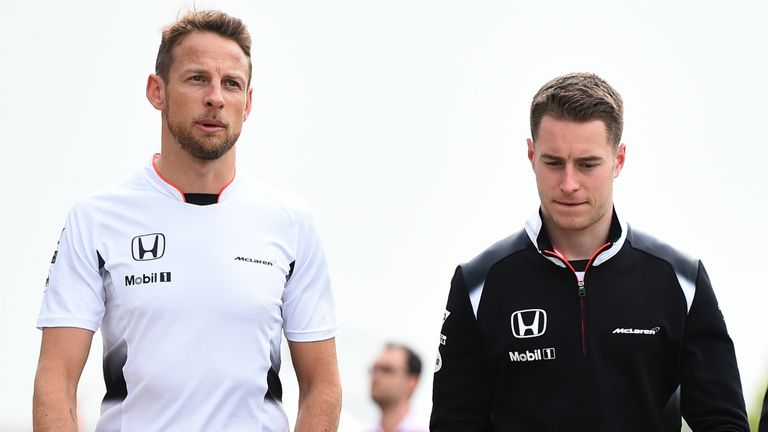 Since McLaren announced their "innovative and creative" three-driver set-up at the Italian GP, Button has maintained that he is not retiring from the sport and could yet be back in the car in two years' time.
And he admits that his continued presence in the team next season, when he will be a 'McLaren ambassador', could put more pressure on Vandoorne.
"Hopefully for his sake he does a good job. If he does, he'll have a long and exciting career with McLaren in the future," Button, 36, added.
"But obviously if you don't perform in your first year that has consequences as well so there's always pressure. 
"Also, I'm in the background as well. That's one thing Fernando said. I'm the only driver who has a contract for 2018!"
Watch live Premier League football, the Ryder Cup, and the last six races of the F1 season for three months half price