F1 Report: Fernando Alonso's last 2018 hope for race-winning seat?
Will Alonso have to leave F1 and chase a winning dream in America full-time next season?
Last Updated: 31/08/17 8:17am
Fernando Alonso has a "clear route" to secure his desired race-winning drive in 2018 - but it won't be in Formula 1, according to this week's F1 Report.
Though the two-time world champion wants to remain in F1 once his McLaren contract expires at the end of the season, all of the sport's top three teams, Mercedes, Ferrari and Red Bull, have closed their doors on him for next year.
But NBC reporter and F1 interviewer Will Buxton believes Alonso does have another option.
Over in America's IndyCar series, Takuma Sato looks set to leave Andretti-Honda, the team Alonso represented in this year's Indy 500, meaning the outfit may have a full-time race seat available in 2018.
"That now marks a clear route for Fernando to either get out completely, or take a sabbatical and go and do Indy for a year," Buxton said on the F1 Report. "The possibility now firmly exists.
"He said 'whatever I do in 2018, I need to be in a race-winning car, where I can fight for wins and titles'. That's not going to be in McLaren, it won't be at Renault, and regardless of how brilliant Paddy Lowe is and the money that Lawrence Stroll brings, it's not going to be at Williams.
"Where does that leave a race-winning car? The only place is IndyCar."
Former McLaren mechanic and Sky F1 pundit Marc Priestley agreed that IndyCar could suit Alonso, adding: "He loved racing in Indy, he's made no secret that he wants to go back and I think it could be an option."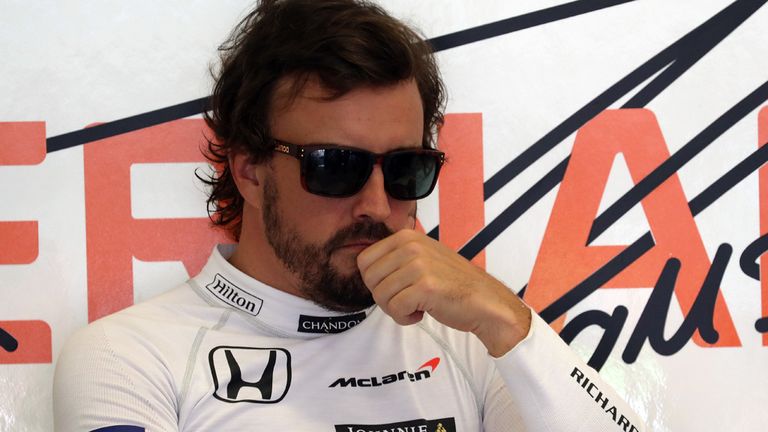 Priestley also believes Alonso's recent comments and actions, most recently retiring from the Belgian GP with what the Spaniard called an engine problem even though Honda found no fault, could be turning F1 teams away.
"He's being so vocal at the moment that there will come a point where other teams will start looking at him and thinking 'do we want someone whose that divisive in our team?'" Priestley added.
And Buxton said: "If you're Renault and you're trying to bring yourself back into contention do you want a guy who can be that disruptive or do you want a team player?"
'Force India could be fighting Red Bull'
Buxton and Priestley joined Sky F1's Natalie Pinkham in the studio for a bumper midweek show, and also on the agenda was the Force India fallout following Sergio Perez and Esteban Ocon's crash at the Belgian GP.
Priestley claimed Perez's actions were "disgraceful" and could cost him a top seat in the future, but while Buxton said the Mexican was at fault, he believes Force India management must hold their hands up.
Buxton added that Force India could be fighting Red Bull, who they are currently 96 points behind in the Constructors' Championship, without Perez and Ocon's bust-ups.
"Ultimately the responsibility for this lies on Force India management, not getting control of their drivers from Canada onwards," said Buxton.
"This has bubbled over and I feel sorry for the boys in the garage. These guys have now cost each other points and a potential race win in Baku.
"With only one Red Bull scoring points in half the races this season - where could Force India be in relation to that battle for third if the management had just got their guys under control earlier?"
Watch the Italian GP LIVE ONLY on Sky Sports F1 this weekend. Sunday's race at F1's fastest track starts at 1pm. Want to watch but not a subscriber? Get a NOW TV day pass for £6.99!
If you are using skysports.com you can comment below to get involved in the debate, but please adhere to our House Rules. If you wish to report any comment, simply click on the down arrow next to the offending comment and click 'Report'.