Fernando Alonso and McLaren shrug off latest F1 Testing setbacks
"There is nothing fundamentally wrong with the car," insists Alonso despite fourth breakdown in two days
By Pete Gill at Barcelona
Last Updated: 13/12/18 4:15pm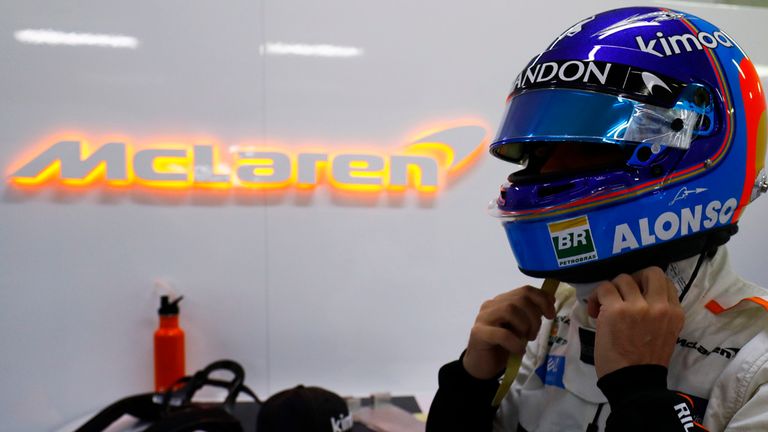 Fernando Alonso says he has "zero" concerns about McLaren's ongoing reliability problems in pre-season testing.
McLaren completed the fewest number of laps of any team on Day Two of the final test at the Circuit de Catalunya after Alonso's car broke down on track due to an oil leak which required an engine change.
F1 Testing: Fastest laps so far
The setback was the latest in an increasingly long list of niggles to have beset the team this winter despite their switch to Renault power, with McLaren also bottom of the total laps completed chart from testing so far.
But Alonso said: "There is nothing fundamentally wrong with the car. The issues we have had are under control. Unfortunately we keep discovering small things but that is making us in a strong position for Australia because we are strengthening all the small things."
New day, new problem for McLaren
A substantial haul of laps was McLaren's target at the start of Day Two after the the MCL33 broke down on three separate occasions on the first day of the second and final winter test at the Circuit de Catalunya.
Wednesday began promisingly when Alonso completed 47 laps - approximately two-thirds race distance - in the opening hours, including posting his best time of the winter so far.
McLaren's winter strife in pre-season testing
| | |
| --- | --- |
| Day One | Alonso spins off track in the opening hour of winter testing after a wheel nut isn't tightened sufficiently. The team complete just 51 laps in total |
| Day Two | Vandoorne is restricted to only 37 laps after a broken exhaust clip burns through the car's wiring |
| Day Three | As with the rest of the field, McLaren spend almost the entire day in the garage after snow falls in Barcelona. But Alonso is the only driver to set a timed lap. |
| Day Four | A productive day for the team as Vandoorne and Alonso combine to complete 161 laps |
| Day Five | After an early problem in the pitlane, the MCL33 breaks down on track due to a battery problem. After a three-hour absence, the McLaren returned to action but then broke down against in late afternoon because of a hydraulics issue |
| Day Six | The McLaren crawls to a halt at Turn Seven due to an oil leak which shuts down the engine. Alonso only returns for final 13 minutes. |
But the optimism crawled to a halt when the McLaren broke down on track, leaving Alonso stranded at Turn Seven.
"It wasn't engine related, it was a small oil leak," said boss Eric Boullier. "Unfortunately this made the engine die and so we had to change the engine."
After six hours of inactivity, the MCL33 made a return to the track shortly before the chequered flag fell.
Early lunch break today. Good laps this morning and more to come after lunch !! 👍👍👍👍

Parada a comer antes de tiempo. Buenas vueltas esta mañana y más que vienen por la tarde 👍👍👍👍

— Fernando Alonso (@alo_oficial) March 7, 2018
How far behind are McLaren?
Prior to their arrival in Barcelona, the 20-times world champion targeted setting 100 laps a day during testing. But three-quarters of the way through testing, it's a milestone they have so far only managed to reach once.
But Alonso said: "We would like to have done more laps but we are making the car stronger. I'm not too stressed about the laps we lost today.
"In terms of the fundamental answers we needed over winter testing we have them. If Australia was tomorrow, it would be ok."
The most laps completed per team after Day Six
| | |
| --- | --- |
| Team | Number of laps |
| Mercedes | 658 |
| Renault | 602 |
| Ferrari | 584 |
| Sauber | 563 |
| Williams | 547 |
| Red Bull | 504 |
| Toro Rosso | 497 |
| Force India | 389 |
| Haas | 360 |
| McLaren | 355 |
The team's management group are also adamant that there is no reason for concern.
"It's just testing," added Boullier. "We have some little issues and this is just part of the process. It's a new partnership with Renault and new packaging as well. This is testing, give us time."
Team chief Zak Brown added to Sky Sports News: "I think it's just natural teething, learning things. All the stuff that we've had have been pretty minor which get worked out at testing.
"We know what the issues are, they are all easily fixed. Of course, you would like to do more laps but we don't think we have any problems so we are not concerned."
How to follow Test Two on Sky F1
| | | | |
| --- | --- | --- | --- |
| Tuesday March 6 | Sky F1 digital live blog, SSN updates | 9pm: Paddock Uncut | 9:15pm: Ted's Notebook |
| Wednesday March 7 | Sky F1 digital live blog, SSN updates | 9pm: Paddock Uncut | 9:15pm: Ted's Notebook |
| Thursday March 8 | Sky F1 digital live blog, SSN updates | 9pm: Paddock Uncut | 9:15pm: Ted's Notebook |
| Friday March 9 | Sky F1 digital live blog, SSN updates | 9pm: Paddock Uncut | 9:15pm: Ted's Notebook |
Boullier also denied the intense and tight packaging around the MCL33 was a factor in the car's latest on-track breakdown although the team admitted on Tuesday night they had made changes to their cooling systems after bodywork 'burns' appeared on the car.
"We have tried to design the best car," said Boullier. "There have been some adjustments but the leak was nothing to do with that."