F1 2018: Fernando Alonso says next two months 'crucial' for McLaren
Alonso confident of podium finishes in 2018 but says McLaren must out-develop Mercedes, Ferrari and Red Bull
By Jonathan Green
Last Updated: 05/04/18 3:26pm
Fernando Alonso believes "the next two months are crucial" to McLaren's hopes in this year's Formula 1 world championship.
After a difficult winter of reliability problems, McLaren made an encouraging start to the 2018 season with their new Renault engine partnership as Alonso led home a double-points finish for the team in Australia.
Alonso's fifth-place in Melbourne was McLaren's joint-best since he rejoined the team in 2015 after three seasons of underperformance with Honda power units.
But the two-time world champion concedes McLaren still have plenty of work to do to reel in Mercedes, Ferrari and Red Bull but reiterated they are now in a position where their fate is solely in their hands.
"There is still quite a reasonable gap to close to the leaders. But I think it's up to us now, it's up to the team to deliver the performance in the next weeks, in the next four, five, six grands prix," Alonso said ahead of the Bahrain GP.
"If we are able to bring the performance to the track and close that gap and be in a reasonable distance to pole position and podium finishes then it is up to us to deliver the result on weekends.
"I think the next two months are crucial for our hopes in this year's championship."
Alonso, who won the second of his two drivers' titles in 2006, added: "Hopefully we can keep improving the car, keep putting more performance and if it is not a world championship fight, we will hopefully have some podium positions during the year or more regular top six, top five positions.
"Australia P5 was because of the Safety Car and two Haas retirements. Maybe P5 could become the normality - that is something that we need to discover and find out.
"But it is probably the first time in the last three years that it's up to us now to deliver the results. We will try to do our best."
McLaren have brought fresh upgrades to Bahrain and Alonso has challenged the team to have updates for every grand prix.
"We need more new parts than them and faster than them so we need to outperform them off the track," the Spaniard told Sky F1.
"We have some new parts here. Hopefully they are positive. That will be the trend of the season, every weekend try and bring new parts and try to close that gap.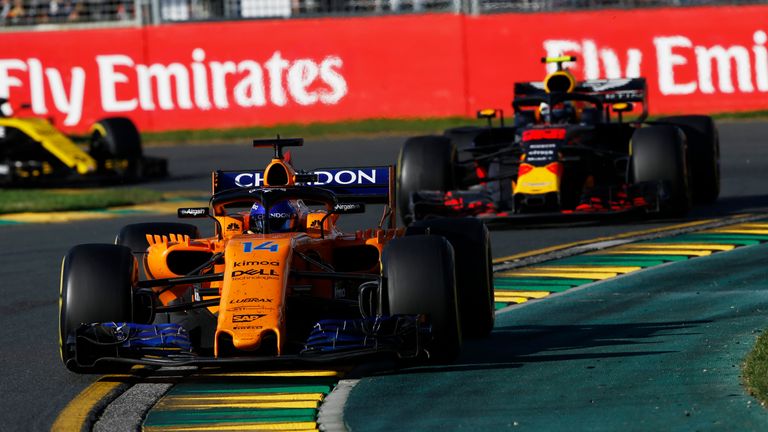 "We think big upgrades will come to the car later in the season and that will hopefully put us in a more competitive group so in these first races we need to score points, that's the main priority."
Despite a mid-race Safety Car in Australia, Alonso finished 21.5 seconds off the final podium place but the Spaniard is adamant McLaren can finish in the top three in 2018.
"We were two places from that podium in Australia and they were very close in the last 10 laps, Ricciardo and Kimi fighting together," Alonso said.
"Anything can happen in a race. I won two races in 2008 with Renault, I was on the podium in 2009 with the introduction of KERS and with that car that we were [eighth] in the world championship.
"Anything can happen in F1. If you are close to that position, sooner or later that opportunity will come and we will be there to take it. I think it is very possible this year."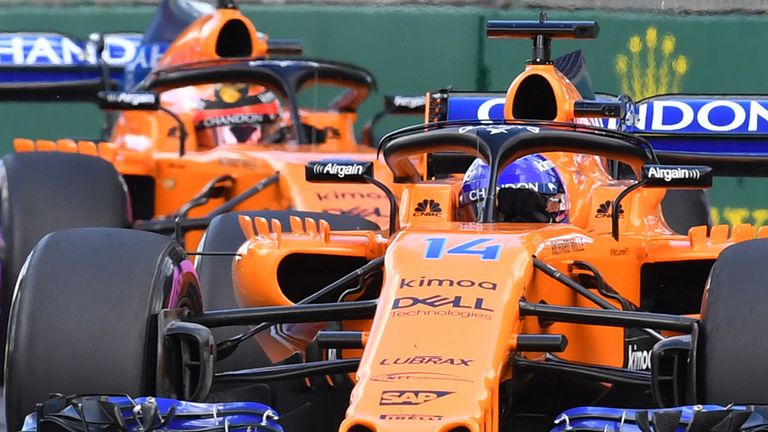 How to follow the Bahrain GP on Sky F1
| | | | | |
| --- | --- | --- | --- | --- |
| Friday April 6 | Sky F1 digital live blog | 12pm: P1 LIVE! (Build-up 11.45am) | 4pm: P2 LIVE! (Build-up 3.45pm) | |
| Saturday April 7 | Sky F1 digital live blog | 1pm: P3 LIVE! (Build-up 12.45pm) | 4pm: Qualifying LIVE (Build-up 3pm) | 5.45pm: The F1 Show LIVE! |
| Sunday April 8 | Sky F1 digital live blog | 2.30pm: Pit Lane LIVE | 3.30pm: On the Grid LIVE! | 4.10pm: The Bahrain GP LIVE! |
Can Lewis Hamilton and Mercedes bounce back at the Bahrain GP? Watch live on Sky Sports F1 from April 6-8. Sky Sports F1 is the only place to watch every Formula 1 Grand Prix, qualifying and practice session live in 2018. Get Sky Sports F1.