Chinese GP: McLaren fined for Stoffel Vandoorne pit-stop error
McLaren hit with 5,000 euro fine after Vandoorne released with loose tyre in P2; Fifth unsafe release in opening three grands prix
By James Galloway in Shanghai
Last Updated: 13/04/18 12:22pm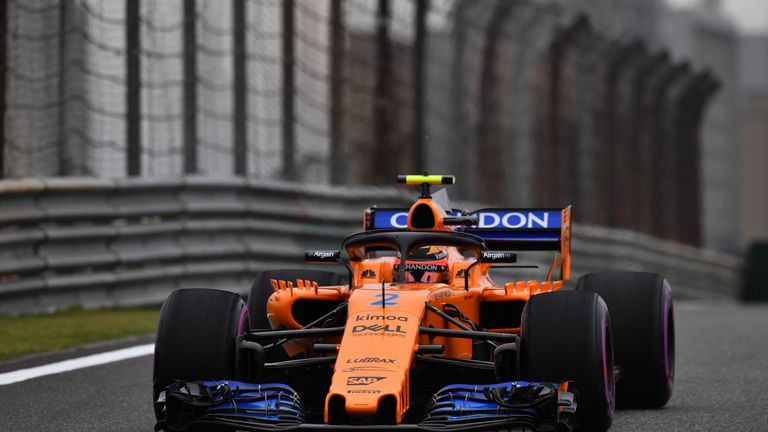 McLaren have become the latest team to be fined by F1's governing body for an unsafe release of their car from a pit stop.
Amid mounting scrutiny over the sport's pit-stop procedures and safety measures after a Ferrari mechanic suffered a double leg fracture at the Bahrain GP, McLaren released Stoffel Vandoorne's car during Practice Two in China without its right-rear wheel properly attached.
Stewards noted that Vandoorne 'stopped the car in a safe manner' as soon as he realised there was a problem, but fined McLaren 5,000 euro (£4,320) for the error - although the team avoided a harsher sanction.
'Consistent with previous decisions of a similar nature, the stewards decided that the grid penalty mentioned in the above Article [28.13(b)] would not be applied as the driver took all appropriate actions at the first available opportunity.
'Accordingly, the stewards fined the team 5,000 euro.'
Unsafe releases in F1 2018
| | | | |
| --- | --- | --- | --- |
| | Team | When | Team fine |
| Kevin Magnussen | Haas | Australian GP race | €5,000 |
| Romain Grosjean | Haas | Australian GP race | €5,000 |
| Kimi Raikkonen | Ferrari | Bahrain GP Practice Two | €5,000 |
| Kimi Raikkonen | Ferrari | Bahrain GP race | €50,000 |
| Stoffel Vandoorne | McLaren | Chinese GP Practice Two | €5,000 |
Vandoorne later said: "After the pit stop I left the box and I didn't feel that there was anything wrong straight away. It was only as I turned left into Turn Three that I felt something happen, and when I looked in the mirror I could see that the right rear wheel was wobbly, so I immediately parked the car as a safety precaution.
"At the moment we're still investigating, so it's a bit too early to say what caused it."
McLaren's incident follows two apiece for Haas in Australia and Ferrari in Bahrain respectively.
Haas were fined a total of 10,000 euro at the Australian GP when cross-threaded wheelnuts at near-simultaneous pit stops for both their cars failed to fully tighten all the wheels.
Ferrari were then fined 5,000 euro for releasing Kimi Raikkonen's car with a loose wheel during Friday practice in Bahrain, before being clobbered with a 50,000 euro fine for the incident two days later which saw the mechanic break his leg.
Stewards said the car was released 'in a manner endangering team personnel and causing injury'.
Ferrari talked FIA officials through their procedures in the Shanghai pit lane before Friday practice commenced.
"We had an internal, accurate investigation because we were hurt about what happened," Ferrari team principal Maurizio Arrivabene told Sky F1.
Ferrari explain botched pit-stop
"We have a procedure to ensure that the pit stops during the race are done in the safest environment. In this case, we have three factors. One involves human control, the other involves mechanical, and the other involves electronic device.
"What happened there, we had a mishandling and the rear left was not perfectly read by the electronic device, which then gives the green light."
How to follow the Chinese GP on Sky F1
| | | | | |
| --- | --- | --- | --- | --- |
| Saturday April 14 | Sky F1 digital live blog | 4am: P3 LIVE! (Build-up 3.45am) | 7am: Qualifying LIVE! (Build-up 6am) | 8.45am: The F1 Show LIVE! |
| Sunday April 15 | Sky F1 digital live blog | 5.30am: Pit Lane LIVE | 6.30am: On the Grid LIVE! | 7.10am: The Chinese GP LIVE! |
Will Sebastian Vettel and Ferrari make it three wins in a row or can Mercedes and Red Bull respond in Shanghai? Watch the Chinese GP exclusively live on Sky Sports F1 this weekend. Get Sky Sports F1.