Fernando Alonso rejected Red Bull
Spaniard to quit F1 despite being offered Ricciardo's Red Bull seat
By Pete Gill
Last Updated: 06/12/18 11:54am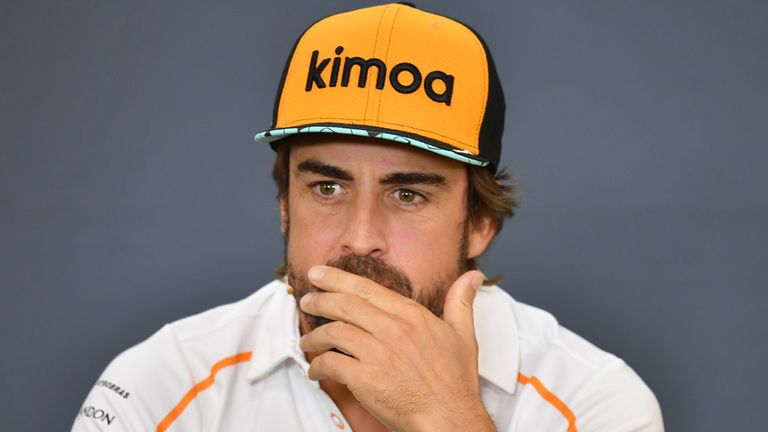 Fernando Alonso has revealed to Sky Sports F1 he rejected a move to Red Bull prior to announcing his exit from F1 at the end of the year.
The Spaniard says he turned down an offer from the former world champions following Daniel Ricciardo's shock decision to quit for Renault.
"From one of the top three teams, l already had an offer a couple of times already this year," Alonso told Sky F1's Ted Kravitz.
"It was not the case for me to join that adventure. At the moment, F1 is not giving me the challenges l am looking for."
Sainz to replace Alonso at McLaren
Asked if he was referring to Red Bull and whether they had offered him Ricciardo's seat, Alonso confirmed: "Yes."
Red Bull will be powered by Honda in 2019, a factor which may have been pivotal in Alonso's decision to pass up the team's offer.
Earlier this week, Red Bull named Pierre Gasly as Max Verstappen's 2019 team-mate.
Red Bull have denied an offer was made to Alonso.
Did Alonso already hint at Red Bull offer?
Alonso's revelation that he rejected Red Bull is seemingly at odds with the remarks of Christian Horner when the Red Bull boss ruled out Alonso replacing Ricciardo just a day after the Australian's bombshell.
"I have huge respect for Fernando, he is a great driver, a fantastic driver, but it's very difficult...he's tended to cause a bit of chaos wherever he's gone," Horner told F1's official podcast.
"I'm not sure it would be the healthiest thing for the team for Fernando to join. Our preference is to continue to invest in youth than take a driver who is obviously close to the end of his career."
But, in what appears retrospectively to have been a clear hint the Spaniard had already rebuffed an approach from Red Bull, the two-time world champion responded directly to Sky F1's story on Twitter with the hashtag 'FromlastweekNoThanks'
Could Alonso return to F1 in the future?
Meanwhile, Alonso has left the door open to making a return to F1 in the future.
The two-time world champion's departure has been billed as marking his Formula 1 retirement.
But Alonso has not ruled out returning to Formula 1, although his decision to sit out at least one season in 2019 is definitive.
"Life changes very quickly," said Alonso.
"For me it is a bye bye, but who knows - things change quickly. I am leaving the door open as I don't know what will happen in the future."
Alonso, who last won an F1 race in 2013, has attributed his exit to a lack of "predictability" and a dearth of opportunities to win.
"I did not stay because winning now there are only two teams and they continue with their drivers for the following years," accepted Alonso. "When you come to the same place for many years and you repeat the same thing and the same people, there is one day when you don't get so emotional about the challenges and that's the reason why."
But boiled down, Alonso's principal problem with F1 is that his McLaren team currently remain in the doldrums - the Spaniard has not finished a single race on the podium since returning to McLaren from Ferrari four years ago.
So would he still be an F1 driver in 2019 if he was currently driving either a Mercedes or Ferrari?
"If you are in one of those two teams, probably you keep going," Alonso admitted. "Formula 1 has always been a sport which has [been] dominated by one or two teams."
Get Sky Sports F1 - the home of every race weekend LIVE in 2018.