British press predicting Martin Whitmarsh's McLaren exit after Ron Dennis return
Ron Dennis' return to CEO role announced on Thursday night
By William Esler
Last Updated: 17/01/14 3:31pm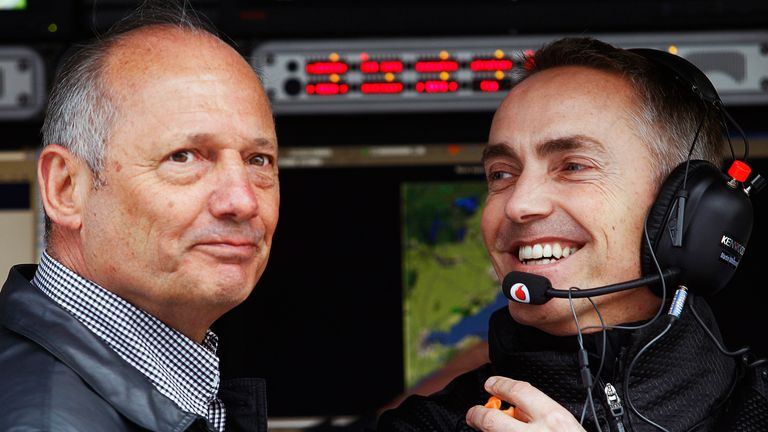 In what has been widely described in Friday's newspapers as a 'coup', McLaren on Thursday night announced Dennis had been re-appointed to the CEO role at the Woking-based team, a position previously held by McLaren's current Team Principal Whitmarsh.
Dennis originally held the position between 1982 and 2012 before becoming Chairman of the Group in 2013. Dennis was also McLaren's long-standing Team Principal before Whitmarsh took over in 2009.
The Daily Telegraph's Daniel Johnson reported that 'Martin Whitmarsh's future as McLaren Team Principal was cast into serious doubt last night,' whilst in The Times, Kevin Eason wrote 'Ron Dennis grabbed back the reigns of his failing McLaren team last night and signalled the exit of Martin Whitmarsh'.
In the Guardian, Paul Weaver took things a step further: 'Martin Whitmarsh will lose his job as McLaren's Team Principal next month following a coup that has led to Ron Dennis returning as the group Chief Executive.'
The Daily Mail agreed that Dennis would install a new day-to-day team chief in February, but suggested it was not certain that Whitmarsh would leave Woking altogether.
'Sportsmail understands that Dennis's decision on who will be team principal for the 2014 season will be announced next month ahead of the first race in Australia on March 16,' the newspaper suggested. 'It is probable that Whitmarsh will be replaced, possibly moving sideways within the business.'
The papers speculate that it was Whitmarsh's less intense management style compared to his predecessor Dennis that sealed his fate.
'Although well liked, many believe that Whitmarsh has not been ruthless enough to run a team expected to operate at the highest levels,' Eason wrote, highlighting the losses of Lewis Hamilton and Paddy Lowe to Mercedes as fatal blows.
The Guardian stated that: 'Whitmarsh was an able number two to Dennis but has not been able to measure up to the top job. The easy going Whitmarsh was a contrast to the autocratic style of Dennis, who was known as something of a control freak in his time in charge of the team,' adding that 'Whitmarsh will pay the price for five years of failure, in which he has been unable to win either the drivers' or the constructors' world championships.
'His fate was sealed last year, McLaren's worst since before their glory period in the 1980s.'
Weaver goes onto speculate that Dennis will not return to the role of Team Principal, however, predicting the appointment of Ross Brawn to the role.
'Dennis will not resume his old job as team boss. Ross Brawn is being tipped for a quick return to the paddock following his retirement from the Mercedes camp at the end of last season.
'Under Whitmarsh, Sam Michael became McLaren's Sporting Director and many have tipped him to become the future Team Principal. But Dennis is likely to go for somebody with more experience of a winning team.'
According to the Telegraph, Dennis 'was given a standing ovation' when he made the announcement to staff at the McLaren Technology Centre during a 20-minute speech, declaring that "there will be change" and "we will win again".'
Dennis's McLaren return: The headlines
The Times: 'Dennis ousts Whitmarsh to regain control of McLaren'
Daily Mail: 'Whitmarsh toppled by Dennis'
The Daily Telegraph: 'Dennis ousts Whitmarsh in McLaren coup'
The Guardian: 'Ron Dennis reappointed McLaren chief executive to revive F1 team'