McLaren believe new Honda power unit has 'huge potential' ahead of 2015
"To win a championship you have to be a works team," says Boullier
By James Galloway
Last Updated: 26/11/14 4:29pm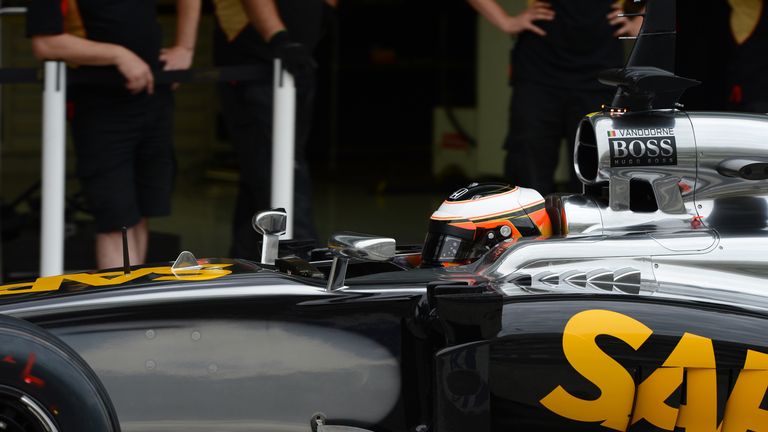 Eric Boullier has spoken of the "huge potential" of McLaren's new Honda engine with the Frenchman adamant that a return to works team status is the key to them returning to World Championship-winning ways.
After months of anticipation ahead of the revival of one of F1's most successful team and engine partnerships, the second McLaren-Honda era publicly commenced in Abu Dhabi on Tuesday as the returning Japanese manufacturer's brand-new turbo power unit made its full testing debut.
With the team using the final two days of on-track running in 2014 to complete systems checks and bed in their new operational structures, the full potential of the Honda unit relative to those of existing suppliers Mercedes, Renault and Honda won't start to become clear until the three pre-season tests in February.
Boullier, McLaren's Racing Director, says hopes are high that Honda have developed something special.
"These are things that I cannot answer right now. But from the development as I oversee it, I can say that we have been quite brave," he said in an interview with F1's official website.
"Just from the numbers that I know, there is a huge potential. The commitment of Honda is absolutely huge and we have a very good preparation strategy, so we are on a good path."
McLaren's reunion with Honda, which was first announced in May 2013, has brought to an end the team's successful two-decade relationship with Mercedes. While the Woking outfit were the German manufacturer's 'works' team for the majority of their time together, they effectively became a customer from 2010 onwards when Mercedes established their own team.
The Mercedes power unit proved far and away the best package in F1's first year of turbo regulations and McLaren chief Ron Dennis made clear in an interview with Sky F1 in October that no team would win a title in the years ahead unless they were an engine manufacturer's main focus.
Boullier agrees that such a works status is now "mandatory" to success in F1.
"To win a championship you will have to be a works team," he insisted. "This is such complex machinery now - and there is so much more to come in the next few years. There will be a point where everybody will basically match the current situation, but for the following years there is so much to be developed.
"Take for example the battery: the battery is evolving every year, so only an engine manufacturer will be able to invest for this technology - also understand this technology - and package it for F1."
Boullier, who said there would be an "intense interchange of people" between McLaren's HQ in Woking, Honda's new engine facility in Milton Keynes and the Japanese's firm base in Tochigi, said they aimed to arrive at the opening test of 2015 at Jerez in a position to hit the ground running.
"The schedule is to process and analyse data from these two days in Abu Dhabi," he explained.
"There will be a lot of data - operational data and systems data - to share between the companies and the different engineering groups to make sure that once we are in Jerez all possible glitches are fixed."
And, asked how many more changes the Honda engine housed in the interim MP4-29H would go through between now and then, Boullier added: "A lot on the software, a lot on codes, but not a lot on the layout or architecture of the engine, as this was finalized quite some time ago."