Honda 'more or less understand clarification' as F1 analyses engine rule changes
Standard bearers Mercedes "relaxed" over situation while Red Bull-Renault still evaluating in-season development clarification
By James Galloway
Last Updated: 19/01/15 8:14pm
Honda say they "more or less" understand the FIA's clarification on engine development after it was agreed that the Japanese firm could make changes to their new power unit during 2015.
Following a meeting between the governing body and representatives from Honda last week, it emerged over the weekend that the FIA had completed a U-turn on its original ruling that only 2014's engine manufacturers, Mercedes, Renault and Ferrari, would be permitted to make performance upgrades to their packages during the season.
Having recognised the need for a fairer system, the FIA's Charlie Whiting wrote to the teams to explain that Honda would now be able to make a specified number of amendments based on the average number of unused 'tokens' by its three rivals when the season starts in March. Last year's manufacturers start with a suite of 32 'tokens' which they can use to upgrade their engine, but it remains to be seen how many each manufacturer will use before the first race in Australia.
"Honda received the official news Saturday evening, and we understand more or less the clarification from FIA, but we cannot comment on our situation just yet," a Honda spokesperson said.
The FIA are yet to formally comment on the matter.
A spokesperson for Mercedes described the world champions as being 'relaxed' about the situation, while Red Bull, who were badly handicapped by their uncompetitive Renault engine last term, are still evaluating the potential repercussions of the rule change.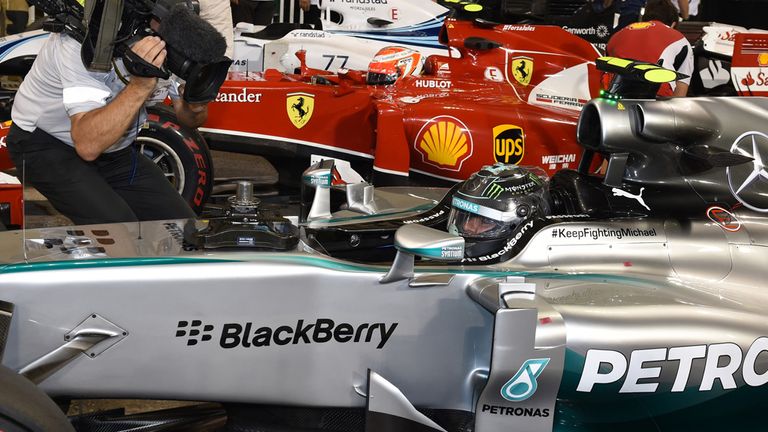 "At the moment the benefit or otherwise of the manufacturers' ability to develop 2015 power units beyond the end-of-February homologation date stipulated in the 2014 regulations remains to be seen, but the extra time will undoubtedly allow power unit suppliers to attempt to draw closer to a pacesetting outfit, though they too will obviously benefit from an open-ended homologation timeframe," the team said last week.
Speaking at the Zoom charity auction on Friday, technical chief Adrian Newey admitted the team were still determining how the loophole could be best exploited.
"We're still evaluating that," Newey told Sky Sports News HQ. "It is quite a late change and we're trying to sort out with Renault the best way to play that. It's not exactly clear. Renault have still got some work to do on the dyno and once that work is done then we will make our decision."
The Sky Sports F1 Online team will be providing live commentary of all three winter tests, starting in Jerez on February 1, with live updates from trackside also on Sky Sports News HQ.