Jenson Button scores McLaren's first points of 2015 in Monaco
But unreliability once again strikes Fernando Alonso
By William Esler
Last Updated: 24/05/15 7:47pm
There were mixed emotions for McLaren at the Monaco Grand Prix as Jenson Button picked up the team's first points of the season, but unreliability once again struck Fernando Alonso.
The reunification of the McLaren-Honda partnership has got off to a slow start, with the team enduring their worst ever opening to a season.
However, with Monaco placing less of an emphasis on engine power, Button was able to pick up four points for eighth place.
"It is a very good day," he told Sky Sports F1. "We are not going to be patting ourselves on the back too much after eighth place, but it is a good day for us in terms of we got the maximum out of what we had and the pace in the race didn't seem too bad to the cars in front.
"So reasonably happy. You had two Mercedes', two Ferraris, two Red Bulls and then Checo [Sergio Perez] and myself, so it is good to be that far up and through outright pace as well.
"It was a fun race and it is unusual when you start 10th to have clear air in front of you. You normally have traffic, so it was really good and you could just push like qualy laps almost every lap."
However, Button is realistic enough to know that it will be difficult to repeat the performance on more power-hungry tracks.
"I think you have to say this is probably one of the better circuits for us," he added. "Canada has slow-speed corners, but with very long straights, we've got to try and make this thing as slippery as we can if we want to score any more points."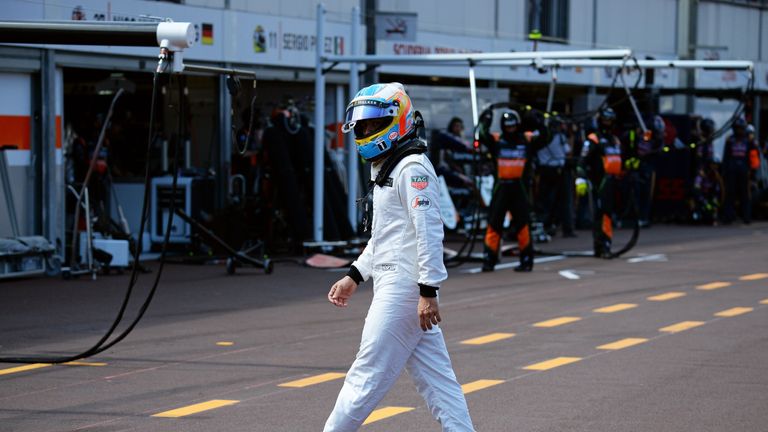 Alonso was also on course for points until he was once again forced to retire from a race due to unreliability.
"I think it was a gearbox problem," the Spaniard said. "I don't know if it was physically a gearbox part or a sensor or something that went a little bit crazy, but the car didn't shift normally on the last lap and then on the last braking the car went to neutral and we had to retire it unfortunately."
The double world champion admits it was a frustrating day, but says it is another step on the learning process.
"[We could have been] eighth and ninth but we missed this opportunity, but it is the way it is," he added.
"Unfortunately for me, I didn't finish the Barcelona race, I didn't finish qualifying here and I didn't finish the race here, so the last three sessions I am talking to you guys [the media] while the cars are running and this is not the best feeling.
"We will try to make sure this does not happen again in the coming races and this is a normal learning process for a new team."
Don't miss the F1 Midweek Report for analysis and reaction to the Monaco GP. Natalie Pinkham is joined by F1 journalist Will Buxton and Lotus reserve driver Jolyon Palmer on Wednesday at 8:30pm on Sky Sports F1.