McLaren will make strides forward once Honda reliable, insists Boullier
Eric Boullier says energy recovery as main area of weakness; racing director still not ruling out becoming Q3 regulars by the end of 2015
By James Galloway
Last Updated: 16/07/15 4:16pm
Eric Boullier has shed fresh light on the problems which he believes are holding McLaren-Honda back by "seconds" of lap time.
Despite expectations that McLaren's early reliability with their new Honda power unit would be cured by mid-season, the former world champions remain ahead of only point-less Manor in the Constructors' Championship and have got both their cars to the finish in the same race just once in nine attempts in 2015.
Honda motorsport chief Yasuhisa Arai claimed after the British GP, when Fernando Alonso scored the final point in a race of only 13 finishers, that their reliability problems were "almost fixed" and they could now turn their attention more to improving performance over the second half of the season.
But Boullier, McLaren's racing director, has suggested that more fundamental problems with the hybrid power unit's energy-recovery system remain.
"It [the engine] is not completely down to only power – it has also to do with the driveability of the engine, which has proved very difficult and complex to manage so far," the Frenchman told F1's official website.
"Let me give you an example: we all have the same power in terms of electrical power, but some engines are doing a better job in recovering the energy. That is why you see a difference in qualifying and the race.
"We are not able today to unlock the full recovery potential because if we do it creates reliability issues – and that hurts us in terms of performance. But it is there! We just have to find the right remedies to unlock it."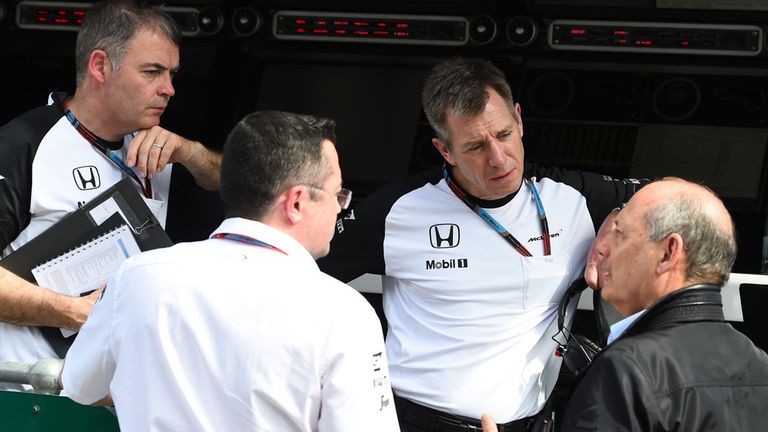 He added that the electrical issues were costing the team's cars chunks of lap time on straights in particular.
"I am repeating myself: if we can unlock the potential we will maybe be fighting – with some luck – for a podium. If you can deploy your MGU-K power on the straights on every lap, that is worth a lot of time. Today we can't do that."
Having conceded in recent seasons that their aerodynamics were not up to scratch, McLaren have been more positive about the performance of the MP4-30 chassis so far this season and Ron Dennis told Sky Sports F1 at Silverstone that "our car performance is actually extremely good here" around the circuit's sweeping corners.
Indeed, Boullier believes that once reliability is solved McLaren can make big and immediate strides forward.
"We all know the level of commitment from McLaren - that doesn't need to be discussed. But the positive is the level of commitment of Honda, and the fact we know that our cars have not tenths but seconds of potential that can be unlocked," he insisted.
"We cannot physically use that because we have reliability issues, but if we overcome those we will be able to make major steps forward, believe me."
While Boullier admitted the MP4-30 could also do with more downforce to be more competitive, he still isn't ruling out regular Q3 appearances by season's end in November.
"We will feel competitive if we can be in Q3 all the time and fighting for top six," he said.
"That would be a major achievement even if it doesn't sound very exciting, as we are here to win. We still target being competitive by the end of the season."
But, even if McLaren fail to close the two-second gap to the front by Abu Dhabi, Boullier insists it doesn't mean 2016 will be a write-off too.
"No, because we have seen that Ferrari and Mercedes were able to do major steps between their first and second years. We also expect that in our case," he added.