Jenson Button and Fernando Alonso provide timely morale boost for McLaren-Honda
Drivers say Hungarian GP result is "massive" for the team; However, both keen to manage expectations
By William Esler
Last Updated: 26/07/15 6:39pm
Jenson Button and Fernando Alonso both reckoned their double points finish at the Hungarian GP was a timely morale boost for McLaren-Honda, but they are also keen to keep a lid on expectations.
It was only the second time this season that both cars have made the chequered flag with Sunday's result also McLaren's first double points finish since Brazil last year.
As F1 now prepares for its summer shutdown, Alonso was delighted to finish the first half of the season on a positive note, but knows an action-packed race played a big part in the result.
"It was a little present for us, we never expected to be fifth," he told Sky Sports F1.
"But the race was a little hectic in some parts and some little opportunities arrived to us and we maximised them. We took everything that was available and it is good to go into the summer break with a good result.
"We know the car is improving, we are getting more competitive, but it is always nice to touch it and put some points on the board."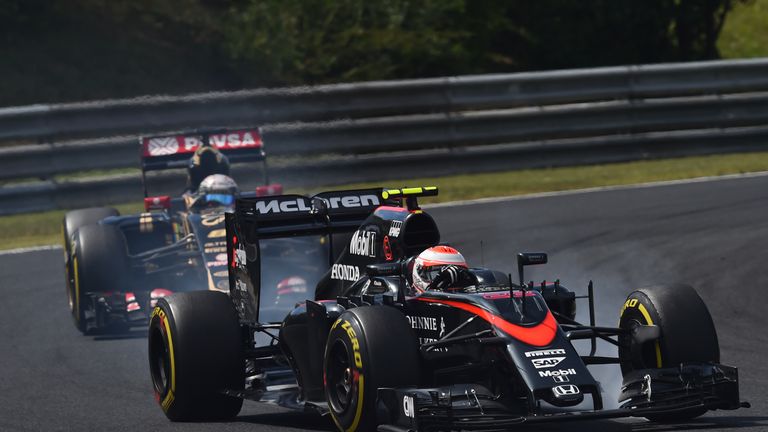 It was a dramatic turnaround for McLaren after both cars suffered unreliability problems in qualifying 24 hours beforehand and Button admits it will do wonders for team morale.
"It is massive. I think we have to be realistic as well and look at how many cars knocked each other, didn't finish and had drive-throughs so we have to take that into account," he said.
"But it is definitely a step forward in terms of the performance, the car was enjoyable to drive, but we need another step forward if we are to repeat this again."
While Button is looking at the forthcoming races, his team-mate is looking further ahead with Alonso keen to hit the ground running next year.
"It is a difficult season for everyone, not just Jenson and me," the Spaniard added.
"Slowly we will increase the competitiveness, the reliability, the performance and what we need is a good second part of the season to get ready for 2016 which is the main target now."