McLaren's speed gulf revealed
McLaren-Honda expected to introduce two sets of new engines this weekend for the Belgian GP but will only face one round of penalties
By James Galloway and William Esler
Last Updated: 25/08/15 2:19pm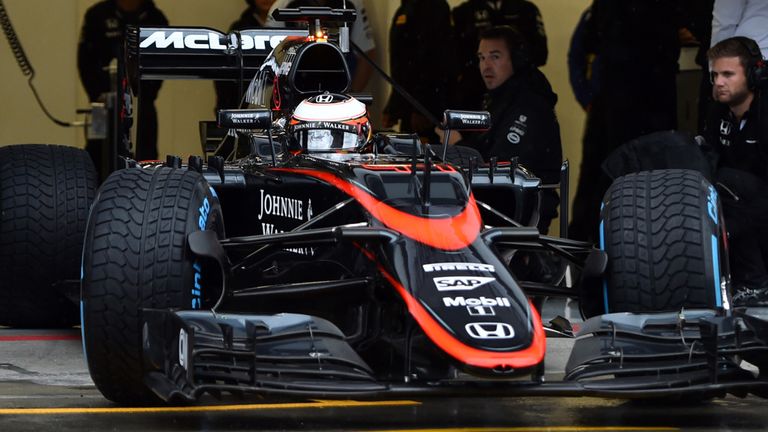 The McLaren-Hondas trailed their Mercedes-powered rivals by an average of 13kph through speed traps in the first half of 2015, data has shown.
Ahead of Honda's introduction of revised engine units for this weekend's Belgian GP, statistics reveal that the MP4-30 was an average of 13.3kph slower than the fastest car through the speed traps in qualifying over the first 10 rounds of the season.
The speed trap timesheets were predictably dominated by Mercedes power, with the German manufacturer's works outfit or customer teams topping the chart in every qualifying hour.
McLaren's deficit has been reduced since the start of the year, when they were 16kph off the ultimate pace in Australia, but Spain and Monaco are the only two races where they have got within 10kph of the fastest Mercedes. The Woking team have, however, moved closer to the Renault-powered cars in recent races.
Speed traps, which measure a car's speed at what is generally the fastest point of a circuit, give a useful but not definitive indicator of ultimate engine power and can be affected by downforce levels, fuel and other settings.
This weekend's Spa race is the first of two consecutive circuits where engine performance is at a premium and Honda have spent three of their remaining seven development 'tokens' to improve their internal combustion engine.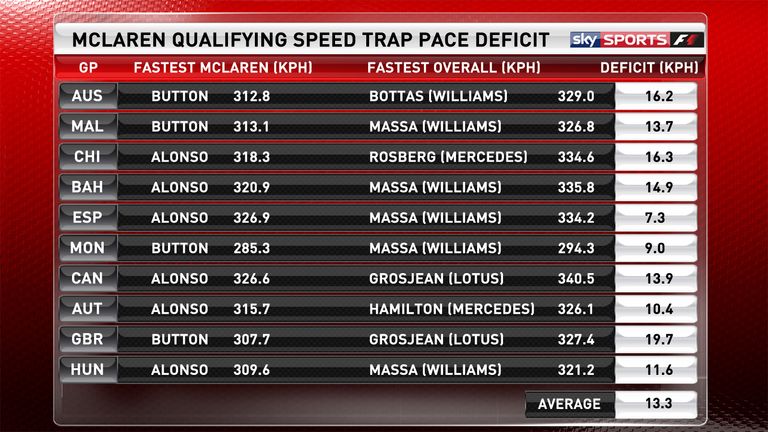 It's understood that McLaren plan to introduce two sets of new engines at Spa – but will only face one round of penalties.
Both Jenson Button and Fernando Alonso expect to start the race from the back of the grid once Honda introduce their seventh power units of the year in Friday's practice sessions. Their eighth units will then be run on Saturday, but neither McLaren driver will be penalised following last month's revision of the rules surrounding engine penalties.
"The simplification of the power unit penalties, ensuring that the most a driver can be penalised is to be demoted to the rear of the grid – this will eliminate penalties during the race for these infractions," an FIA statement confirmed.
As a result, the eighth engine, which is also expected to be used at next month's power-centric Italian GP, will be introduced without punishment so long as the weight of the penalties imposed for the use of their seventh are sufficient to send Alonso and Button to the back of the grid on Sunday.