Ferrari close the gap to Mercedes
Scuderia's long-run simulations impress during practice; Pirelli predicting a three-stop race due to extreme heat in Sepang
By Pete Gill
Last Updated: 01/04/15 3:50pm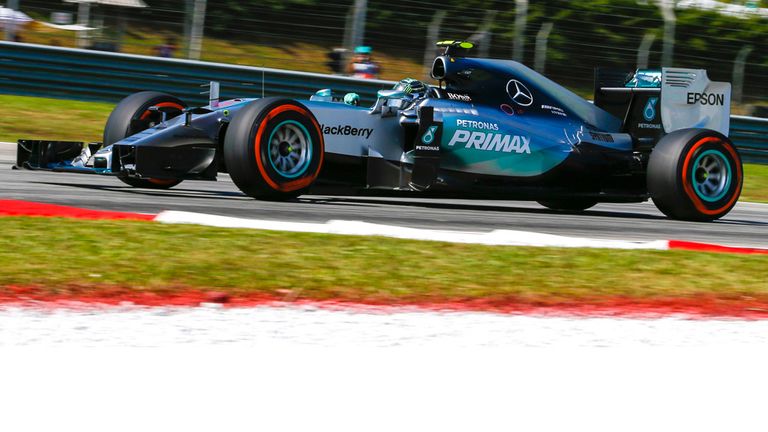 Mercedes are under genuine threat from Ferrari in the Malaysia GP, according to the Sky Sports F1 punditry team.
Although Lewis Hamilton topped the Friday practice timesheets after a late burst, the world champion endured a trouble-filled day at Sepang while Ferrari consistently impressed on their long-run simulations.
Tyre conservation is likely to prove critical in Sunday's race and Ferrari's Kimi Raikkonen appeared able to coax far more life out of the medium tyres which all the leading cars are expected to start the grand prix on. "It might just open up for him to enjoy this weekend," noted Sky Sports F1's David Croft.
The SF15-T wasn't too shabby on its qualifying-style run either as Raikkonen edged out Nico Rosberg on the medium tyres after being three-tenths slower than the German on the hards.
"Tyres look much more critical here than they were in Melbourne and the Ferrari actually looks much better on the option tyre than the Mercedes," concluded Sky F1 analyst Mark Hughes.
"The Mercedes has three or four tenths of pace early in the stint, but subsequently the Merc is using them harder. We didn't see a back-to-back comparison between the two cars on the hard tyre – which is going to be the preferred tyre, I think, and that will probably decide it – but just looking at how both were on the option tyre I would say it looks quite close."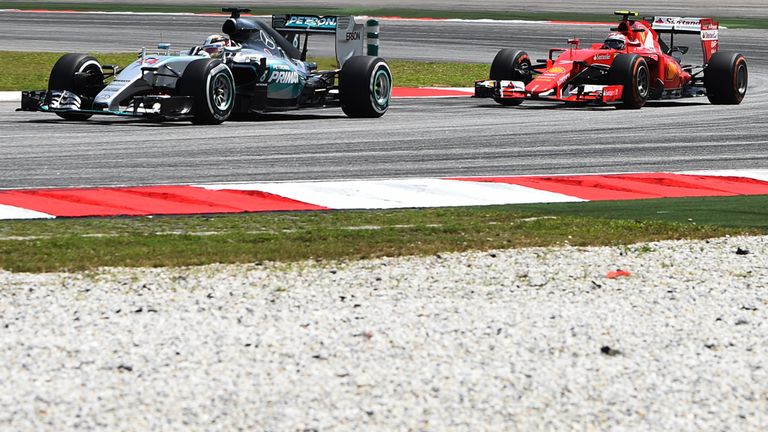 After a spate of straightforward one- and two-stint races, Pirelli are forecasting a three-stop grand prix in Malaysia due to the extreme heat and, to compound the headache of the Mercedes and Ferrari strategists, the two frontrunners appear to be running dramatically divergent set-up strategies.
While the Silver Arrows cars were far quicker than their red rivals in the twisty middle sector on Friday, they were consistently slower than the SF15-Ts along the straights.
"Mercedes could have a fight on their hands," warned Bruno Senna. "It all depends on the Ferrari being ahead of them and it will be very tough for the Mercedes cars to overtake in the first and final sectors."
Not, of course, that Mercedes will be losing any sleep just yet. The team are chasing their ninth successive victory and Hamilton was still able to top Friday's timesheets despite being restricted to just 20 laps. Yet appearances can be deceptive and Hamilton's lack of running may come back to bite him on Sunday.
"The headlines will say 'Hamilton quickest after Day One in Malaysia', but let's not sugarcoat it – that was a bad day for him," said Sky F1's Ted Kravitz.
Nor was Hamilton disguising his concern about the growing red menace. "The Ferraris look great, they really do," he conceded to Sky Sports News HQ.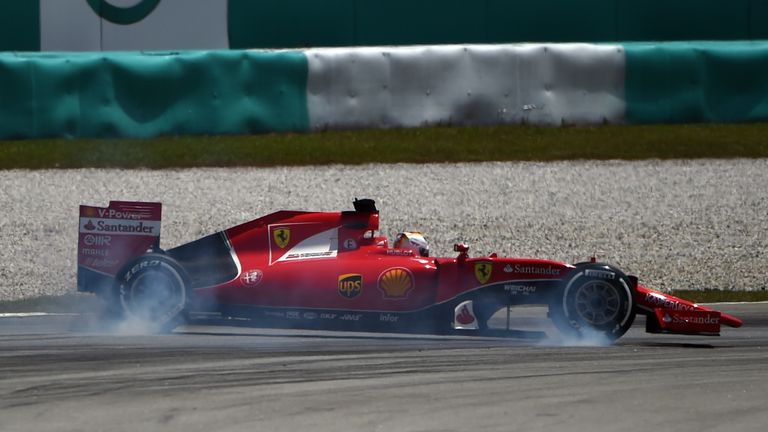 Ferrari do, however, have a well-established habit of running relatively low fuel loads in practice, providing an inflated impression of their competitiveness on Fridays before falling away over the course of the weekend. Nor was their running without blemish as Sebastian Vettel spun out in Practice Two on his qualifying simulation.
"I think the spin was nothing to do with bad luck, it was probably to do with me pushing a bit too much! I thought I could make it stick but couldn't. I guess if you choose a day [to spin] you choose today," said the former world champion.
"It's difficult to say where we are compared to Mercedes as they didn't have a clean day. But it's not the most important thing now, we have to look after ourselves and see what we can do.
"But for now we can be pretty satisfied."