Bahrain GP: Sebastian Vettel holds off Valtteri Bottas for victory
Ferrari mechanic injured during Raikkonen pit-stop; Hamilton fights back to third; Gasly claims fourth for Toro Rosso-Honda
By Pete Gill
Last Updated: 13/12/18 12:16pm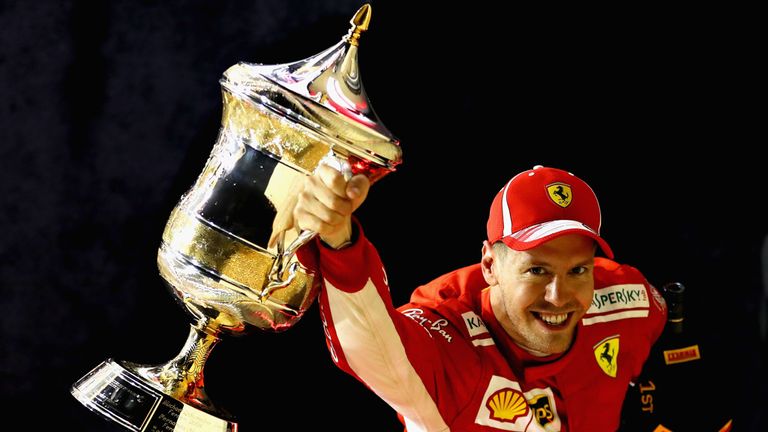 Sebastian Vettel claimed his second successive win at the start of 2018 after holding off Mercedes' Valtteri Bottas for victory in an epic Bahrain GP.
Vettel won after running an extended second stint on soft tyres ahead of the one-stopping, medium-shod Mercedes cars of Bottas and Lewis Hamilton.
Ferrari switched Vettel on to a one-stop strategy of his own midway through the race when it became clear he would lose out to Bottas and potentially Hamilton if he pitted again.
Bottas caught the faltering Ferrari in the closing stages but could not find a way past Vettel as the four-time world champion eked out his ailing tyres.
Kimi Raikkonen retired from third place after a botched pit-stop in which a Ferrari mechanic suffered a double leg break.
Ferrari mechanic hospitalised after Raikkonen pit-stop
Both Red Bulls out of Bahrain GP after Verstappen collides with Hamilton
On a disastrous evening for the Red Bull team, both Daniel Ricciardo and Max Verstappen retired in the opening laps. Ricciardo's car suffered a catastrophic loss of power while Verstappen's RB14 was severely damaged after a collision with Hamilton's Mercedes.
Verstappen later blamed Hamilton for the clash, arguing the world champion had not given him sufficient room.
Hamilton responded: "It didn't feel like a respectful manoeuvre, but ultimately it was a silly manoeuvre for himself, because he didn't finish the race. Obviously he's tending to make quite a few mistakes recently."
Meanwhile, with a result which marked his breakthrough as an F1 driver and Honda's best finish since their return to F1 four years ago, Pierre Gasly finished an outstanding fourth for Toro Rosso-Honda.
"It's unbelievable," said Gasly. "We never expected something like this."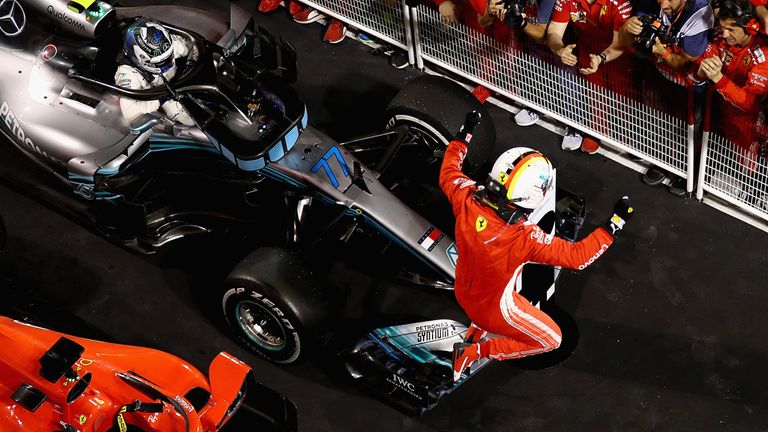 How the race unfolded
Lap 1: Vettel translates his pole position into the lead of the race at the first corner while Bottas overtakes Raikkonen.
Lap 2: Verstappen is punctured as he passes Hamilton.
Lap 4: Both Red Bulls are out of the race with Verstappen retiring moments after Ricciardo.
Lap 18: Leader Vettel pits for soft tyres.
Lap 19: Raikkonen follows Vettel into the pits for soft tyres.
Lap 20: Bottas pits for medium tyres.
Lap 26: Vettel overtakes the long-running Hamilton to retake the lead.
Lap 27: Hamilton pits for medium tyres.
Lap 36: Raikkonen collides with a Ferrari mechanic after a botched pit-stop and retires.
Lap 38: Vettel is told he has been switched to "Plan B".
Lap 50: Vettel starts to suffer a dramatic loss of pace as Bottas closes in.
Lap 53: Vettel complains of "vibrations" from his car.
Lap 56: Vettel holds off Bottas into the final corner of the penultimate lap.
Lap 57: Vettel crosses the line half a second ahead of Bottas for his second successive win at the start of 2018.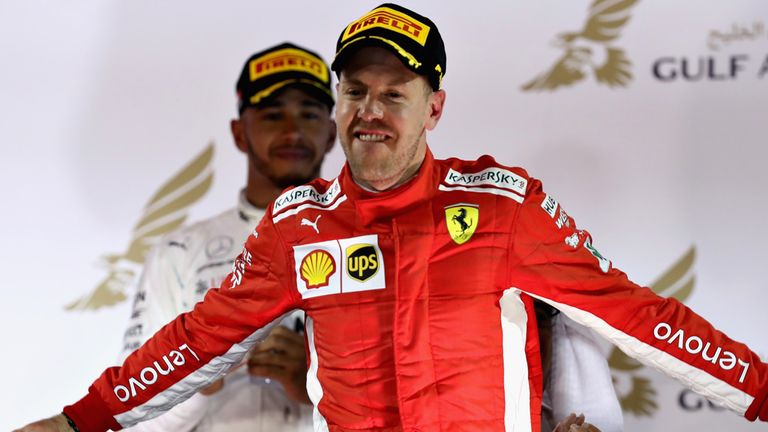 The perfect start to 2018 for Vettel
While Vettel's victory in the Australian GP two weeks ago owed plenty of good fortune, his win in the desert was ultimately dependent on a mid-race change of strategy and his astonishing ability to eke out his Pirelli tyres for 10 laps longer than their expiry date.
Although the struggling Ferrari was caught by Bottas by in the final laps, Vettel was only briefly threatened once, when Bottas had a run into the first corner on the penultimate lap, before hanging on for a richly deserved victory.
"These tyres were done. They were done for the last 10 laps," admitted Vettel. "We diverted and I tried to nurse the tyres as much as I could. It worked, but just. Fortunately, Valtteri ran out of laps."
For Hamilton, third place represented a successful damage limitation act after starting out from a distant ninth on the grid. Tenth after the first lap, followed by a brush with Verstappen that punctured the Dutchman's RB14, Hamilton fought back valiantly, overtaking three cars in one corner as he surged up to fourth by lap 10.
By that stage, the race had already featured 42 overtakes - a mere 37 more than had occurred in the entirety of the season-opener at Melbourne.
Hamilton was increasingly frustrated by a faulty radio, making his annoyance plain in the pre-podium cool down room, but subsequently expressed himself satisfied with his comeback drive.
"I'm really happy, I started ninth so third is not bad at all. It's damage limitation," said Hamilton on the podium.
"Communication is really difficult when you are trying to catch Sebastian who is 25 seconds ahead to know exactly what you need to do to not kill your tyres. When you're not getting that feedback it's frustrating."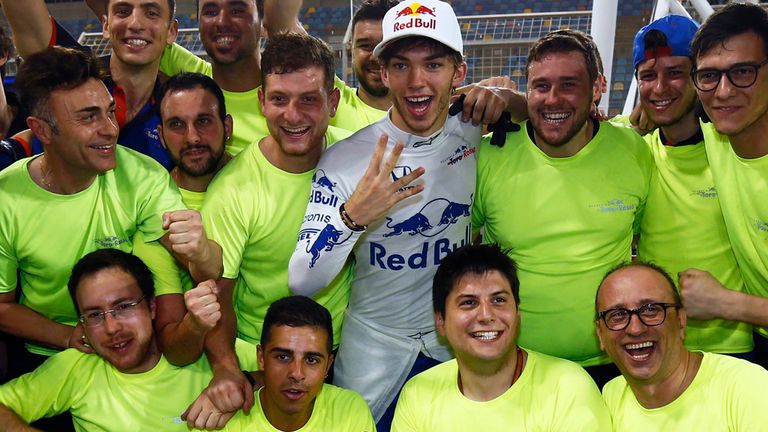 Gasly stars as Toro Rosso youngster comes of age
Any thoughts Gasly would wilt in the spotlight after qualifying a career-high fifth were swiftly dispelled in Sunday's race when the youngster emerged from the opening corners in a steady fourth place.
While Haas rolled the dice on strategy by putting Kevin Magnussen on an aggressively-early two-stop strategy, Gasly ran long and consistently to deliver a result utterly at odds with the misery Honda endured in their three years with McLaren and the team's struggles in Australia.
After a wretched qualifying, which prompted an emergency investigation on Saturday night, McLaren restored respectability with points-scoring finishes for Fernando Alonso and Stoffel Vandoorne.
There was also rare cause for cheer at Sauber as Marcus Ericsson secured his first points-scoring result since 2015 by taking ninth ahead of Force India's Esteban Ocon.
But the result which mattered most was written in red as Vettel extended his championship lead to 17 points and claimed Ferrari's first back-to-back wins at the start of a season since 2004.
Game on in F1 2018.
Bahrain GP result
| | | |
| --- | --- | --- |
| Driver | Team | Time |
| 1) Sebastian Vettel | Ferrari | 1:32:01.940 |
| 2) Valtteri Bottas | Mercedes | + 0.699 |
| 3) Lewis Hamilton | Mercedes | + 6.512 |
| 4) Pierre Gasly | Toro Rosso | + 62.234 |
| 5) Kevin Magnussen | Haas | + 75.046 |
| 6) Nico Hulkenberg | Renault | + 99.024 |
| 7) Fernando Alonso | McLaren | + 1 LAP |
| 8) Stoffel Vandoorne | McLaren | +1 LAP |
| 9) Marcus Ericsson | Sauber | +1 LAP |
| 10) Esteban Ocon | Force India | +1 LAP |
| 11) Carlos Sainz | Renault | +1 LAP |
| 12) Charles Leclerc | Sauber | +1 LAP |
| 13) Romain Grosjean | Haas | +1 LAP |
| 14) Lance Stroll | Williams | +1 LAP |
| 15) Sergey Sirotkin | Williams | +1 LAP |
| 16) Sergio Perez | Force India | +1 LAP |
| 17) Brendon Hartley | Toro Rosso | +1 LAP |
| | | |
| Kimi Raikkonen | Ferrari | Retired |
| Max Verstappen | Red Bull | Retired |
| Daniel Ricciardo | Red Bull | Retired |