Bahrain GP: Lewis Hamilton secures another win ahead of duelling rivals
Raikkonen claims brilliant second to end podium drought after passing Rosberg on penultimate lap; Brake issues leave Nico third after three overtakes on Vettel, who ends up error-strewn fifth; Hamilton opens 27-point title lead; Button fails to take start
Last Updated: 05/05/15 6:07pm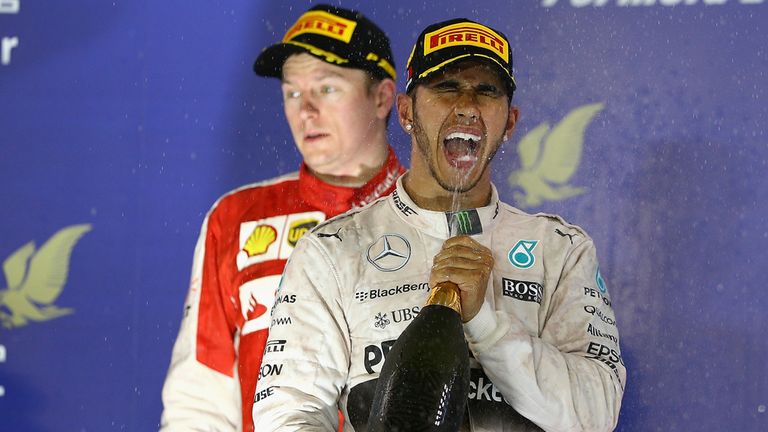 Lewis Hamilton extended his World Championship lead with his third victory of the 2015 season in a Bahrain GP in which a rejuvenated Kimi Raikkonen claimed a brilliant second place.
Although Hamilton never enjoyed a lead of more than six seconds at any stage of the 57-lap night race, the polesitter took control of proceedings from the start and expertly managed his tyres and pace in the evening conditions of the desert to secure yet another win and open up a 27-point championship lead.
Behind the world champion, however, the battle for second place proved to be both tense and fast-changing with Nico Rosberg, Sebastian Vettel and, in by far the finest performance of his largely underwhelming second Ferrari career, Raikkonen all going head-to-head and wheel-to-wheel at various stages of the race.
The fight went all the way to the penultimate lap as Raikkonen, having run an alternative strategy in the middle stint by using the medium tyre, chased down Rosberg on soft tyres at the rate of a second a lap. Having moved to within DRS-striking range of the Mercedes, Raikkonen's task of overtaking was made rather easier when Rosberg ran wide at Turn One after the German's W06 developed a brakes problem.
Raikkonen's second place represented the former world champion's first podium since the 2013 Korean GP – some 26 races ago when the Finn was still a Lotus driver – and goes a long way to proving that the grid's eldest man is not yet a spent force after a disastrous 2014.
"You are never happy when you finish second, but after a difficult start to the year I am pleased to get some result," said Raikkonen as he returned to the podium. "We came through in the end very quickly, but we ran out of laps. We have to be happy after where we qualified, but we are looking for better results."
Raikkonen's stirring drive from fourth to second was in sharp contrast to team-mate Vettel's race. The former world champion ended up behind Valtteri Bottas's Williams in fifth place after a hat-trick of errors eventually resulted in a broken front wing.
Chasing a fourth successive podium at the start of his Ferrari career, Vettel initially ran second to Hamilton but was passed for the first of three separate occasions by Rosberg in a spectacular shower of sparks down Sakhir's main straight.
Perhaps stung by the criticism he has received since last weekend's Chinese GP, Rosberg produced by far the most eye-catching performance of his season so far as he picked off first Raikkonen and then Vettel with strong, forceful moves having been bundled down to fourth by the two Ferraris at the start.
The German's hard work was then partly undone when Ferrari successfully undercut him with Vettel at the first round of pit-stops, although Rosberg's stay back behind his compatriot was brief as he wasted little time in making his superior pace count down the main straight.
The turnaround in position repeated itself when Ferrari tried the same trick at the second stops, but Vettel's subsequent final-corner error gifted Rosberg second place on this occasion.
Ferrari, however, did still enjoy the last laugh as the onset of his late brake-by-wire fault let in the marauding Raikkonen. Nonetheless, having had to contend with a barrage of flak in recent weeks, Rosberg was pleased with his attacking drive.
"The overtaking was enjoyable, to overtake the red cars I enjoyed that a lot," the German said after moving up to second in the championship. "In the end I tried to catch Lewis, but we are pretty similar so I couldn't and he even pulled away a little bit. Then I lost my brakes unfortunately two laps from the end so I went straight on and that cost me the position to Kimi."
After being forced to pit for a new front-wing, Vettel returned to the track in fifth place and, capping a unusually messy performance, the four-time champion was unable to find a way past Williams' Bottas, who finished a fine season-best fourth.
"I was pushing hard and following another car you lose a lot, with hindsight maybe more than I expected. I wanted to, but I tried probably a bit too hard today," a disappointed Vettel reflected to Sky Sports F1 post race.
With Vettel therefore out of position at the chequered flag, his former team-mate Daniel Ricciardo finished in a relatively lonely sixth place to seemingly confirm Red Bull's status as no better than 2015's fourth-fastest team at the moment.
Although Ricciardo finished in relative isolation – 18 seconds behind Vettel but 23 ahead of the seventh-placed Lotus of Romain Grosjean – he crossed the line in spectacular fashion as yet another Renault engine let go in a plume of smoke.
The Australian, already on his third engine of the season, could well now find himself at his penalty-free limit for the season when the season resumes at Barcelona in three weeks' time.
Meanwhile, last year's podium finisher Sergio Perez enjoyed another strong race under the Bahrain lights to finish eighth for Force India, seven seconds ahead of the second Red Bull of Daniil Kvyat who after a tough weekend raced well from 17th to claim two points with ninth.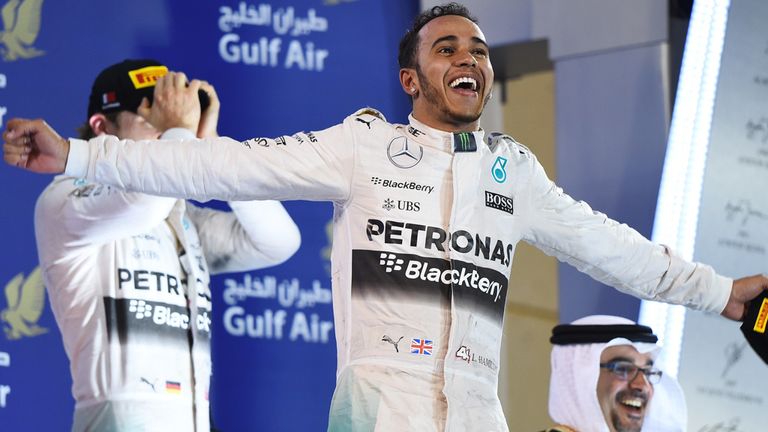 A disappointed Felipe Massa was only 10th in the second Williams, however, after he dropped out of sixth on the grid and started from the pitlane when his FW37 failed to get away for the formation lap.
Still, the Brazilian's solitary point is still one more than McLaren-Honda have registered all season at the end of a weekend which represented a curate's egg for the Woking team.
For the second time in four races, McLaren were only able to field one car after Jenson Button's already nightmare unreliability-laden weekend ended in the same fashion it started when an electrical problem on his MP4-30 still lingering from his Q1 breakdown meant he could not take the start from his 20th grid position.
However, the green shoots of recovery are still clearly in evidence for the team as Fernando Alonso raced well to 11th place, the Spaniard finishing just four seconds outside the points positions. Armed with a significant upgrade for the start of the European season next month, a top-10 breakthrough may just well be achievable for McLaren next time out.
Meantime, the sport breaks for three weeks with Lewis Hamilton remaining in control of the fight for the Drivers' World Championship with his third win from four meaning he already holds a lead over Rosberg in excess of a full race victory.
"Ferrari gave us a real good run for our money and out there it was really tough to look after our tyres, behind backmarkers and all sorts," Hamilton said after his 36th GP win after keeping cool despite his own late-race braking concerns. "Fortunately I was able to keep the car together and the tyres as healthy as possible and pull it through. But we need to keep pushing as a team."
Indeed, with the Ferrari threat not going away, and Raikkonen finally joining Vettel in producing podium-finishing form, the battle at the front is only just beginning in 2015.
2015 Bahrain GP result - 57 laps
1 L Hamilton (Gbr) Mercedes 1:35:05.809
2 K Raikkonen (Fin) Ferrari +3.380secs
3 N Rosberg (Ger) Mercedes +6.033
4 V Bottas (Fin) Williams +42.957
5 S Vettel (Ger) Ferrari +43.989
6 D Ricciardo (Aus) Red Bull +1:01.751
7 R Grosjean (Fra) Lotus +1:24.763
8 S Perez (Mex) Force India 1 lap
9 D Kvyat (Rus) Red Bull 1 lap
10 F Massa (Brz) Williams 1 lap
11 F Alonso (Esp) McLaren 1 lap
12 F Nasr (Brz) Sauber 1 lap
13 N Hulkenberg (Ger) Force India 1 lap
14 M Ericsson (Swe) Sauber 1 lap
15 P Maldonado (Venezuela) Lotus 1 lap
16 W Stevens (Gbr) Marussia 2 laps
17 R Merhi (Esp) Marussia 3 laps
ret M Verstappen (Ned) Toro Rosso 22 laps
ret C Sainz Jr (Esp) Toro Rosso 27 laps
ret J Button (Gbr) McLaren 57 laps      
Catch the F1 Midweek Report on Wednesday April 22 at 8:30pm on Sky Sports F1. Marc Priestley and Mark Gillan join Natalie Pinkham to analyse the Bahrain Grand Prix.