Lewis Hamilton on pole in Australia as new qualy format falls flat
New qualifying format fails to deliver thrilling conclusion; Final minutes of Q3 saw no running; Rosberg completes all Mercedes front row; Third-placed Vettel over eight tenths slower
By William Esler
Last Updated: 20/03/16 10:13am
Lewis Hamilton will start the defence of his world title from pole position after dominating qualifying for the Australian GP.
But while the F1 world champion impressed, the new elimination-style qualifying fell flat with Sky F1's Martin Brundle calling for it to be abolished immediately and Hamilton's Mercedes boss Toto Wolff branding it "rubbish".
Hamilton's pole was the 50th of his F1 career with the Englishman eight tenths clear of the first non-Mercedes car.
"I enjoyed driving the car today, there were some sexy laps. They just flowed, no mistakes," Hamilton said.
Nico Rosberg secured a Silver Arrows front row lock out with his final lap in Q3 to leap ahead of both Ferraris after Scuderia pair Sebastian Vettel and Kimi Raikkonen sat out the final five minutes.
Conclusions from qualifying for the Australian GP
The new format saw only the two Mercedes drivers attempt a second run, with the 90-second elimination clock not giving some of the drivers enough time to pit for fresh tyres and complete a flying lap.
And that produced a rather dull conclusion to qualifying with pole position secured with around four minutes of the session remaining and the final minutes ticking down with no cars on track.
"We've made a step forward, tomorrow we should be quite a bit closer and we expected them to be strong in qualifying," said Vettel.
"I was happy with the run I had in the end so we called it there and saved a set of tyres for tomorrow."
Kimi Raikkonen was fourth quickest ahead of an impressive Max Verstappen who was fifth for Toro Rosso. The young Dutchman edged out the Williams of Felipe Massa, with Carlos Sainz and Daniel Ricciardo completing the top eight.
The final minutes of Q2 also saw no cars on track as the two Force India drivers returned to the pits rather than trying to improve on the ninth and 10th places for Sergio Perez and Nico Hulkenberg respectively.
Valtteri Bottas was a disappointing 11th for Williams, just ahead of the McLarens of Fernando Alonso and Jenson Button.
"We didn't have any tyres left. In the end it all works out with the quicker tyres towards the front as they have more tyres left from Q1 so nothing has really changed," Button told Sky Sports F1.
"P12 and P13 is slightly better than I expected coming here, it is not too bad a starting point."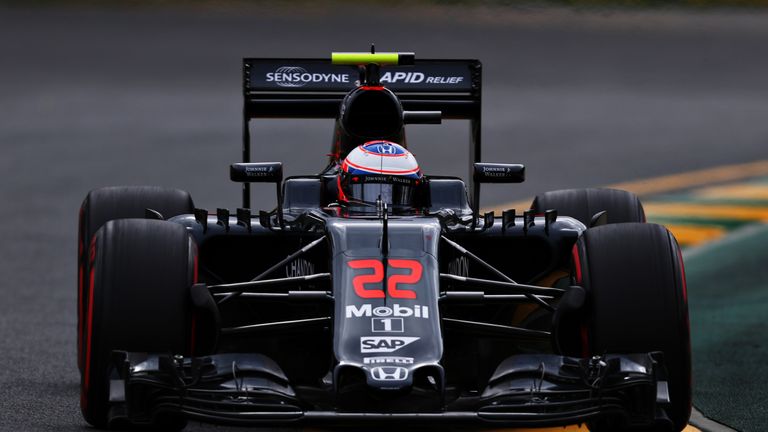 Behind the two McLarens came the two Renaults, with Jolyon Palmer out-qualifying Kevin Magnussen on the French marque's return to F1.
Daniil Kvyat was the biggest name to drop out qualifying early on with the Red Bull man only 18th.
"It felt like a bit wrong positioning, a bit wrong everything and it caught us out a bit," Kvyat told Sky Sports F1.
"We will have to really learn for today."
Pascal Wehrlein was the first man to be eliminated under the new qualifying regulations. Manor only sent their drivers out for one flying lap and both were sat in the garage as the elimination clock hit zero.
However, Wehrlein will still start ahead of team-mate Rio Haryanto after the Indonesian picked up a three-place grid penalty for a collision with Grosjean during final practice.
Q3
1. Lewis Hamilton, Mercedes, 1:23.837
2. Nico Rosberg, Mercedes, 1:24.197
3. Sebastian Vettel, Ferrari, 1:24.675
4. Kimi Raikkonen, Ferrari, 1:25.033
5. Max Verstappen, Toro Rosso, 1:25.434
6. Felipe Massa, Williams, 1:25.458
7. Carlos Sainz, Toro Rosso, 1:25.582
8. Daniel Ricciardo, Red Bull, 1:25.589
Q2
9. Sergio Perez, Force India, 1:25.753
10. Nico Hulkenberg, Force India, 1:25.865
11. Valtteri Bottas, Williams, 1:25.961
12. Fernando Alonso, McLaren, 1:26.125
13. Jenson Button, McLaren, 1:26.304
14. Jolyon Palmer, Renault, 1:27.601
15. Kevin Magnussen, Renault, 1:27.742
Q1
16. Marcus Ericsson, Sauber, 1:27.435
17. Felipe Nasr, Sauber, 1:27.958
18. Daniil Kvyat, Red Bull, 1:28.006
19. Romain Grosjean, Haas, 1:28.322
20. Esteban Gutierrez, Haas, 1:29.606
21. Rio Haryanto, Manor, 1:29.627
22. Pascal Wehrlein, Manor, 1:29.642
The first race of the 2016 F1 season, the Australian GP, is exclusively live on Sky Sports F1. The race in Melbourne starts at 5am on Sunday.