Jenson Button hits dislodged drain cover during Monaco GP P1
Charlie Whiting travels round track to check errant covers
By Matt Morlidge
Last Updated: 27/05/16 7:30am
Practice One of the Monaco Grand Prix had to be red flagged after a loose drain cover flew into Jenson Button's McLaren, badly damaging the car.
The session, which Lewis Hamilton dominated, was minutes from its conclusion when Nico Rosberg dislodged the cover just after Sainte Devote, catapulting the piece backwards.
It shattered as it took a chunk out the front right side of Button's MP4-31, while Rosberg also suffered a back left puncture in his Mercedes.
"It went through the front-wing, suspension and brake intake," reported Button to Sky Sports News HQ. "It was an incident that we definitely don't want to see again. We were lucky in a way that it only damaged the car."
P1: Hamilton sets stunning pace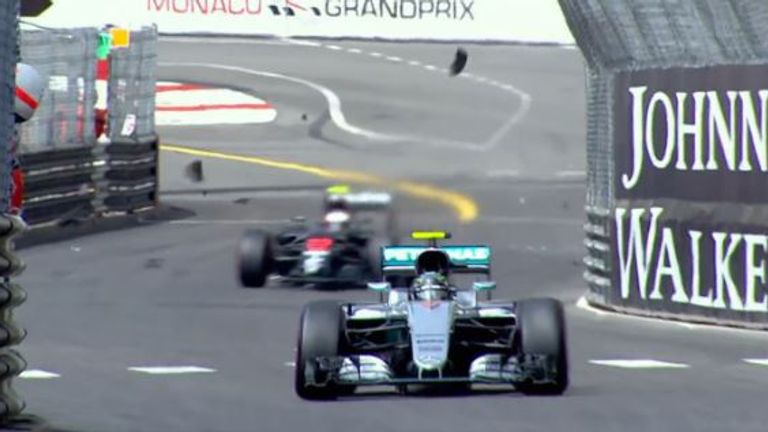 P1 couldn't be restarted after the incident, and FIA race director Charlie Whiting took a trip around the track following the session to double check if there were any other errant drainage issues.
"It's unacceptable in many ways because these things should be checked," said Sky F1 pundit Johnny Herbert. "They should be welded down."
At first, the Virtual Safety Car was deployed after Rosberg reported his puncture after the first corner, but the red flags soon came out as it became evident that his and Button's damage was not the result of an on-track collision.
Drain covers are usually welded down on street circuits, though problems have arisen in Monte Carlo before. Back in 2010, Rubens Barrichello had his race ended after a loose drain cover caused a suspension failure in his Williams.
Button and Rosberg weren't the only drivers facing problems in Thursday practice, with a lack of grip catching many out. Felipe Massa crashed into the wall at Sainte Devote, while Jolyon Palmer collided with the barrier out of Tabac.
Watch the Monaco GP live on Sky Sports F1. The race starts at 1pm on Sunday, with build-up underway at 11.30am. Or watch the race without a contract for £6.99 on NOW TV.