2014 German GP: Nico Rosberg wins at home as Lewis Hamilton surges to third
Hamilton thrills en-route to podium from 20th, but Valtteri Bottas pips him to second; Rosberg extends title lead to 14 points; Felipe Massa flipped at the first corner after Kevin Magnussen clash
By James Galloway
Last Updated: 21/07/14 9:47am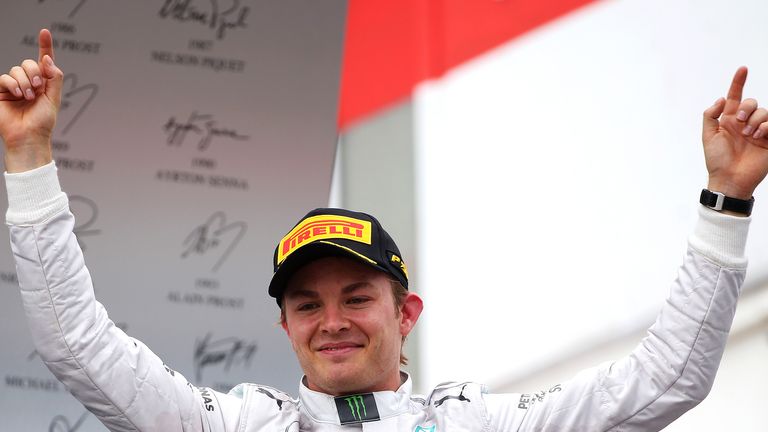 Nico Rosberg comfortably won his home German GP for the first time to re-extend his World Championship lead as a thrilling recovery drive from Lewis Hamilton delivered a vital podium finish – but just fell agonisingly short of second place.
Just like qualifying, Sunday at Hockenheim proved a day of contrasts for Mercedes' title-duelling drivers. However, unlike on Saturday, when Hamilton crashed in Q1 to deepen his recent qualy gloom, the final results were not quite so sharply contrasting. 
While Rosberg serenely streaked away from pole position and was rarely seen – let alone troubled – thereafter to record his fourth win of 2014, Hamilton spent all the 67 laps in full-out attack mode as he surged through the field towards the podium.
Starting 20th after an overnight gearbox change, the Briton's stunningly-fast W05 just about survived separate incidents of contact with three drivers – Adrian Sutil, Kimi Raikkonen, and most significantly of all when he damaged his front-wing, former team-mate Jenson Button – amid a succession of passing moves at the circuit's inviting hairpin.
Running a long opening stint on the more durable soft tyres, Hamilton was up to second by lap 16 and although a late switch from a two to three-stop strategy following his Button clash appeared to increase his workload, the Briton flew once more during the course of two shorter final stints on the supersoft rubber.
Like the dominant Rosberg - who won by 20 seconds despite apparently cruising for more than half the race - Williams' in-form Valtteri Bottas also made just two visits to the pits but when the Finn was being caught hand over fist by Hamilton into the closing laps another Mercedes one-two appeared inevitable.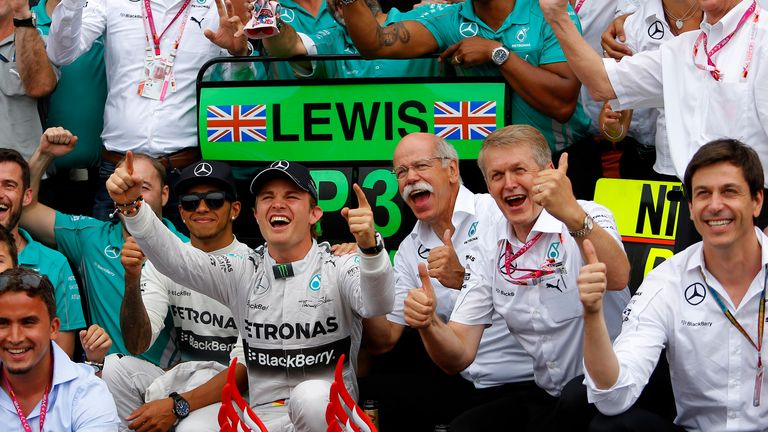 However, whether due more to the supreme straightline speed of the similarly Mercedes-engined Williams or the fact Hamilton's tyres had by now lost their own peak performance, it was Bottas who claimed a second straight runner-up finish.
How decisive Mercedes' call to pit Hamilton three laps earlier than planned at his third stop is likely to be dissected for days to come, with Paddy Lowe admitting to Sky Sports F1 afterwards that the pitwall "gambled" on the Safety Car coming out when Adrian Sutil spun and stalled on the pit straight. As it was, trackise marshalls instead cleared the stricken car out of the way with the help of yellow flags.
The difference between second and third - four points - means it's therefore a 14-point championship lead which Rosberg takes into next week's Hungarian GP, the final race before F1's August summer break.
"I did as good as I could today," Hamilton said on the podium. "It was really tough to get through the pack safely and I had a bit of a collision with Jenson. I honestly thought he was opening the door to let me pass - he's been a bit like that in the last race, for example - but it was my bad judgement. And at the end it was very difficult to overtake [Bottas] but I'm just glad we got some points."
Hamilton's spirited charge characterised a race full of drama and wheel-to-wheel incident as the modern-day shortened Hockenheim once more served up a race to remember, even if the race-day attendance wasn't on a par with F1's recent fan-packed GPs.
The tone was set at the first corner when Felipe Massa made the most spectacular of exits from third place on the grid when his Williams was flipped into a roll when the Brazilian tagged the fast-starting McLaren of Kevin Magnussen.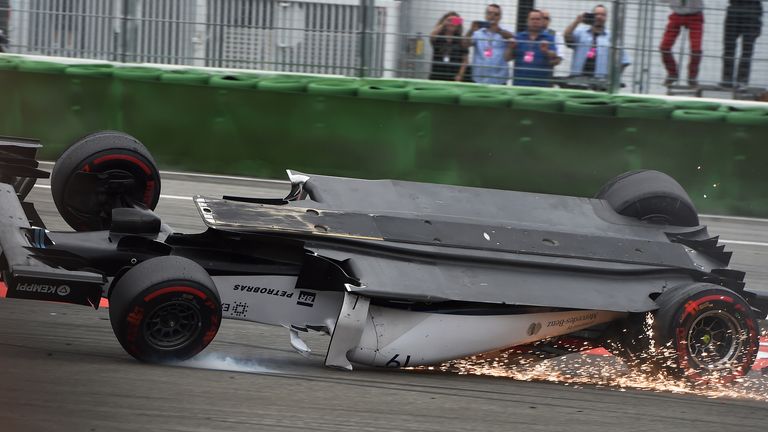 With Massa barrel rolling through the run-off area before coming to rest and clambering out of the heavily-damaged FW36, Daniel Ricciardo was forced to take evasive action, prompting Sebastian Vettel and Fernando Alonso into third and fourth.
Two weeks on from the pair's thrilling duel at Silverstone, the Red Bull and Ferrari drivers were again engaged in combat for much of the race, and although Alonso once more passed Vettel on one of the German's out-lap, an attempt a two-stop strategy had to be abandoned and it was the reigning World Champion who eventually finished fourth, with the Spaniard fifth.
Alonso at least took one Red Bull scalp into the closing laps as, on his fresh supersofts after an emergency third stop, passed Riccciardo around the outside of the hairpin to consign the Australian to sixth place. However, given he had dropped to 15th on the first lap, Ricciardo could be more than pleased with his day's work.
Nico Hulkenberg maintained his 100 per cent points-scoring record with another solid result, seventh place, ahead of McLaren pair Button and Magnussen and his Force India team-mate Sergio Perez.
Despite pulling off a handful of incisive moves of his own during the action-packed race, Kimi Raikkonen finished outside the points in 11th to prolong his 2014 struggles. Indeed, the beleaguered Finn's F14 T resembled a pinball at times during the race after he was first tagged by an oncoming Hamilton at the hairpin and then found himself buffered from side to side when caught in the middle of an Alonso/Vettel sandwich.