German GP not out of the woods yet, warns Hockenheim chief
Hockenheim say a 2016 sell-out crucial to secure F1's long-term future in Germany; Circuit prepared to step in for 2017 too
By James Galloway
Last Updated: 16/07/15 1:27pm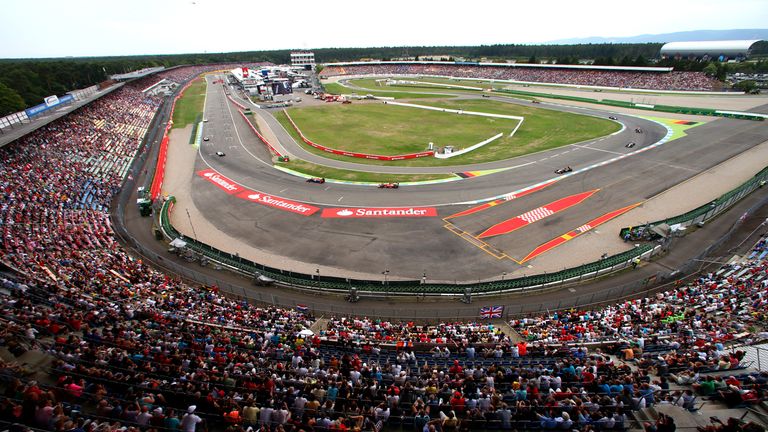 The long-term future of the German Grand Prix remains under threat unless fans turn out in numbers to support next year's race at Hockenheim, the circuit's boss has admitted.
This weekend was supposed to be when the 2015 edition of the German race was staged at the Nurburgring, however the grand prix was cancelled in March when the circuit in the Eiffel mountains, which has alternated as the host of the event with Hockenheim since 2007, failed to agree a deal with Bernie Ecclestone.
Although Hockenheim decided it was not financially viable to step in to save the 2015 event, the circuit always made clear their expected the race to return as scheduled to their track for 2016 and the German GP was duly included on the 21-race provisional 2016 calendar released by the FIA last week.
However, despite Mercedes' continued dominate F1 and Sebastian Vettel's four titles on the spin from 2010-13, spectator numbers have steadily decreased at Hockenheim over recent years.
Just 50,000 fans witnessed home driver Nico Rosberg's victory last season – a far cry from the 100,000 crowd the circuit routinely pulled in during Michael Schumacher's heyday.
And while Germany may be back on the calendar for 2016, the boss of Hockenheim has urged fans to come back to the race to ensure next season's isn't a permanent swansong.
"We need a well filled house next year so that Formula 1 has a future," Georg Seiler, Hockenheim's managing director, told German news agency dpa. "We must tell the fans: come to the race next year and secure the future of F1 at Hockenheim."
While Hockenheim has a contract for both 2016 and 2018, dpa reports that the venue would consider stepping in for 2017 too if the Nurburgring's financial problems continue.
Seiler added that he was "very optimistic" that next year's race would draw a strong crowd after a year's absence – the first time Germany hasn't featured on the F1 calendar since 1960.
The 2016 race is scheduled for July 31 in its usual back-to-back position with Hungary.