Lewis Hamilton overcomes Nico Rosberg to win the United States GP in Austin
Briton extends title lead over Mercedes team-mate to 24 points; Rosberg leads early on but Hamilton passes him on lap 24; Red Bull's Daniel Ricciardo finishes third but now out of title race
By Mike Wise
Last Updated: 03/11/14 12:00pm
Lewis Hamilton edged closer towards the World Championship on Sunday when he overcame polesitter and title rival Nico Rosberg to win the United States GP in Austin.
The win, his fifth in a row, has enabled Hamilton to beat Nigel Mansell's records for most victories by a British driver in a season - ten - while the Mercedes driver also beat the 1992 World Champion's career tally with his 32nd win.
Surely more important for Hamilton right now, though, will be the manner in which his latest triumph was achieved and what it means for his aspirations towards a second world title.
Having outqualified Hamilton by an impressive 0.4s on Saturday, Rosberg had appeared similarly comfortable in the early laps at the Circuit of The Americas.
Hamilton's U.S. GP win:
Is his fifth in a row.
His tenth of the season, beating Nigel Mansell's British record
The 32nd of his career, also a record for a British driver.
Guarantees that the title will be settled in Abu Dhabi.
Guarantees a 'two-horse race' with Rosberg.
However, Hamilton closed on his Mercedes team-mate after their first pit stops and took over the lead with a bold move at the end of the back straight on lap 24.
He was never headed thereafter and was 4.3s ahead by the chequered flag. And in terms of the title battle, Hamilton now holds a 24-point lead over Rosberg with just two races left to run.
"I had a great competitor today and I'm really grateful to be up front," said Hamilton. "I'm really excited; it's such a privilege to be representing my country and to be top of the driver wins is quite special."
Of course, double points in Abu Dhabi leaves open the possibility that Rosberg can still turn the tables but the most important impact this race could have is on the German's morale.
He had appeared favourite for victory at the start of the afternoon but is now without a win since his home German GP back in July.
Rosberg pitted for the first time on lap 15 and maintained his advantage when Hamilton stopped one lap later. 
What appeared crucial, however, were front wing adjustments Mercedes made to Hamilton's car. He had complained of a poor car balance earlier on but was soon eating into Rosberg's 3s lead.
And when it came, the move seemed both surprising and familiar: surprising to Rosberg, given how quickly Hamilton closed on him under braking into Turn 12, and familiar in how he muscled the sister W05 wide into the run-off area.
Shades of their Bahrain GP battle there. But unlike at Sakhir, Rosberg never fought back. "It kind of sucks really today but that's the way it is," he said afterwards. "It took long for me to find my rhythm; once Lewis got by I found my rhythm but by then it was too late."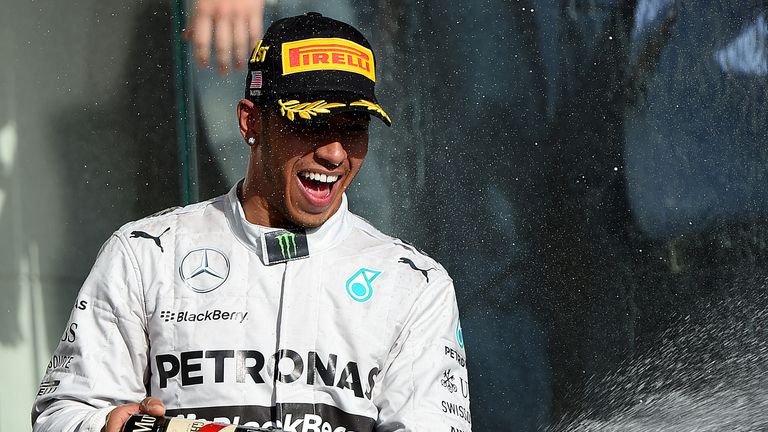 Daniel Ricciardo finished third after another strong race, although that result doesn't stop the Australian dropping out of the title hunt - if he was ever in it.
Starting fifth on the grid, the Red Bull driver was passed by Fernando Alonso's Ferrari but was soon back ahead after a collision between Sergio Perez's Force India and Adrian Sutil's Sauber - for which the Mexican has been handed a seven-place grid penalty in Brazil - brought the Safety Car out on lap one.
Thereafter, Red Bull used tyre strategy to help their driver make progress, with Ricciardo getting ahead of Valtteri Bottas and then Felipe Massa at successive pit stops.
Massa came home fourth ahead of his team-mate after both had fairly anonymous outings. There was some frenetic action behind them, though, with Alonso finishing sixth ahead of Sebastian Vettel. 
The pair engaged in a duel reminiscent of their battle at Silverstone earlier in the season, with Vettel's race coming alive in the closing stages.
Having been forced to start the race from the pitlane, he'd lapped slowly early on and, out of the points, appeared disinterested. However, a switch to soft tyres enabled him to lap about 2s quicker.
Behind them, Kevin Magnussen's McLaren finished eighth ahead of Pastor Maldonado, who claimed his first points of the season despite picking up two time penalties - the Lotus driver later bumped up a place from tenth after Jean-Eric Vergne was also penalised after a late clash with the Venezuelan's team-mate Romain Grosjean.
Grosjean finished just outside of the points, ahead of Jenson Button. The pair seemed to have more battles than anyone else - including against each other - with the McLaren driver also fighting Alonso at one stage.
The 2009 World Champion's frustration was also apparent, however, when McLaren switched their plans and allowed Magnussen to pit ahead of him. "Is there anyone else you want to let in first?" asked Button, who is still without a contract for the 2015 season.
Vexing for Button, then, but there was only delight for Hamilton. The result guarantees that the World Championship will be settled in Yas Marina at the end of the month, but surely now a crucial blow has been struck.
MW