Sebastian Vettel wins Hungarian GP from Daniil Kvyat and Daniel Ricciardo
Ferrari driver takes second win of season in Budapest thriller; Red Bull pair on podium despite Ricciardo colliding with both Mercedes drivers; Lewis Hamilton eventually sixth after poor start; Nico Rosberg finishes eighth; Fernando Alonso fifth for McLaren
By Mike Wise
Last Updated: 27/07/15 10:40am
Sebastian Vettel won a breathless Hungarian GP on Sunday after keeping his head out front when just about everyone else behind him seemed to lose theirs.
The Ferrari driver took his second win of the season after making a fine start from third on the grid and holding on to it. But there were chaotic scenes behind the German, both at the start and towards the end of the 69-lap race.
Red Bull pair Daniil Kvyat and Daniel Ricciardo eventually finished second and third, with the Australian claiming a podium place despite collisions with both Mercedes drivers Lewis Hamilton and Nico Rosberg.
The coming together with Hamilton occurred during a race re-start on lap 49, six laps after a high-speed crash involving Nico Hulkenberg - the German's Force India having lost its front wing on the start-finish straight - brought out the Safety Car.
Hulkenberg swiftly extracted himself from his wrecked car at Turn 1 and the same corner was the setting for the drama that followed. Running fifth behind Hamilton at the re-start, Ricciardo challenged the world champion under braking but was forced out wide.
Hamilton had to pit for a new front wing and was also handed a drive-through penalty for the incident, which came as he was seeking to make up ground after a poor opening lap.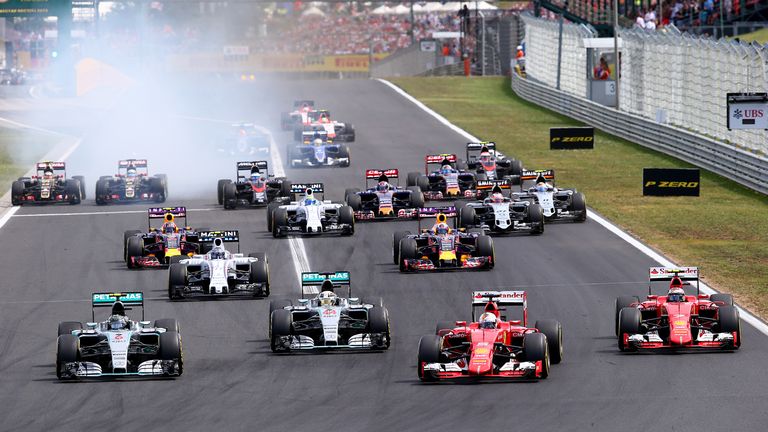 Starting from pole position, Hamilton dropped to fourth at the first corner as the Ferraris of Vettel and Kimi Raikkonen got the jump on both Silver Arrows. They ran four abreast into the first corner, with the scarlet cars emerging in front.
Then at the Turn 6/7 chicane, Hamilton tried to pass Rosberg for third place. Instead, he was forced to take evasive action, running into a gravel trap and dropping down to 10th.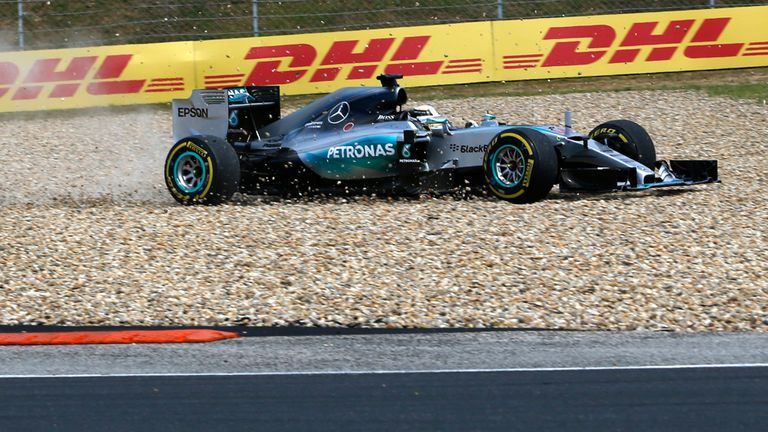 Climbing back through the field as cars made their opening pit stops, Hamilton was back up to fourth place when he passed Ricciardo on lap 29.
At that point it looked like tyre strategy would decide the battle between the Mercedes cars, with Hamilton closing on Rosberg in third while the latter ran slower medium tyres.
Rosberg, in turn, would have hoped that using the faster soft tyre in the closing stint would help him. The problems encountered by Raikkonen certainly did, with the Finn losing his car's MGU-K on lap 41 and retiring 14 laps later.
By that stage such tactical nuances seemed less important, although Red Bull's decision to put Ricciardo on soft tyres had its consequences. Hulkenberg's shunt bunched the whole field up and breathless excitement was to follow - not to mention quite a few headaches for the race stewards.
With Vettel leading a handicapped Raikkonen, both Mercedes drivers were told they could still win. Instead, Hamilton dropped back after his collision with Ricciardo and although the latter was still able to join Rosberg in his pursuit of Vettel in the closing stages, Red Bull and Mercedes collided again - and once more at Turn 1 - on lap 64.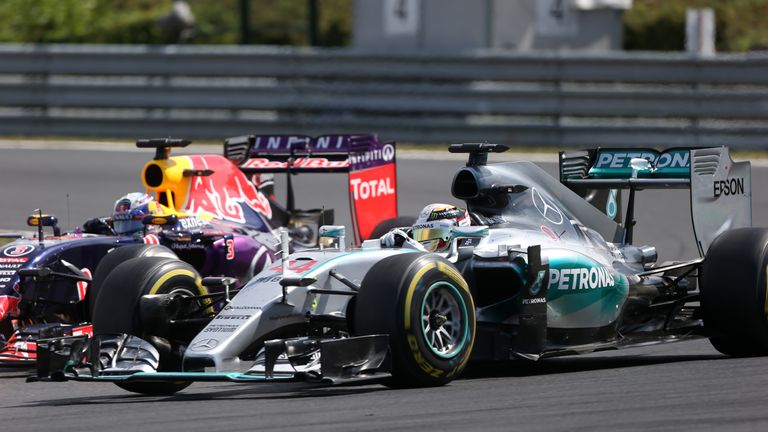 The stewards took no further action this time, with Kvyat suddenly finding himself second ahead of Ricciardo, who was forced to pit for a new front wing. Rosberg was also forced back to the pits after picking up a puncture.
That promoted Max Verstappen to fourth - the 17-year-old's best result yet in F1 - with Fernando Alonso and Jenson Button earning McLaren-Honda their first double points finish of the season, the pair fifth and ninth respectively.
Romain Grosjean finished between Hamilton and Rosberg in seventh, with Sauber's Marcus Ericsson completing the top 10.
A thriller, then, and a race Jules Bianchi would surely have enjoyed. The Frenchman's family joined the drivers on the starting grid beforehand, which was itself touching; taken as a whole, the afternoon proved quite some tribute.
Sunday's result means that Hamilton has edged into a 21-point lead in the Drivers' Championship heading into the summer break. The next race, the Belgian GP, is on August 23.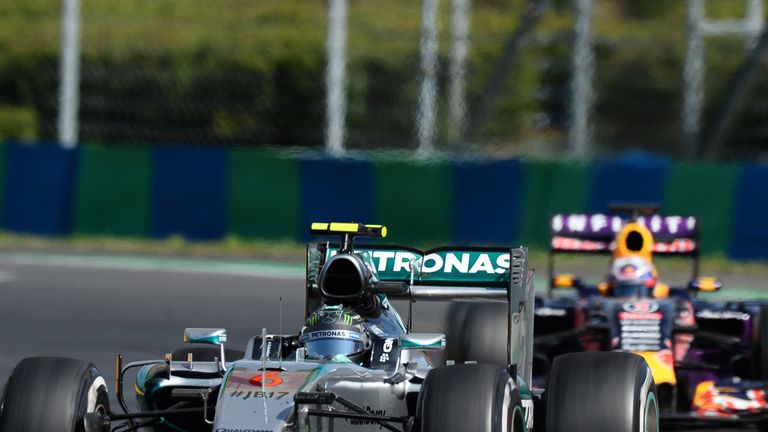 Result:
1. Sebastian Vettel Ferrari 69 laps
2. Daniil Kvyat Red Bull +15.7s
3. Daniel Ricciardo Red Bull +25s
4. Max Verstappen Toro Rosso +44s
5. Fernando Alonso McLaren +49s
6. Lewis Hamilton Mercedes +52s
7. Romain Grosjean Lotus +58.5
8. Nico Rosberg Mercedes +58.8
9. Jenson Button McLaren +67
10. Marcus Ericsson Sauber +69.1
11. Felipe Nasr Sauber +73.4
12. Felipe Massa Williams +74.2
13. Valtteri Bottas Williams +80.2
14. Pastor Maldonado Lotus +85.1
15. Roberto Merhi Manor 2L
Ret. Will Stevens Manor
Ret. Carlos Sainz Toro Rosso
Ret. Kimi Raikkonen Ferrari
Ret. Sergio Perez Force India
Ret. Nico Hulkenberg Force India