Italian GP Qualifying disrupted by heavy rain at Monza
Hamilton takes record pole after two-and-a-half hour Qualy rain delay; Grosjean aquaplanes to bring out initial red flag
By Jonathan Green
Last Updated: 30/09/17 9:13am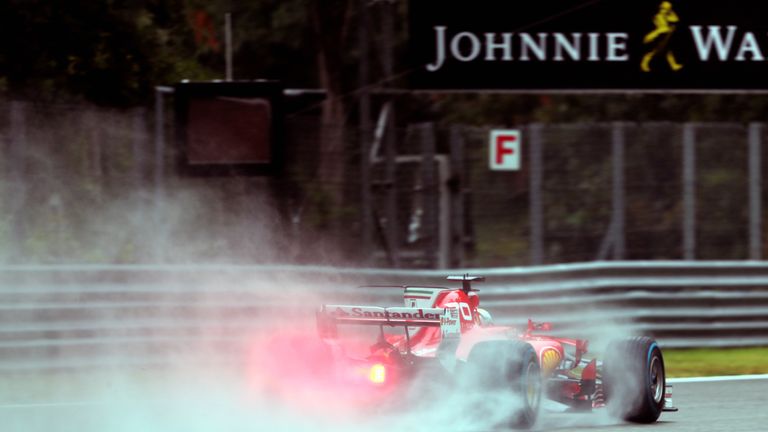 Italian GP Qualifying was delayed by more than two-and-a-half hours on Saturday as heavy rain played havoc at Monza.
While Q1 had initially started on time at 1pm BST, the red flag was thrown out after just four-and-a-half minutes when Romain Grosjean's Haas aquaplaned into the barriers down the pit straight.
But after nine 15-minute delays were issued by the FIA following track inspections, the rain finally relented enough for Qualifying to be completed.
Lewis Hamilton claimed a record-breaking 69th pole position to put him in the perfect position to claim the lead of the world championship for the first time this season.
Championship leader Sebastian Vettel, who currently holds a seven-point advantage, will start fifth after Ferrari struggled to match the pace of their rivals in Q3.
Rain had been swirling around Monza all day, with only 16 minutes of running possible in the morning's Practice Three session.
During the break, drivers attempted to keep themselves busy.
Daniel Ricciardo took the FOM camera for a walk, Felipe Massa and the Williams crew played football in the pitlane, while Lewis Hamilton and team-mate Valtteri Bottas enjoyed video games in the Mercedes motorhome.