Gamer turned racer Jann Mardenborough to make GP2 debut at Monza
Briton stepping up from GP3 for Italian rounds
By William Esler at Monza
Last Updated: 03/09/15 12:34pm
Gamer turned racer Jann Mardenborough will make his GP2 debut at Monza this weekend with Carlin.
The 23-year-old won Nissan's GT Academy competition in 2011 and started his journey from PlayStation gamer to what is now the cusp of F1.
Mardenborough is deputising for Sean Gelael who is racing in Formula Renault 3.5 this weekend and he can't wait to get on track.
"I'm very excited. I got told about the opportunity on Monday and I am using it to gain experience as I am hoping to step up into GP2 next year with Carlin and Nissan. So it is an opportunity I couldn't turn down," he told Sky Sports.
"I am really excited to drive a GP2 car for the first time at what is the fastest track on the calendar. It is going to be pretty exciting to do over 320kph in a GP2 car.
Despite only having four days notice of the drive, Mardenborough insists he feels ready to step up from GP3 and compete at the higher level.
"I'm in the best shape I ever have been physically and with the amount of experience I have in single-seaters I feel ready to jump into a GP2 car and give it a good shot and be competitive," he said.
"Ideally in the perfect world it would have been good to have more days' notice or testing experience, but you just have to grab the opportunity when you can, work hard, get your head down, work hard with the team and do all the preparation to get myself ready to jump in the car and do a good job."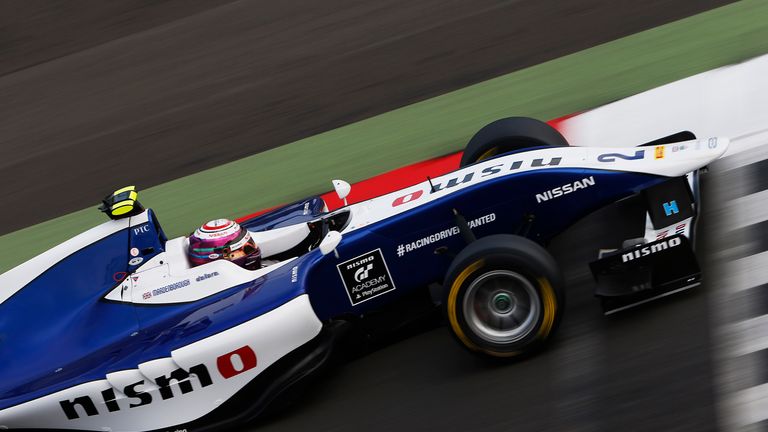 Mardenborough's graduation to GP2 is another positive for Nissan's ambitious project of turning gamers into racers, with the Briton having also driven in the LMP1 category at Le Mans this year.
"It is very good for Nissan and GT Academy to have a driver who had no experience four years ago and is now in GP2," he said.
"I think it is good for the programme to show kids that you can realise your dream and you can step up to a level one tier below through GT Academy with Nissan's support."
F1 remains Mardenborough's ultimate goal and he knows Monza is a great opportunity to showcase his skills in front of the paddock.
"Formula 1 is still the dream and GP3 and GP2 are the correct categories to be in, it is the shop window for drivers to get noticed by the F1 teams," Mardenborough said.
"But while it is one step closer there is still a lot to do and I need to make the most of this opportunity."
So just what would making the most of the opportunity entail?
"Carlin haven't given me any goals, they've said to me just go out there and do your best," he said.
"My goal is to finish in the top half and I think that is a realistic goal. It is a big challenge coming in mid-season when everyone else has had half a year to get used to the car. But I am here, I am a racing driver and I have to be able to adapt to different conditions and cars.
"My goal is to finish in the top half and I'll do my hardest to do that. I'm looking forward to first practice and the pit-stop race and I am really excited for the new challenge."