Lewis Hamilton delighted with Belgian GP win around 'weaker' Spa
"Nico was exceptionally fast but I didn't feel like I was incredibly under pressure," says Hamilton after win increases title lead
By James Galloway
Last Updated: 24/08/15 8:25am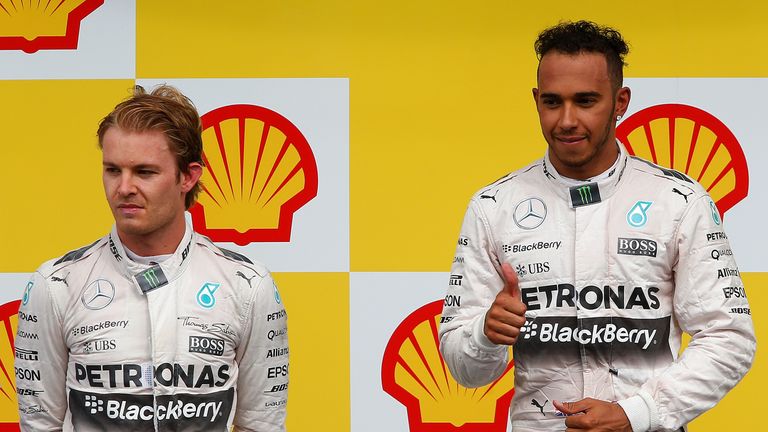 Lewis Hamilton claimed he felt in complete control of the Belgian GP after inflicting another race-day defeat on Nico Rosberg, this time on what he described as a "weaker circuit for me".
For just the second time in his F1 career, Hamilton triumphed at Spa-Francorchamps on Sunday - although he had an additional 'victory' in 2008 cancelled out for a controversial overtaking infringement - to increase his world title lead over his Mercedes team-mate to a season-high 28 points.
Although the fast-flowing circuit is routinely listed by drivers as being among their favourites on the calendar, Hamilton raised eyebrows on Thursday when he said it wasn't one of his.
Speaking to Sky Sports F1 after his subsequent commanding pole and race victory double, Hamilton explained why he always found the Spa circuit especially challenging.
"This is a really difficult track. For some reason, there are tracks that really suit your driving style and other tracks that you struggle at a little bit and this is definitely one of those tracks I've struggled at a little bit more," he said after his sixth victory of 2015.
"I've had good results - when it's been raining, it makes it easier for me! But this weekend, I really did the best and extracted the most that I could get out of, if I could say, a weaker circuit for me."
He added: "I was really happy with the performance I had this weekend - particularly in qualifying. Then the race was just about trying to manage what I had, the gap that I had, the tyres, everything. Nico was exceptionally fast today but I didn't feel like I was incredibly under pressure. I was able to match him when I needed to. Super happy."
Hamilton's only serious threat across the 43 laps of racing following the initial aborted start came in the opening stages when he was challenged - and very briefly overtaken - by the fast-starting Sergio Perez down the Kemmel Straight.
"Oh, I was generally happy it was him and not Nico!" Hamilton said.
"Sergio was great. If it had been the other way round and Nico was there, it would have been a different outcome probably, but I'm really glad that today went the way it did."
In fact, Sunday was the first race since June's Canadian GP that Hamilton had not lost at least one place on the opening lap from pole. His stronger getaway came despite the clampdown on radio instructions to drivers concerning bite point settings, with the Briton citing lessons learnt from the last race in Hungary when his W06's clutch overheated following an aborted start then.
Asked if he had been especially nervous before the lights, Hamilton replied: "I wasn't. Generally at the start, you can't get nervous - you can't allow yourself to get nervous - but today we did the restart and it was really just about cooling my car and making sure it's good and when it came to doing the restart.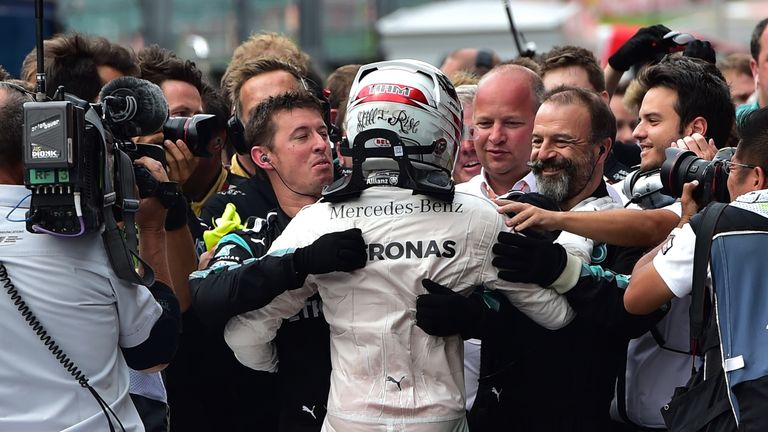 "I did the appropriate sequence to ensure it didn't overheat and it turned out generally good. I did get wheelspin just as Nico got, but I managed to control it a little bit better I guess and still maintain the lead."
After his 16-race podium-finishing streak came to an end in Hungary, Hamilton's return to the top three at Spa meant he has now tied his childhood hero Ayrton Senna's tally of 80 F1 rostrum finishes.
The Mercedes driver, who has taken just one more race to match the late great Brazilian's mark, admitted: "I was five years old when I started watching Ayrton, I don't know what age it was when I wanted to emulate him, but to think that I have the same amount of podiums now doesn't feel real."
Don't miss the F1 Midweek Report for all the analysis of the Belgian GP. Max Chilton and Ted Kravitz join Anna Woolhouse in the studio at 8:30pm on Wednesday 26 August on Sky Sports F1.