Brazilian GP Practice Two: Nico Rosberg quickest from Lewis Hamilton
German hits back to finish Friday quickest; McLaren-Honda woes continue as Fernando Alonso's session ends early; Tyre-wear an issue for all runners
By William Esler
Last Updated: 13/11/15 9:02pm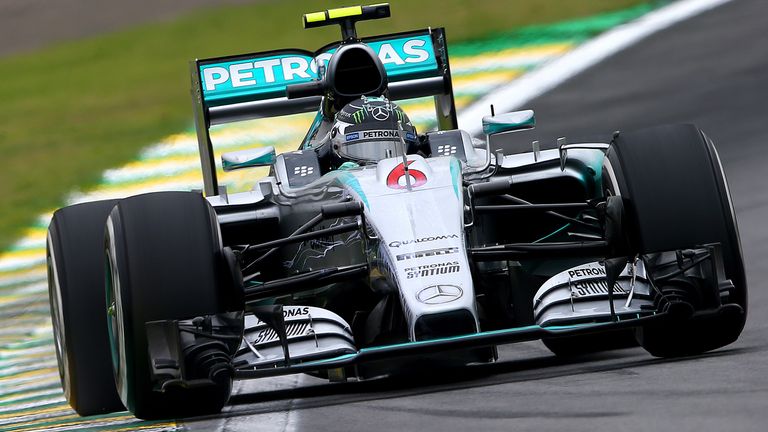 Nico Rosberg hit back in Practice Two for the Brazilian GP to beat Mercedes team-mate Lewis Hamilton by nearly half a second.
The German had trailed the world champion by a similar margin in Practice One, but produced a lap of 1:12.385 to top the timesheet as the teams conducted their qualifying simulations on Friday afternoon.
But Rosberg, chasing his fifth consecutive pole, was quick to play down the size of his advantage.
"The gap to Lewis is not the real picture as he got his engine settings wrong, so there is big lap time in that, but it is still a decent start and I am pleased with the direction I have gone with the car," Rosberg told Sky Sports F1.
However, it wasn't a straightforward outing for Rosberg, who had a problem switching between second and third gears during his race simulation and further problems with his car settings later in the session.
Rosberg's woes weren't anywhere near as dramatic Fernando Alonso's, however. It was yet another session that saw the Spaniard stranded on the side of the track watching his car being recovered by marshals as its Honda power unit spat out smoke and flames from the exhaust.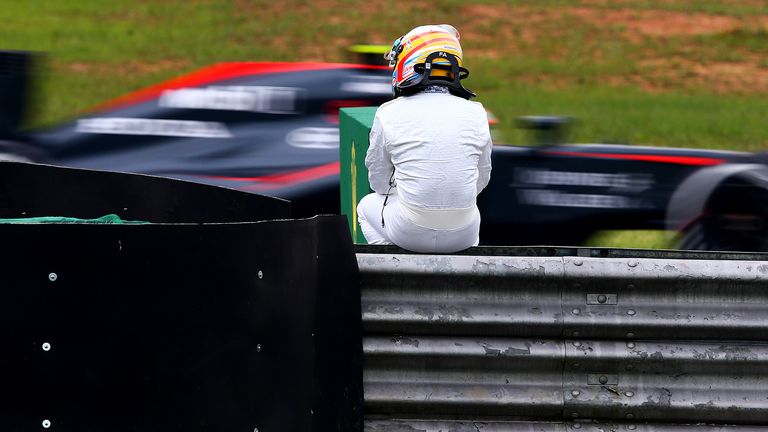 However, Alonso will not have to take a grid penalty in Sunday's race, with McLaren planning to put in one of his new units taken in Mexico. Not that that will be much consolation for Spaniard, who appeared in an angry mood as he stormed back into the team's hospitality unit.
McLaren confirmed to Sky Sports F1 that it was a hardware problem with the Honda engine and it would be sent back to the factory for examination.
Worryingly for Ferrari, and indeed the rest of the grid, was that third-placed Sebastian Vettel was nearly a second slower than Rosberg - seemingly leaving the second row the best the Scuderia can aim for based on Friday's pace.
"It is Friday so I don't know what people are doing, tomorrow is a new day," Vettel told Sky Sports F1 of his qualifying chances.
"It was supposed to rain today, but it didn't. They say the same tomorrow and then a big drop in temperature on Sunday, but let's not talk about weather, it is a waste of time."
What could mix the order up in the race is tyre life. Hopes of two-stopping appear optimistic with the soft tyre suffering huge degradation and a vast performance drop off after just a handful of laps.
On four lap-old tyres, Jenson Button reported that his rubber was done when asked if he wanted to go for another lap on the soft tyres.
On the harder medium tyre, Max Verstappen managed around 20 laps before reporting: "My tyres are dead, I have no grip front or rear."
Even the Mercedes cars were suffering with the wear issues, causing a rather clumsy looking off for Rosberg at Turn 12 which sent him bumping across the grass. Two lock-ups meant the canvas was almost visible through the tyre.
Overall, however, there was nothing to choose between Rosberg and Hamilton over their race stints with their lap average just 0.05s apart.
"It was good, no problems. It is going to be close, Nico is driving well," a less-than-chatty Hamilton told reporters.
Vettel enjoyed one of the best race stints on the soft tyres, losing around a second of pace over a 10-lap stint. That could stand the German well in Sunday's race if he is able to make his tyres last longer than Mercedes and that may allow him to take the fight to Hamilton and Rosberg.
Brazilian GP Practice Two Timesheet
1. Nico Rosberg, Mercedes, 1:12.385
2. Lewis Hamilton, Mercedes, 1:12.843
3. Sebastian Vettel, Ferrari, 1:13.345
4. Kimi Raikkonen, Ferrari, 1:13.500
5. Daniel Ricciardo, Red Bull, 1:13.585
6. Valtteri Bottas, Williams, 1:13.603
7. Romain Grosjean, Lotus, 1:13.634
8. Nico Hulkenberg, Force India, 1:13.710
9. Daniil Kvyat, Red Bull, 1:13.848
10. Felipe Massa, Williams, 1:13.870
11. Sergio Perez, Force India, 1:14.056
12. Pastor Maldonado, Lotus, 1:14.124
13. Felipe Nasr, Sauber, 1:14.134
14. Max Verstappen, Toro Rosso, 1:14.226
15. Carlos Sainz, Toro Rosso, 1:14.326
16. Jenson Button, McLaren, 1:14.644
17. Marcus Ericsson, Sauber, 1:14.772
18. Fernando Alonso, McLaren, 1:15.129
19. Will Stevens, Manor, 1:16.501
20. Alexander Rossi, 1:16.787
Watch the Brazilian GP live on Sky Sports F1. Race-show coverage begins at 2.30pm on Sunday with lights out at 4pm. Watch all three days of the Brazilian GP for £10.99 on NOW TV. No contract.