Brazilian GP Qualifying: Nico Rosberg pips Lewis Hamilton to pole
German on pole for fifth consecutive race; Another disastrous session for McLaren-Honda sees Alonso fail to set a time
By William Esler
Last Updated: 15/11/15 7:14am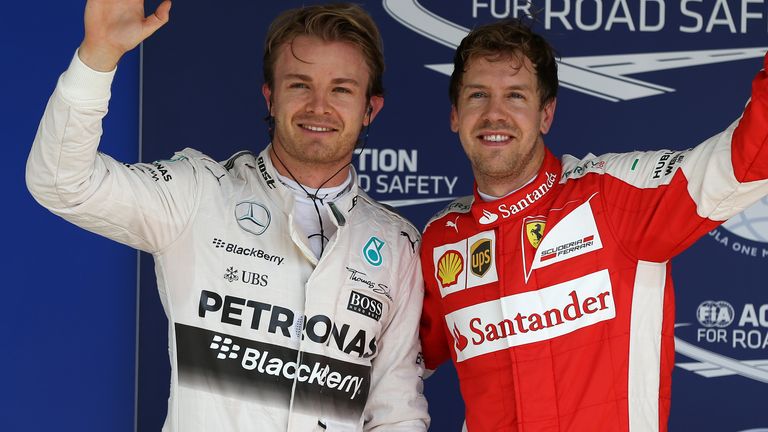 Nico Rosberg continued his late-season resurgence with a fifth consecutive pole position, pipping Mercedes team-mate Lewis Hamilton by less than a tenth of a second in Brazil.
There has been nothing to choose between the Silver Arrows pair throughout the weekend's running in Sao Paulo and so it proved in qualifying with Rosberg's pole lap time of 1:11.282 just 0.078 quicker than Hamilton's best effort in Q3.
Hamilton had been fastest in both Q1 and Q2 before losing out to his team-mate in the top-10 shootout. The world champion then failed to attend the post-session photo call.
"I've won most poles this year and the world championship, so there's nothing really to read into it," the triple champion later told reporters as he sat alongside Rosberg in the qualifying press conference.
"I'm pleased with today," Rosberg added. "It's the best place to be for tomorrow's race. Q2 didn't really go to plan but I got it all together in Q3 and the last lap was on the edge.
"It's always better to finish on a high than a low, for this season and also thinking about next year."
However, while Mercedes celebrated, it was another disastrous session for their former partners McLaren, who saw both drivers drop out in Q1, with Fernando Alonso failing to even set a time.
After his car broke down, the Spaniard then sat in a deck chair by the side of the track as McLaren endured their eighth qualifying session of the year in which neither Alonso nor Jenson Button had managed to progress from Q1.
"For goodness sake, sort this motor out! It's not got anything - it's got no power, it's not economical, it's not reliable. And this is the end of the season," said Sky Sports F1's Martin Brundle after Alonso's stoppage.
In a rare moment of humour for the beleaguered pair of former world champions, the two McLaren drivers took to the podium between Q1 and Q2 to wave to the crowd.
As has become the norm in 2015, Sebastian Vettel led the fight behind Mercedes to take third on the grid. However, the Ferrari driver was over half a second down on Rosberg and Hamilton.
Valtteri Bottas was fourth quickest for Williams, but the Finn will take a three-place grid penalty for overtaking under red flags during Practice Two on Friday. That means it will be an all Ferrari second-row at Interlagos, with Kimi Raikkonen promoted to fourth.
Nico Hulkenberg, who was an impressive sixth for Force India, will also benefit from Bottas' demotion, as will Red Bull's Daniel Kvyat.
The Russian had highlighted Saturday as an area he needs to improve on and, despite not running the upgraded Renault engine, qualified two places ahead of team-mate Daniel Ricciardo. Kvyat later hailed his lap as his best of the year so far. 
Felipe Massa split the two Red Bull cars in eighth, with Max Verstappen completing the top 10.
A lack of straight-line speed cost Carlos Sainz a spot in the top-10 shootout with his final lap of Q2. The Spaniard had been ahead of Massa through the second split, but on the long drag up the hill to the finish line lost out to the Williams driver.
The lack of power from the Renault unit also saw Sainz slip behind the Ferrari-powered Sauber of Felipe Nasr who was 11th quickest ahead of his maiden home race. However, the Brazilian was handed a three-place grid penalty for blocking Massa in the closing stages of Q1.
A disappointing session for Sergio Perez left the Mexican only 13th while Marcus Ericsson was 14th in the second Sauber, leaving his qualifying head-to-head with Nasr tied at nine-all with one race remaining in 2015.
Romain Grosjean brought up the rear in Q2 after a spin at Turn Six destroyed his tyres and ruined any chance he had of making the top 10. At least he made it into the second session, however, as Lotus team-mate Pastor Maldonado was a Q1 casualty.
At the back, Alexander Rossi out-qualified Will Stevens for the third consecutive race to win their short intra-team qualifying battle at Manor. Brazil will be Rossi's final F1 race of 2015 as he returns to GP2 duties in Abu Dhabi.
Brazilian GP Qualifying timesheet
Q3
1. Nico Rosberg, Mercedes, 1:11.282
2. Lewis Hamilton, Mercedes, 1:11.360
3. Sebastian Vettel, Ferrari, 1:11.804
4. Valtteri Bottas, Williams, 1:12.085
5. Kimi Raikkonen, Ferrari, 1:12.144
6. Nico Hulkenberg, Force India, 1:12.265
7. Daniil Kyat, Red Bull, 1:12.322
8. Felipe Massa, Williams, 1:12.415
9. Daniel Ricciardo, Red Bull, 1:12.417
10. Max Verstappen, 1:12.739
Q2
11. Felipe Nasr, Sauber, 1:12.989
12. Carlos Sainz, Toro Rosso, 1:13.045
13. Sergio Perez, Force India, 1:13.147
14. Marcus Ericsson, Sauber, 1:13.233
15. Romain Grosjean, Lotus, 1:13.913
Q1
16. Pastor Maldonado, Lotus, 1:13.385
17. Jenson Button, McLaren, 1:13.425
18. Alexander Rossi, 1:16.151
19. Will Stevens, Manor, 1:16.283
Fernando Alonso, McLaren, No Time
Watch the Brazilian GP live on Sky Sports F1. Race-show coverage begins at 2.30pm on Sunday with lights out at 4pm. Watch the Brazilian GP for £6.99 on NOW TV. No contract.