Brazilian GP 2015: Nico Rosberg holds off Lewis Hamilton for win
Rosberg beats Hamilton to win for second successive race; German secures second in standings; Vettel third again as Ferrari threat to Mercedes fails to materialise; McLarens finish, but outside points
By James Galloway
Last Updated: 16/11/15 10:03am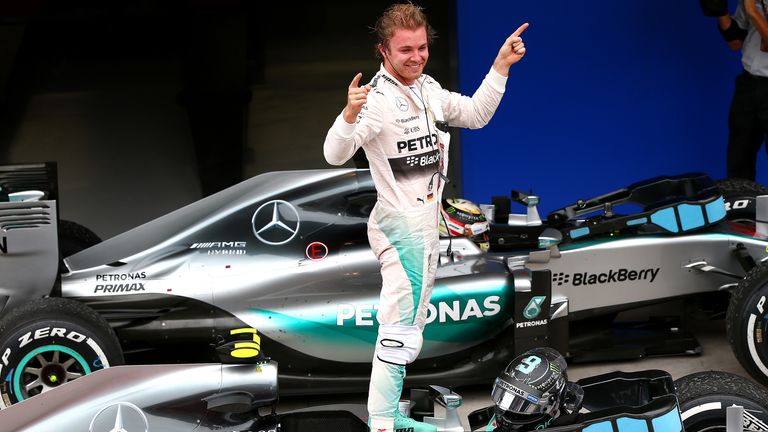 Nico Rosberg made it back-to-back race wins over Lewis Hamilton in the Brazilian GP to secure second place in the Drivers' Championship and continue his recent momentum surge.
Hamilton's wait for a first victory at the home of his hero Ayrton Senna will stretch into a 10th season after Rosberg withstood several periods of concerted pressure from his Mercedes team-mate to convert pole into victory for the second successive race since the Briton was crowned 2015's champion.
In one of Mercedes' most dominant displays of their second title-winning year, as they secured their 11th one-two finish, Ferrari finished in distant third and fourth places with Sebastian Vettel again beating Kimi Raikkonen.
Rosberg's win, his fifth of the season, and Vettel's latest third place means it is Mercedes' German driver who will finish second to Hamilton in the standings when the campaign concludes in Abu Dhabi in two weeks' time.
While Interlagos is famed for its unpredictability, there was little of note across the 71 laps of action this time - although Mercedes' drivers did come close to contact as they battled into Turn One.
In a near-role reversal from Austin, it was Rosberg who made sure Hamilton wasn't going to go round the outside of him, and with the lead of the race the German opened up a small one-second lead through the first stint. 
Although Mercedes denied their lead car had any developing reliability worries, Rosberg then appeared particularly cautious on the brakes for several laps after the first tyre change, allowing Hamilton to move in DRS overtaking range for several laps before dropping back again.
The world champion again moved onto his team-mate's tail in the third stint, but became increasingly frustrated with Interlagos' notoriously tight confines as no overtaking opportunities opened up.
Hamilton's request over the radio a different strategy to his team-mate, but his calls proved to no avail as Mercedes stuck to their long-held policy of keeping their drivers on the same number of stops. And with both drivers completing three pit tyre changes, the world champion ended up finishing 7.7 seconds behind the victorious Rosberg.
"I was behind Nico and in traffic for quite some time and it just killed my tyres," Hamilton said on the podium afterwards. "It is a great track, but you just can't get close enough to overtake."
Hamilton, who endured a headline-filled build-up to the race weekend following his car prang on the road in Monaco, has now been beaten by Rosberg on qualifying and race day in both Mexico and Brazil - a turnaround from the wider narrative of 2015 which will continue to provoke debate over whether the Briton has eased up since his title win in Austin, or Rosberg has upped his game in preparation for 2016.
The race winner, who also won in Interlagos last year, has attempted to play down that latter suggestion.
"It was a great weekend for me here, but everything is relative with what happened back in Paris," said Rosberg. "Lewis put up a good challenge, but I was able to control it. No issues, I was just controlling the pace, not wanting to make any mistakes and not have too much degradation.
"We saw Lewis dropping off a lot with degradation in the second stint and that confirmed it was important to look after the tyres."
The hot conditions in Sao Paulo on Sunday had raised the spectre that Ferrari could move themselves into the mix, but the red threat never materialised. Vettel finished 14 seconds behind the race winner, but given the difference between the two cars, Sky F1's Martin Brundle declared: "Vettel's driven a cracking race."
It was the ninth time in his debut Ferrari season that Vettel had joined the Mercedes drivers on the podium.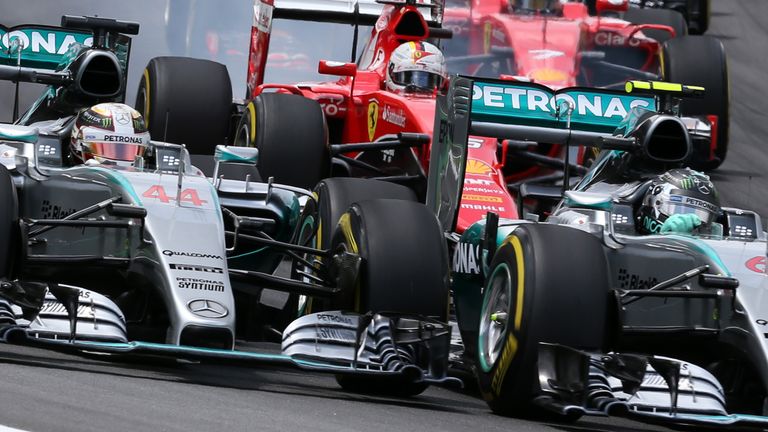 Unlike the cars ahead, Raikkonen ran a two-stop race and finished half a minute behind the sister Ferrari for fourth place.
Although Valtteri Bottas finished one place behind Raikkonen, the Finns did not get close enough on track to clash for the third time in four races. The result, however, was nonetheless enough for Williams to secure third place in the Constructors' Championship for the second successive year. 
The Oxfordshire-based team originally scored four additional points for Felipe Massa's eighth-place finish but the Brazilian was later excluded from the results of his home race for a tyre temperature infringement on the grid. 
Meanwhile, having seen Force India team-mate Sergio Perez take the plaudits in recent races, Nico Hulkenberg returned to form to take a fine sixth and secure his team fifth place in the standings - the best finish in their history. Daniil Kvyat was seventh for Red Bull.
And while the battle at the front may have lacked the spice of wheel-to-wheel action, there was plenty of it in the fight for the final points positions. France's Romain Grosjean was in the thick of it and came through in ninth place for Lotus - which became eighth after Massa's penalty - ending an emotionally challenging weekend after the terrorist attacks in his homeland on Friday.
Inevitably, rookie star Max Verstappen was at the heart of many of the race's best moments. The 18-year-old had already pulled off a stunning overtake around the outside into Perez into Turn One before he passed Pastor Maldonado late on to give Toro Rosso the final point. But with Massa relegated after the race, Maldonado ended up in the points too as Verstappen moved up to ninth.
However, there were no points for McLaren-Honda again - although, another reliability-troubled weekend for the partnership at least finished with Jenson Button (15th) and Fernando Alonso (16th) taking the chequered flag. 
Brazilian GP result
1. Nico Rosberg, Mercedes, 71 laps
2. Lewis Hamilton, Mercedes, +7.7
3. Sebastian Vettel, Ferrari, +14.2
4. Kimi Raikkonen, Ferrari, +47.5
5. Valtteri Bottas, Williams, +1 lap
6. Nico Hulkenberg, Force India, +1 lap
7. Daniil Kvyat, Red Bull, +1 lap
DSQ. Felipe Massa, Williams, +1 lap
8. Romain Grosjean, Lotus, +1 lap
9. Max Verstappen, Toro Rosso, +1 lap
10. Pastor Maldonado, Lotus, +1 lap
11. Daniel Ricciardo, Red Bull, +1 lap
12. Sergio Perez, Force India, +1 lap
13. Felipe Nasr, Sauber, +1 lap
14. Jenson Button, McLaren, +1 lap
15. Fernando Alonso, McLaren, +1 lap
16. Marcus Ericsson, Sauber, +2 laps
17. Will Stevens, Manor, +4 laps
18. Alexander Rossi, Manor, +4 laps
DNF Carlos Sainz, Toro Rosso
Don't miss the F1 Midweek Report for analysis of the Brazilian GP and all the latest F1 news. NBC's F1 reporter Will Buxton and journalist Peter Windsor join Natalie Pinkham on Sky Sports F1 at 8:30pm on Wednesday.