Pirelli to bring prototype 2014 tyres to Brazilian GP season finale for teams to test
Paul Hembery says pre-2014 test plans a "big step forward"
By James Galloway at the Yas Marina Circuit
Last Updated: 04/11/13 8:27am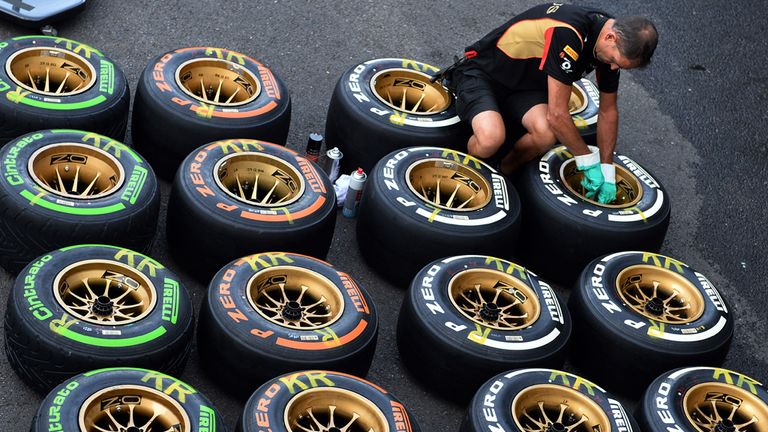 In a move which mirrors the one the Italian supplier made at Interlagos last year when they used rubber for this season, Pirelli will bring "a couple of sets" of the provisional compounds for drivers to test in practice ahead of the introduction of the final tyres during pre-season testing.
Pirelli's Paul Hembery had warned in India that the firm wouldn't be able to produce satisfactory 2014 rubber for the new generation of cars without more testing time before the official start of testing in Jerez in January. However, speaking in Abu Dhabi, he said good progress was being made in helping their preparations.
"There's a couple of things that are happening quite quickly," Pirelli's Motorsport Director explained.
"We've got a 1000km test with McLaren coming up in Vallelunga. We will be bringing to the Brazil Practice One a couple of sets of tyres of the prototype for next season.
"We're hopeful to do a couple of tests in December and January with an old-generation car and there's been some good ideas going forward as to what we could do during the pre-season itself.
"It's clearly a big step forward. lf we're looking at it selfishly from our point of view, to be in Bahrain for pre-season testing, the temperatures will be right, aggressive track and that will be very, very useful for us to understand the real impact of the new cars."
With such a radical change of regulations for next season, particularly in regards to power and energy-recovery systems, Pirelli have indicated they will take a less aggressive approach with their 2014 tyres so that it is one less complex issue for teams to overcome.
Speaking on Friday in Brazil, McLaren Sporting Director Sam Michael said the tyre test in Brazil would still be helpful for the teams even though next year's cars will have completely different power delivery methods.
"They did the same thing last year and it was pretty useful information," Michael said.
"Even though it's on a V8 and different downforce and weight, at least you'll be able to see some aspects of the tyres."