Lewis Hamilton wins the Japanese GP to extend title lead over Nico Rosberg
World champion pulls 48 points clear of Nico Rosberg - and equals Ayrton Senna's tally of 41 wins - after taking the lead on first lap; Sebastian Vettel finishes third from Kimi Raikkonen; Fernando Alonso describes McLaren's performance as "very embarrassing" during race
By Mike Wise
Last Updated: 28/09/15 9:50am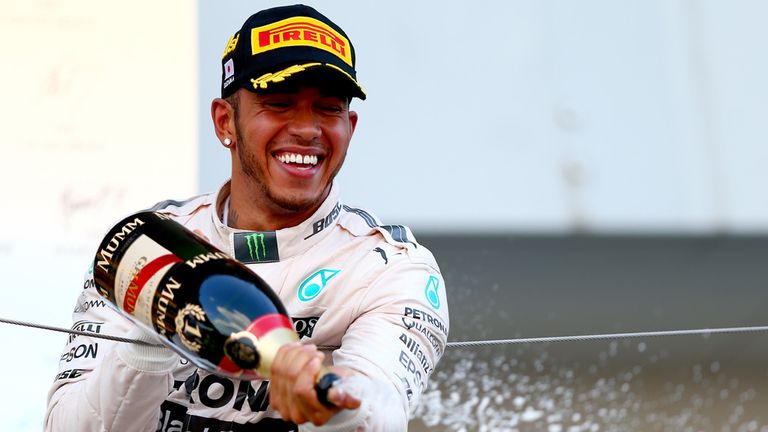 Lewis Hamilton has extended his world title lead over Nico Rosberg to 48 points after winning the Japanese GP at Suzuka.
The defending champion took the chequered flag 19 seconds ahead of his team-mate, with Sebastian Vettel finishing third in his Ferrari.
It was a result that confirmed - if confirmation was needed after qualifying - that Mercedes' poor form in Singapore was a one-off. But it also appeared to confirm - again, if it's needed -  that Rosberg's championship challenge is very much on the wane now.
He needed to make his pole position pay, but instead dropped to fourth place on the first lap after he and Hamilton headed into the Turn 1 side-by-side.
Rosberg was on the outside but was then forced out wide at the next corner, his car kicking up dust, losing momentum and falling behind Vettel's and Valtteri Bottas' Williams.
Rosberg eventually moved back ahead of Bottas - overtaking the Finn at the chicane on lap 17 - and then took second place back from Vettel on lap 31 after both drivers made their second tyre stops.
Vettel managed to stay within a second or two of Rosberg thereafter but never really challenged. And the same can certainly be said of Rosberg's own challenge to Hamilton: their race was effectively over in the opening seconds.
"It was such an amazing race," said Hamilton. "This has been a circuit that I can honestly say that I've struggled through all the years that I've come here but one that I've loved driving, and I think that goes for all the drivers. But you really want to come here and dominate at a track like this."
Hamilton also equalled Ayrton Senna's tally of 41 career wins, adding: "I'm not a teary guy, but I'm full of joy and happiness today. I'm really grateful for, as I posted the other day, all the people who have helped me get to where I am today and this team, because without them I would not be here."
Kimi Raikkonen also moved his Ferrari ahead of Bottas' car at the second stops to finish fourth, with Nico Hulkenberg coming home sixth after starting in 13th place on the grid.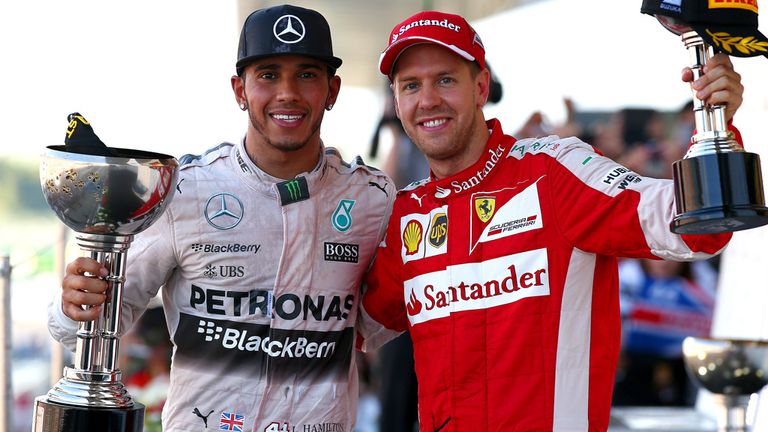 Perhaps the most needed result was Lotus's double-points score, with Romain Grosjean finishing seventh ahead of team-mate Pastor Maldonado.
And Toro Rosso's youngsters completed the points positions, with Max Verstappen passing Carlos Sainz - who collided with a bollard at the pit-lane entry during the race - at the chicane on lap 45 to take ninth place from 17th on the grid.
After starting from the pitlane following his huge qualifying crash on Saturday, Daniil Kvyat finished 13th, two places in front of Red Bull team-mate Daniel Ricciardo.
Ricciardo had started seventh but collided with Felipe Massa as they accelerated off the line. Both were forced to pit at the end of the opening lap for repairs, with the Brazilian eventually finishing 17th.
Meanwhile, Fernando Alonso came home a lapped 11th after describing McLaren's performance during the race as "very embarrassing".
The outburst came during the early stages after he had briefly run in the points but was then overtaken by Sainz and Marcus Ericcson's Sauber.
Both moves came under DRS into Turn 1, with the McLaren-Honda's lack of power all too apparent. Verstappen also got Alonso there later in the race, with the Spaniard likening his hybrid to a "GP2 engine".
With team-mate Jenson Button finishing 16th, McLaren boss Ron Dennis told Sky Sports F1 afterwards that the former world champion will stay at the team next season alongside Alonso.
Japanese GP result:
1. L Hamilton, Mercedes, 53 laps
2. N Rosberg, Mercedes, +18.9s
3. S Vettel, Ferrari, +20.8s
4. K Raikkonen, Ferrari, +33.7s
5. V Bottas, Williams, +36.7s
6. N Hulkenberg, Force India, +55.5s
7. R Grosjean, Lotus, +72.2s
8. P Maldonado, Lotus, +73.5s
9. M Verstappen, Toro Rosso, +95.3s
10. C Sainz, Toro Rosso, 1 lap
11. F Alonso, McLaren, 1 lap
12. S Perez, Force India, 1 lap
13. D Kvyat, Red Bull, 1 lap
14. M Ericsson, Sauber, 1 lap
15. D Ricciardo, Red Bull, 1 lap
16. J Button, McLaren, 1 lap
17. F Massa, Williams, 2 laps
18. A Rossi, Manor, 2 laps
19. W Stevens, Manor, 3 laps
20. F Nasr, Sauber, Retired 
Don't miss the F1 Midweek Report on Wednesday night at 8.30pm when Ted Kravitz and David Brabham join Natalie Pinkham to discuss the Japanese GP