Chinese GP: Nico Rosberg avoids Shanghai drama for sixth win in row
Dominant Rosberg wins by over 30 seconds despite losing lead at start; Hamilton seventh and falls 36 points adrift in standings; Vettel recovers from lap-one Raikkonen tangle to finish second
By James Galloway
Last Updated: 18/04/16 6:36am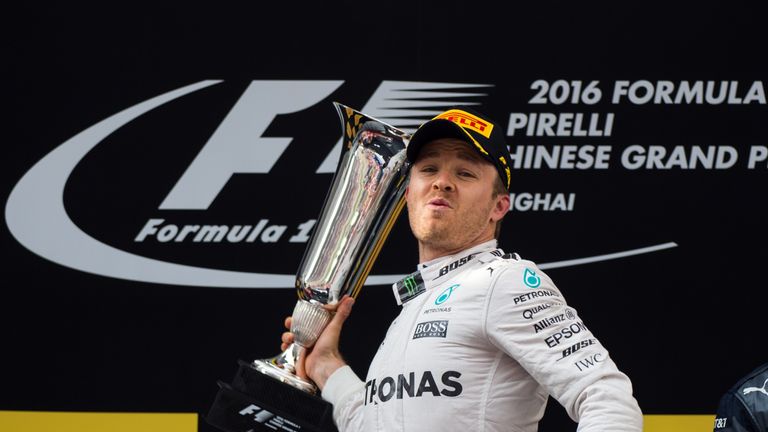 Nico Rosberg left the drama and chaos of the Chinese GP in his wake to claim a commanding sixth win in a row and open up a big lead at the top of the Drivers' Championship.
Lewis Hamilton finished seventh after starting from the back of the grid, but his chances of a stronger result were compromised by a broken front wing on an incident-filled opening lap.
Making five separate visits to the pits as Mercedes appeared to switch between strategies, Hamilton ran as high as fifth entering the closing stages but was unable to pass Felipe Massa's Williams and was instead overtaken by Red Bull's Daniel Ricciardo and Ferrari's Kimi Raikkonen.
Rosberg now leads his Mercedes team-mate by 36 points in the world championship after three races.
Sebastian Vettel finished second for Ferrari but a whopping 38 seconds behind Rosberg after being involved in the chaotic opening lap's most controversial moment when he crashed into his team-mate Raikkonen.
Vettel blamed the fast-starting Daniil Kvyat for triggering the incident, with the pair later meeting on track as the Ferrari made his way back through the field after his own front-wing change. Vettel overtook the Red Bull, but Kvyat still claimed Red Bull's first podium of the year in third.
Red Bull team-mate Daniel Ricciardo finished fourth for the third consecutive race was left to rue what might have been after a puncture scuppered his podium hopes when leading from Rosberg in the early stages.
Raikkonen dropped to the back of the field after his tangle with Vettel but fought back to fifth, ahead of Massa and a frustrated Hamilton. 
"It was definitely a difficult one," the world champion told Sky Sports F1. "I got a good start, which is always difficult from the back. I tried to avoid what was ahead of me but got tangled in it.
"After that I battled through, but I just felt like every time I stopped I had to come through again, I wasn't gaining ground and at the end there wasn't enough tyres. That's racing but it's not a great finish. Hopefully onwards and upwards."
Beginning to make up places into the long first corner, Hamilton sustained damage on the opening lap when he ran over debris from the Vettel-Raikkonen clash, before being hit by Sauber's Felipe Nasr.
Vettel was livid with what he deemed to be an overly-ambitious lunge by Kvyat at Turn One, which he claimed left him with no alternative but to turn left into right and into the path of the sister Ferrari.
Branding the move "suicidal" over the radio, Vettel then said on his slow-down lap at the end of the race: "Massive apologies to the team. But surely I didn't do it on purpose. I'm really sorry for Kimi. There was nothing I could do, Kvyat came like a torpedo and I had to react. There was no way out."
An angry Vettel then confronted the Russian in the podium holding room, telling Kvyat "you were lucky this time".
The intra-team tangle had dropped Vettel to ninth and at his first pit stop Ferrari's mechanics changed the SF16-H's front wing. However, things were worse for the luckless Raikkonen, who not only lost his own front wing completely but dropped to the back of the field.
Red Bull were running first and third in the early laps after Ricciardo, who had the grip advantage off the line of supersoft tyres to Rosberg's softs, seized the lead - the third time in as many races that a Mercedes polesitter has not led into the first corner.
However, Ricciardo then joined the likes of Hamilton and Raikkonen towards the back of the field when his left-rear tyre left go down the Shanghai circuit's long pit straight - the apparent result of running over debris from the first-lap carnage.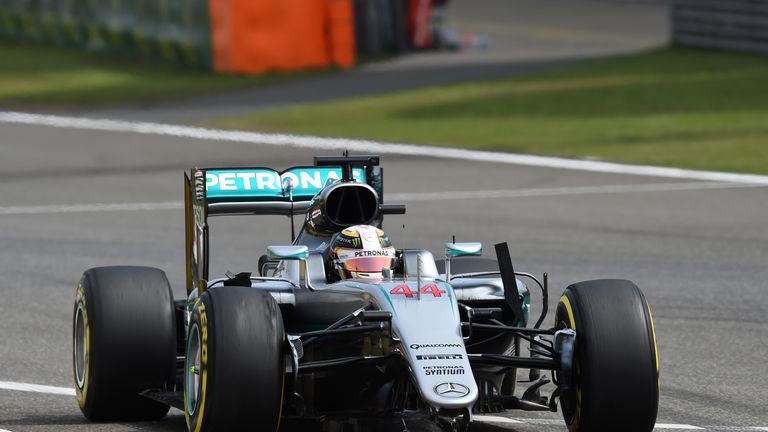 The Australian later likened the disappointment to "being punched twice in the stomach by a heavyweight". His recovery drive to fourth nonetheless capped an impressive weekend for Ricciardo.
The Red Bull's puncture brought out the Safety Car to clear up the track and, with numerous cars peeling into the pits to make their first stops - McLaren's Fernando Alonso briefly ran as high as fourth.
However, that was as good as the race would get for the Woking team, as both the Spaniard and team-mate Jenson Button steadily dropped down the top 10 order and eventually out of the points.
Toro Rosso pair Max Verstappen - who finished right on Hamilton's tail - and Carlos Sainz, along with the second Williams of Valtteri Bottas, rounded out the points finishers instead.
Chinese GP result
1. Nico Rosberg, Mercedes, 56 laps
2. Sebastian Vettel, Ferrari, +37.8s
3. Daniil Kvyat, Red Bull, +45.9s
4. Daniel Ricciardo, Red Bull, +52.7s
5. Kimi Raikkonen, Ferrari, +65.9s
6. Felipe Massa, Williams, +75.5s
7. Lewis Hamilton, Mercedes, +78.2s
8. Max Verstappen, Toro Rosso, +79.3s
9. Carlos Sainz, Toro Rosso, +84.1s
10. Valtteri Bottas, Williams, +86.2s
11. Sergio Perez, Force India, +94.3s
12. Fernando Alonso, McLaren, +97.2s
13. Jenson Button, McLaren, +102s
14. Esteban Gutierrez, Haas, +1 lap
15. Nico Hulkenberg, Force India, +1 lap
16. Marcus Ericsson, Sauber, +1 lap
17. Kevin Magnussen, Renault, +1 lap
18. Pascal Wehrlein, Manor, + 1 lap
19. Romain Grosjean, Haas, +1 lap
20. Felipe Nasr, Sauber, +1 lap
21. Rio Haryanto, Manor, + 1 lap
22. Jolyon Palmer, Renault, +1 lap
Don't miss the F1 Report on Wednesday at 8:30pm on Sky Sports F1 for full analysis of an action-packed Chinese Grand Prix at the Shanghai International Circuit.